Top Cars
Our 9 Favorite Cars Built in the United States









Independence Day is just around the corner -- and since cars are always on our minds here at Autotrader, we couldn't help but consider the holiday from an automotive perspective. Specifically, we started asking one another to choose our favorite cars that are built in the United States -- and a new list was born. With that in mind, here's a roundup of our choices. Nine staffers were each tasked with choosing their favorite American-made car -- and here's what they picked.
ALLIE ARGO, Marketing Manager
Ford F-150
Plant: Claycomo, Missouri
An American classic: the Ford F-150. It's one of the best-selling vehicles in America and the most-searched car on Autotrader for a reason. The clean, boxy lines on the exterior make it easy to spot in any lineup, and the interior is incredibly spacious, with SUV-like room in the back seat of the extended cab. Technology in the cockpit is "like a space ship" if you ask my Pop and easy to navigate if you ask me. Not to mention it happens to be a family favorite -- both my husband and Dad currently drive black F-150s that have proven their ability to tow boats, uproot trees and lull babies to sleep.
KARL BRAUER, Executive Publisher
Chevrolet Corvette
Plant: Bowling Green, Kentucky
America's sports car, the Chevrolet Corvette, has been assembled in the U.S. since 1953. The first version had a 6-cylinder engine, but by 1955 the Corvette was powered by a V8, which it still features today. As an alternative to more expensive European sports cars, the Corvette always offered excellent value, though interior quality and seat comfort weren't its strong suits for much of that history. The current 7th-generation Corvette has addressed these issues and now offers a complete, fault-free high-performance experience at a fraction of the cost of equivalent European exotics. Rumors about a midengine Corvette persist, and a recent, sizable investment in the Bowling Green facility suggests the next Corvette could indeed be an entirely new design. The best part of the Bowling Green plant? Diehard fans can tour the facility and even take deliveries there.
Find a Chevrolet Corvette for sale
BEN CHENEY, Automotive Data Manager
Honda Accord
Plant: Marysville, Ohio
Truly designed for the U.S. market, the Honda Accord continues to be my favorite choice in the midsize sedan segment. It is also unique in that you have so many configuration choices. You can have an Accord as a coupe or sedan, with a 4-cylinder or 6-cylinder or even a hybrid engine, and it still offers both automatic and manual transmission choices. My favorite configuration is the V6 coupe with the manual transmission -- the ultimate sleeper.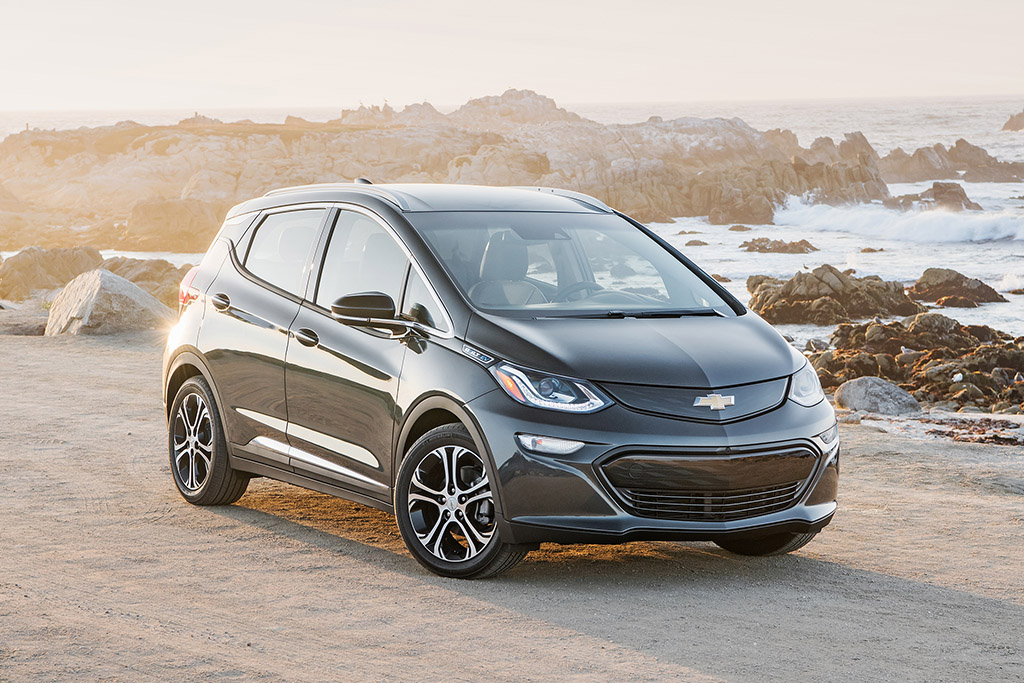 DWIGHT CUNNINGHAM, Sr. Automotive Data Specialist
Chevrolet Bolt
Plant: Orion, Michigan
As a big believer that electric vehicles will be a large part of the future, it's great to have a true electric vehicle produced by the big American three. The Chevy Bolt is a true game changer in the electric-car market. It's not only a vehicle that can go 200+ miles on pure electric, but it's actually a vehicle you'll enjoy driving. The interior is very spacious and comfortable and doesn't look like it's from an electric vehicle. The Bolt's also a vehicle you can purchase for under $40,000, especially when the average vehicle price is around $34,000 today. Once you drive it, you'll love it -- and it's built in Michigan.
Find a Chevrolet Bolt for sale
DOUG DEMURO, Editor, Autotrader Oversteer
Mercedes-AMG GLS 63
Plant: Tuscaloosa, Alabama
Since the Raptor is already taken (see below; it's the correct answer to this question), I'll have to choose a different vehicle. And that vehicle is the Mercedes-AMG GLS 63 -- a 7-seater SUV with a 577-horsepower V8 stuck under the hood. This SUV ticks all my boxes. It's car-enthusiast cool, since they've shoved nearly 600 hp into a family hauler, which is ridiculous by any standards (but very exciting). It's ultra-rare, which gives it huge street cred compared to the standard GLS. It's surprisingly subtle for an AMG car. And it can carry around the whole family -- and send them from zero to 60 in 4.7 seconds.
Find Mercedes-Benz GLS-Class for sale
TOMMY FLANAGAN, Automotive Data Specialist
Chevrolet Camaro
Lansing, Michigan
The Chevrolet Camaro gets my pick for favorite U.S.-built car. I've owned a 1968, a 1997 30th Anniversary Edition and a 2012 SS and loved every one of them. There's nothing like the feeling you get when firing up the V8 and hearing the exhaust growl! The current sixth generation is the best yet, and the upcoming ZL1 1LE is the perfect antidote to the Shelby GT350. Few things in life are as fun as getting behind the wheel of a V8-powered Camaro and hitting the open road. Thanks for the memories!
Find a Chevrolet Camaro for sale
BRIAN MOODY, Executive Editor
Chevrolet Tahoe
Plant: Arlington, Texas
My favorite car built in the U.S. is the Chevrolet Tahoe. If this car was a person, It would be easy to convict me of stalking. I read about it, look up used Tahoes, price new versions, compare trim levels and generally find any excuse to be in one or drive one. It's like the world's perfect car -- it does everything. Off-roading, family hauler, towing, cargo van duties, third row, fun to dive, good-looking, retains its value, comfortable, good modern tech ... Has. It. All. And they last. Look on Autotrader and you can see both new and used Tahoes: The used ones have 200,000+ miles and almost no problems. The one bummer is they're expensive. A new Tahoe LTZ (the one I'd want) can be $70,000.
Find a Chevrolet Tahoe for sale
ROB NESTORA, Content Producer
Ford F-150 Raptor
Plant: Dearborn, Michigan, and Kansas City, Missouri
The 2017 Ford Raptor is my favorite car built in the U.S. Why? Let's see ... first of all it's the most capable, badass, rugged vehicle I've ever had the privilege to get behind the wheel of. It's strong, gorgeous, maneuverable, incredibly equipped, and its biggest kicker -- a low depreciation rate -- is insanity when you actually try to quantify it. What other upper-tier OEM pickup even holds a candle to it? Yes, it's massive. Yes, it's more than any normal person would need. But it's the pinnacle of Ford F-150 performance -- quite possibly the most widely acclaimed and best-selling pickup ever. So while keeping that in mind, understand that the Raptor does head spins compared to its stock F-150 basis. From the aggressive Ford grille to its wide array of features and its unparalleled off-road capability, the Ford Raptor is the apex predator of OEM pickups. Plus, the newest model is one of the best trucks we've driven, making its way to our 2017 Must Test Drive List. But when you stop and really look at it, what other vehicle screams "America!!!" like a Raptor? Exactly.
TARA TROMPETER, Managing Editor
Buick Enclave
Plant: Lansing, Michigan
One of the hottest SUVs for the suburban mommy set just happens to be at the very top of the "Most American-Made" list (it scored a 90 percent on last year's list from American University), and for that reason, it's this working mom's pick for favorite U.S.-built car. One of the only luxury midsize SUVs available with captain's chairs and no middle console, the Buick Enclave is a dream for parents with two or more kids in convertible car seats. Throw in a huge cargo area, an upscale interior, tons of safety features and a comfortable ride, and it's no wonder you're seeing this premium family hauler in every carpool line from South Beach to Sacramento.