Recently, Autotrader was invited to drive a bunch of all-wheel drive (AWD) cars and SUVs in Winter Park, Colorado. Consistently, the most popular articles we publish on Autotrader have to do with cars and SUVs that power all four wheels, usually sedans or crossover SUVs. The reason seems pretty simple: people are looking for new and used cars that fit their lifestyle. The desire for the added capability of AWD is similar to the reason many Americans buy large pickups. A Honda Ridgeline or a Ford Explorer will probably suit 90 percent of their needs, but the added flexibility — that "just in case" — is what many folks are after.
Driving cars and SUVs in the snow left me with three main realizations. First, it's a blast! Driving on snow and ice on a closed course is likely the most fun you can have on four wheels. Second, there's a surface level sameness to how cars behave in the snow. Third, when pressed a little harder, the differences from car to car become as obvious as a Chelsea Handler punchline.
With that in mind, here are 9 of the cars I drove (in alphabetical order) with a one-word summary (and a little context) of each car's character.
2018 Acura NSX
Quick. There's no better way to learn about a performance car than at its limit. And there's no better way to get a car like the NSX at the limit than the frozen tundra (or pavement) of Winter Park, Colorado. I have to admit, I have not driven the NSX on dry pavement. But the car's agility, poise and quickness of the line IN THE SNOW is astounding. The way the car rotates predictably and leaves the driver feeling in control is a testament to where the engineering dollars were spent. And, ultimately, that's where your dollars will be spent too, should you decide to buy one.
2018 Acura TLX AWD A-Spec
Precise. The newly reworked TLX is easy to overlook, but it's a thorough tweaking of that car that effectively turns it into a legitimate sport sedan. In the snow and ice, the TLX provides the appropriate level of grip, but allows the driver some leeway to have a little fun too. It goes where you point it, but feels engineered to ultimately put safety over fun when it really counts. Driving this car on public roads covered with snow, ice and gravel, its true character really comes out — quick, quiet, stable, fun.
2018 Alfa Romeo Stelvio
Numb. This extra sporty SUV is beautiful and quick. However, in this venue, it's not very responsive. The problem seems to be that the car's stability control programs cannot be turned off. Even Honda's family wagon, the Pilot, allows some freedom when it comes to controlling your own destiny in the snow. Is this a safety feature? Probably, but it seems like limiting electronic programs from intervening somewhat in a performance car is a curious choice.
Find an Alfa Romeo Stelvio for sale
2018 AMG C43 Coupe
Heroic. With this Benz, I feel like I'm the hero in my own action movie — dry pavement or slippery snow, this car puts the driver in control. In the ice and snow, the car does what I want it to do and has a raw, old-school feeling when all the traction and stability management programs were turned off. Yes, you can do that. This hot-rod of a C-Class Coupe made me feel like a better driver than I really am. There were three cars I drove all day that actually made smile uncontrollably, and this was one. The exhaust note is also amazing and a selling point on its own. Mercedes, specifically AMG, really understands its buyers — and this car proves it.
Find a Mercedes-Benz C-Class for sale
2018 Dodge Challenger GT
Fun. Old time, Dukes of Hazzard, demolition derby, rope-swing over pond kind of fun. It's like the engineers at Dodge intentionally crafted just enough attitude and oversteer into the car to be fun — like, REALLY fun but still provide a margin of safety and predictability so that you're never really scared. A Challenger in the snow with all-wheel drive looks counterintuitive, but it's not. If you really like cars and driving and live in the snow-belt, check this car out. It's laugh out loud fun.
2018 Honda Pilot Elite AWD
Composed. Where the Alfa Stelvio feels frustratingly safe, the Honda Pilot is just enough of a good thing. Honda knows that no one will be flinging the Pilot around trying to induce oversteer in the snow. Still, the Pilot proves that at the core of the company are people who love cars and know how to have a good time even if it's after hours. Drive the Pilot normally and it's one of the more composed SUVs out there, even on icy highways and snowy backlots.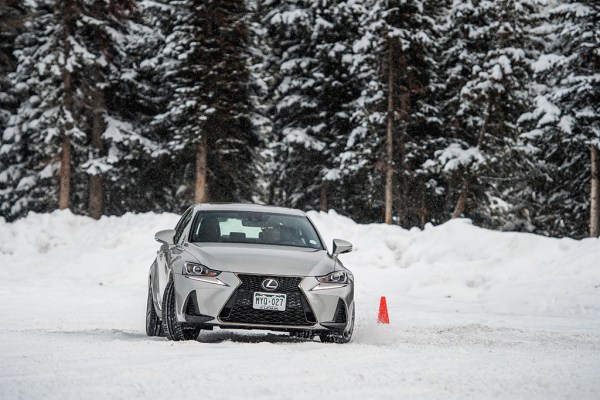 2017 Lexus IS 350 AWD
Predictable. Here's an example of just how well Lexus understands its customers. Do some Lexus buyers want a rear-wheel-drive sport sedan? Yes. Do those customers want to get sideways in the snow and remove all safety constraints? Probably not. It's true, you can defeat many of the IS350's electronic safety nets, so purists will be pleased. However, the car is engineered to keep you on the straight and narrow rather than getting crazy oversteer in a corner. It's fun and refined, quick and quiet and feels like exactly the kind of thing you'd want in a sporting Lexus sedan.
2018 Porsche Macan GTS
Porsche. The Macan GTS in the snow behaves exactly like a Porsche should. The electronic systems designed to keep you on track or get you through a corner quickest can be adjusted and/or defeated in a progressive fashion. It goes all the way from "keep me safe" to "you're on your own," and that's what makes it so good, so useful, so versatile in everyday driving. Power delivery is excellent — never harsh or jerky, and both steering and braking provide just the right amount of feedback even in the ice and snow. The Macan is a pleasure to drive no matter what's happening outside.
2018 Toyota RAV4 Adventure AWD
Versatile. I spent a lot of time in the RAV4 and I walked away with a newfound appreciation for the aging small Toyota SUV. First, while driving the RAV4 from city to mountains, I was surprised how quiet it is, even on snow, ice and gravel covered highways. Now I see why so many people in Tahoe have one. In a perfect world, it probably needs a little more power, but we were running at pretty high altitudes so it's likely just enough for 80 percent of the population. The Adventure trim level seems a little silly at first — it's really just wheels, paint and accessories. Dumb, right? Maybe not. If you're looking at Jeep Renegade and want the reliability and resale value of a Toyota with something similar to Jeep's cool look, the RAV4 is exactly the ticket. In the snow, it feels capable and light. Fun in all the right ways, the RAV4 Adventure provides access to the desert or ski slopes without having to stretch your budget too much.