Top Cars
The 8 Cheapest Heavy-Duty Pickup Trucks You Can Buy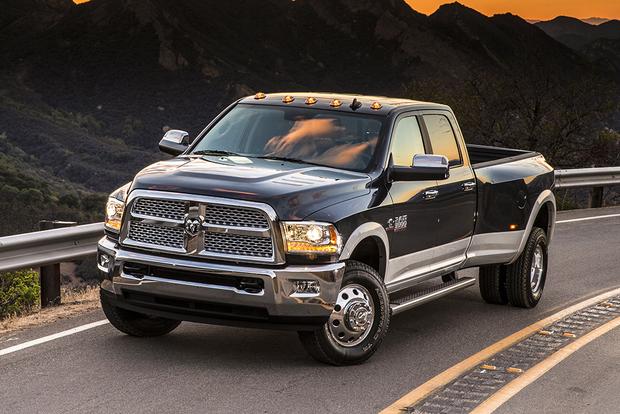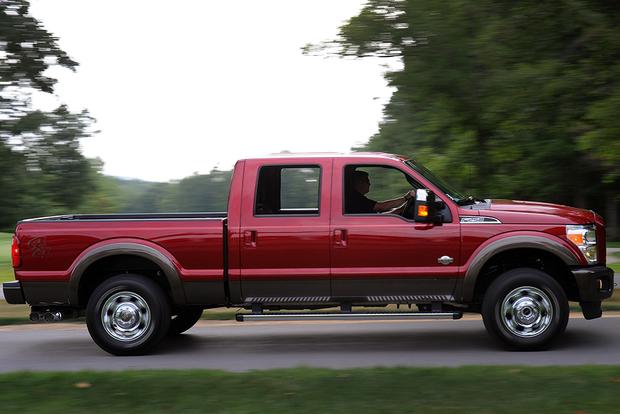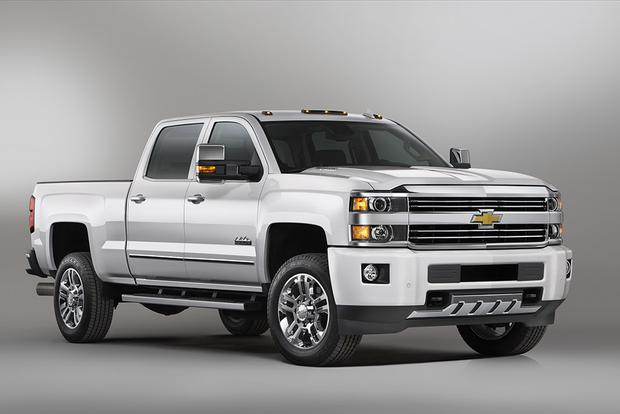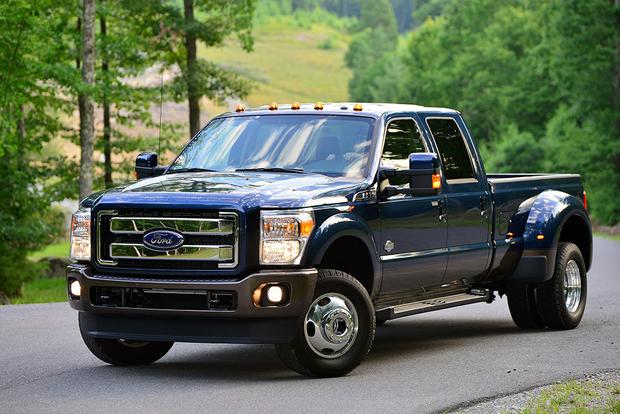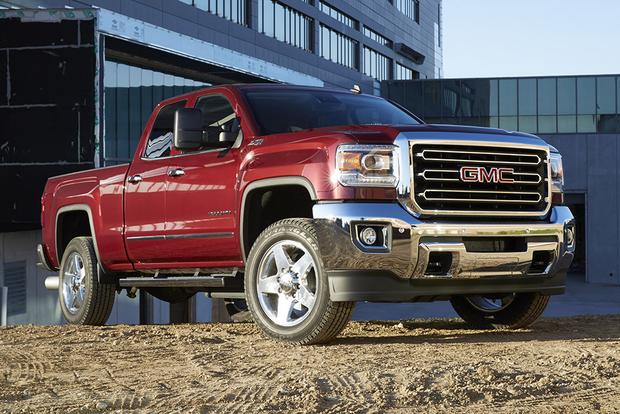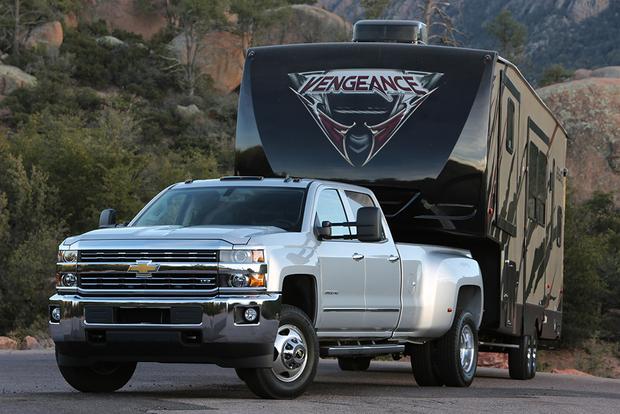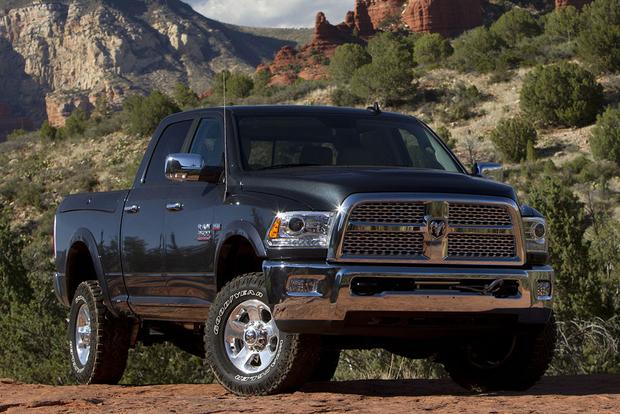 As modern pickups add more equipment, more capability and more power, buying a heavy-duty pickup isn't as cheap as it once was. But if you're shopping for a heavy-duty pickup on a budget, you can still get a few trucks without all the bells and whistles. We've rounded up the eight cheapest heavy-duty pickup trucks on the market, and we've included their base-level price tags for truck buyers who want pure capability without any high-tech or luxury adornments.
Ram 2500HD -- $32,180
The least-expensive heavy-duty pickup on the market is the Ram 2500HD Tradesman, which starts at $32,180 with shipping. Not much is standard, as the basic pickup only includes steel wheels, unpainted bumper covers, air conditioning, cruise control and little else. In fact, even power windows and locks are optional on regular-cab models. Equipped with a 5.7-liter HEMI V8, base-level Ram 2500HD models offer an impressive 13,900-lb towing capacity and an adequate 3,040-lb payload capacity.
Ram 3500HD -- $32,935
Although it's only a little more expensive than its Ram 2500 sibling -- and although it looks nearly identical to the Ram 2500 -- the RAM 3500HD offers some changes over the base-level heavy-duty Ram. The biggest is upgraded suspension, which is responsible for a payload increase from 3,000 pounds to well over 4,000 pounds. Towing capacity stays the same, though, as does the base-level Tradesman model's rather basic list of standard features. Also identical is the truck's standard engine, which remains Ram's excellent 5.7-liter HEMI V8.
Ford F-250 -- $33,005
Like rival base-level heavy-duty trucks from other manufacturers, Ford's F-250 Super Duty is pretty low on luxuries, offering only steel wheels, air conditioning and an AM/FM stereo. It's so bare-bones that you'll have to pay more if you want simple items such as cruise control, keyless entry and power windows. But you will get a lot of capability: The F-250 comes standard with a 6.2-liter gas-powered V8, which makes 385 horsepower and helps the truck tow over 12,000 pounds (and haul nearly 4,000 pounds) in its most basic form.
Chevrolet Silverado 2500HD -- $33,825
Like most base-level work trucks, the Chevrolet Silverado 2500HD comes standard with basically nothing -- although it does include a few luxuries such as cruise control, a 4.2-inch color display screen, power door locks and even a USB port for music. Power windows and mirrors are still extra, though. What isn't extra is a highly capable engine: The Silverado 2500HD touts a 360-hp 6.0-liter V8, along with a payload capacity of around 3,600 pounds and a towing capacity of 13,000 pounds. That's not bad for a full-size truck that costs just a little more than a well-equipped family sedan.
Find a Chevrolet Silverado 2500HD for sale
Ford F-350 -- $33,900
Like its base-level F-250 variant, the F-350 Super Duty comes with barely any standard features: only a radio, air conditioning, steel wheels and crank windows. Also the same as the base-level F-250 Super Duty, the F-350 comes standard with a 385-hp 6.2-liter V8. But thanks to improved suspension components, the F-350 touts some towing and hauling upgrades over the F-250: Both figures increase by a few hundred pounds compared to the lower-end model.
GMC Sierra 2500HD -- $34,390
The base-level GMC Sierra 2500HD is mechanically identical to its Silverado 2500HD cousin, so standard models include a 13,000-lb towing capacity, a 3,600-lb payload capacity and a muscular 360-hp 6.0-liter V8. The only major differences between the Sierra HD and the Silverado HD are based on appearance: The Sierra touts more chrome trim that delivers a more upscale look than its Silverado sibling.
Find a GMC Sierra 2500HD for sale
Chevrolet Silverado 3500HD -- $34,925
Like most 3500-level trucks on our list, the Chevrolet Silverado 3500HD offers only a few benefits over the standard Silverado 2500HD, including slightly beefier suspension and more available options that enhance its capabilities even more. In its most basic form, however, the Silverado 3500HD's improvements translate only to an increased payload capacity: It's 4,700 pounds for the 3500 HD compared to just 3,600 pounds for the 2500 HD model. Drivers looking for an increased towing capacity won't find it here and should instead set their sights on a better-equipped 2500HD or 3500HD model with further enhancements.
Find a Chevrolet Silverado 3500HD for sale
GMC Sierra 3500HD -- $35,490
The GMC Sierra 3500HD is the most expensive base-level model on our list of heavy-duty pickup trucks -- and with good reason. Along with its Silverado and Sierra 2500HD stablemates, the Sierra is the newest truck on this list, having been redesigned just last year. The Sierra also touts a more luxurious image than rivals such as the Ford Super Duty and the RAM HD -- and it backs up that image with excess chrome trim and other appearance items. But underneath, it has the same capabilities as the Silverado 3500HD: a 4,700-lb payload capacity and a 13,000-lb towing capacity, largely thanks to a sturdy chassis and a 360-hp 6.0-liter V8.