Top Cars
The Best Three-Row Crossovers: A List of Our Favorites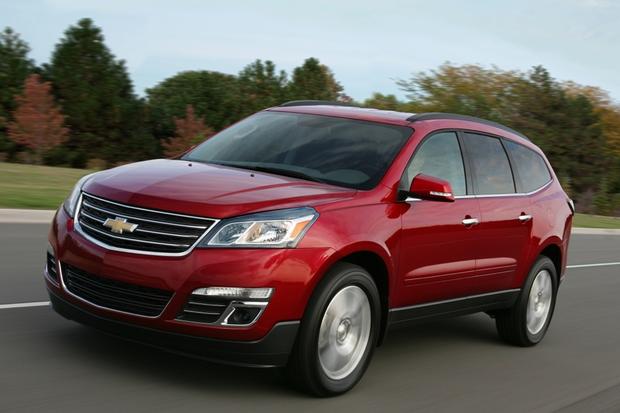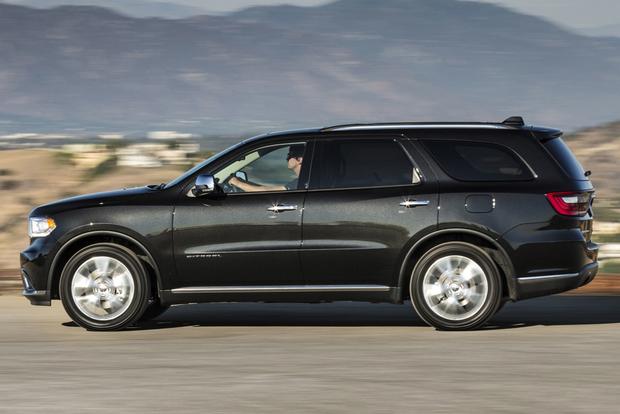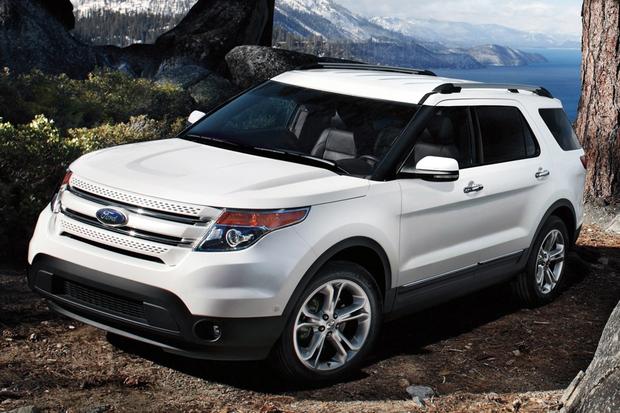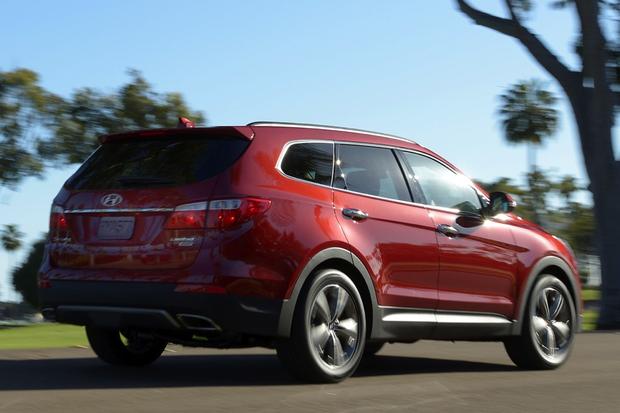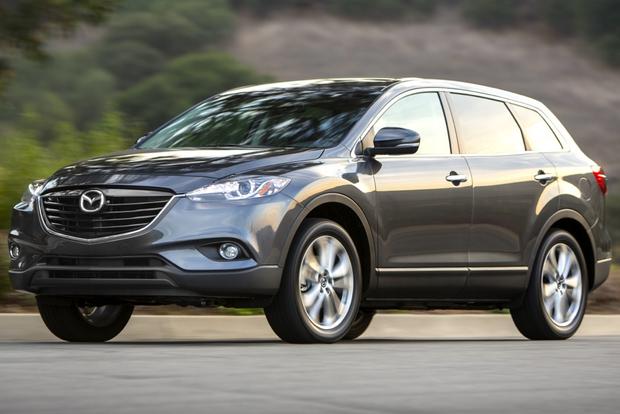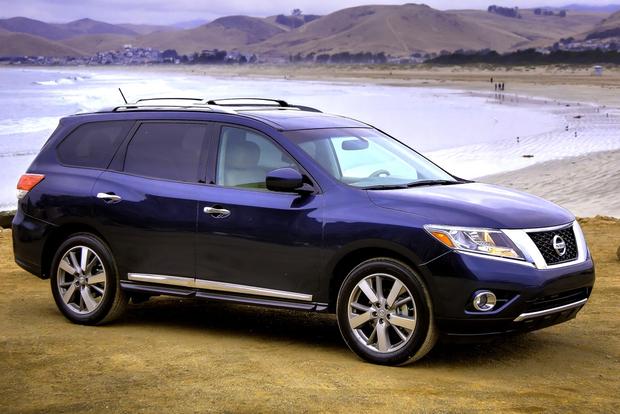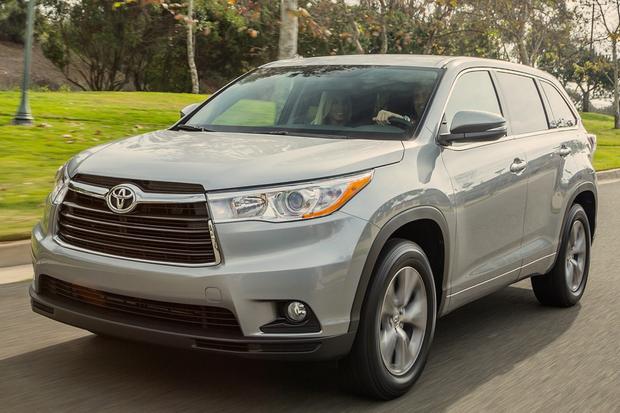 If you're interested in a new family car, chances are good that you'll be considering a few three-row crossovers. Three-row SUVs and crossovers have become very popular in recent years, given their unmatched practicality and ample interior room for the whole family, plus a few friends. The sheer number of choices in the three-row-crossover world means that picking the right one can be difficult. Fortunately, we're here to help steer you in the right direction by listing some of our favorite three-row SUVs and crossovers.
Chevrolet Tahoe
Given its massive size and mediocre fuel economy, the newly redesigned Chevrolet Tahoe isn't for everyone. But drivers who want their next family vehicle to have everything -- cargo capacity, interior room and towing capabilities -- will want to take a long look at the Tahoe. Not only does it boast each of those three items, it also includes a new 355-horsepower 5.3-liter V8 that's mated to a smooth 6-speed automatic transmission. Our only gripe is price: Given the Tahoe's recent redesign, don't expect much of a discount from its starting figure of around $45,500 with shipping.
Find a Chevrolet Tahoe for sale
Chevrolet Traverse
The Chevrolet Traverse offers an alternative to the larger Tahoe for drivers who prioritize fuel economy and a carlike ride over V8 muscle and towing capacity. While it still offers three-row seating, the Traverse uses a 281-hp 3.6-liter V6 in place of the Tahoe's big V8 and a car-based chassis instead of the Tahoe's trucklike body-on-frame construction. The Traverse also features a long list of parent-friendly safety features, ranging from forward-collision alert and lane-departure warning systems to parking-lot-friendly rear cross-traffic alert. Best of all, shoppers on a budget will appreciate the Traverse's reasonable starting price of less than $32,000 with shipping.
Find a Chevrolet Traverse for sale
Dodge Durango
If you like the Jeep Grand Cherokee but bemoan its lack of a third row, the larger Dodge Durango is the SUV for you. Featuring much of the same equipment as the Grand Cherokee, including its excellent Uconnect infotainment system, the Durango boasts three-row seating and a reasonable base price of around $31,000. It also offers two potent engines. While we like the 5.7-liter HEMI V8, we'd probably stick with the 3.6-liter Pentastar V6, which returns up to 25 miles per gallon in highway driving. And before you say it, don't worry: The latest Durango isn't like previous versions of the SUV. Instead, it boasts a more refined cabin, excellent ride quality and surprisingly tight handling.
Ford Explorer
The Ford Explorer remains one of the best three-row crossovers on the market for its ability to combine handsome looks, reasonable pricing, high-quality materials and desirable features. While a few convenience features -- including automatic headlights and full power accessories -- are included in its starting price of around $31,000, drivers looking to add items such as Bluetooth and the brand's Sync infotainment system don't have to spend too much in order to upgrade. We also like the standard 290-hp V6, which delivers excellent acceleration and up to 24 mpg in highway driving.
Hyundai Santa Fe
The latest Hyundai Santa Fe comes in two flavors: a smaller, two-row model dubbed the Sport, and a larger, three-row version called simply the Santa Fe. That's the one we're recommending, largely because it offers excellent styling, lots of desirable features and a roomy cabin with standard three-row seating, all for around $31,000 with shipping. There's also a 3.3-liter V6 that makes a muscular 290 hp and still manages to return up to 25 mpg on the highway. Rounding out the Santa Fe's list of positive attributes is Hyundai's long warranty, which lasts for 10 years or 100,000 miles for the crossover's engine, or five years and 60,000 miles for everything else.
Find a Hyundai Santa Fe for sale
Mazda CX-9
The Mazda CX-9 manages to bring a little sport to the world of the sport utility. Offering handsome styling and expressive handling, the CX-9 boasts an eager 3.7-liter V6 that puts out 273 hp. Also included is a smooth automatic transmission and a surprisingly roomy third-row seat with easy access and room for adults. Maybe our only gripe is the CX-9's age, which is starting to show in items such as its outdated center-mounted touchscreen and its mediocre crash-test ratings. Still, we think the CX-9 is worth a spot on your shopping list, especially given its base price of less than $31,000 with shipping.
Nissan Pathfinder
The Nissan Pathfinder is one of our favorite new crossovers. One reason is its excellent interior, which also includes many standard features such as tri-zone automatic climate control, remote keyless entry and 18-in alloy wheels. We also like the Pathfinder's engine, which makes a brawny 260 hp and still allows the crossover to beat 20 mpg in city driving. Pricing is reasonable, too, as the Pathfinder starts around $30,000 with shipping, or $36,000 for the new Pathfinder Hybrid, which returns 25 mpg in the city and 28 mpg on the highway. The Pathfinder Hybrid also includes luxurious features such as a rearview camera, Bluetooth, a 7-in touchscreen and keyless entry and ignition.
Find a Nissan Pathfinder for sale

Toyota Highlander
The all-new Toyota Highlander offers a completely new look for the 2014 model year. But don't let the bolder styling throw you off: The latest Highlander still includes all of the things that we've appreciated about the crossover for the last 10 years. There's reasonable pricing that starts around $30,000, excellent gas mileage -- whether you choose the 4-cylinder or the optional V6 -- and traditional Toyota durability. The Highlander also impresses us with its long list of standard features, which includes items such as automatic headlights, a backup camera, a 6.1-in central touchscreen and Bluetooth. Our only gripe relates to the third row, which isn't quite as roomy as the rear seat in some larger rivals.