With its countless, cinematic throwbacks to everything from "Goonies" to "Stand By Me", Netflix's hypnotic "Stranger Things" is like a love letter to the 1980s. Add in a handful of muscle cars, SUVs and sedans, and you're in for a stylistic thrill ride of massive mullets and jean suits.
Hop into these retro cars for a spine-tingly, sci-fi trip down memory lane, Hawkins, Indiana, style:
1. Chief Jim Hopper's 1980 Chevrolet K5 Blazer
Gruff yet endearing, tough but tender-hearted. That pretty much sums up both Chief Jim Hopper and his 1980 Chevrolet K5 Blazer. When he rolls up in this full-size, boxy beauty, you can bet both the truck and its driver have stories. Lot of them. The Blazer was the smallest full-size SUV version of the Chevrolet C/K family, and it was introduced in 1969. Not only does the 4×4 front engine, rear-wheel-drive sensibility perfectly mirror Hopper's disposition — ridiculously rugged, no frills — it's even the same color as his beige, early 80s uniform. We totally get why the Blazer was a favorite of law enforcement tasked with rural takedowns and, in Hopper's case, investigating, um, things that are strange. Find a used Chevrolet Blazer for sale
2. Joyce Byers' 1976 Ford Pinto
Compact, hearty and potentially explosive, Joyce and her moss-meets-avocado green Pinto make a formidable team — steely strong on a no-holds-barred quest to bring back her missing son. A front-engine, rear-drive subcompact car named after the Pinto pony (the first subcompact developed by Ford in North America), the Pinto debuted in the fall of 1970. At that time, it was available as a 2-door coupe, then later as a 3-door hatchback and, in the late 70s, as a 3-door station wagon throughout its decades-long manufacturing run. Like Joyce, the Pinto was troubled at times. In 1977, controversy bubbled up regarding the car's fuel tank design, which was linked to a heightened risk of deadly fires after rear-end collisions. After the National Highway Traffic Safety Administration ultimately ordered a recall, Ford modified the design to slash the risk of fire. A tendency to bust into flames when pushed? Bet on Byers to push back. Find a used Ford for sale
3. Jonathan Byers' 1971 or 1972 Ford LTD
As the solemn loner turned fierce advocate for his missing brother, Jonathan Byers steers his Ford LTD like a man on a mission. Manufactured between 1965 and 1986, the full-size LTD introduced options and features folks had only seen on more luxurious brands, such as the sleek, sinewy Lincoln. It was the largest vehicle produced by the automaker, and at different times throughout its production the model range included 2-door and 4-door pillared and hardtop sedans, a 2-door convertible and the awesomely woodgrain station wagon, the Ford LTD Country Squire. Jonathan's ride is a bit thrashed, and the hazy, whodunnit aura of the show makes the LTD the perfect repository for a brother's grief and fierce frustration. Roomy enough for his gear (photography and otherwise), the LTD spirit matches the Byers' determination. Find a used Ford for sale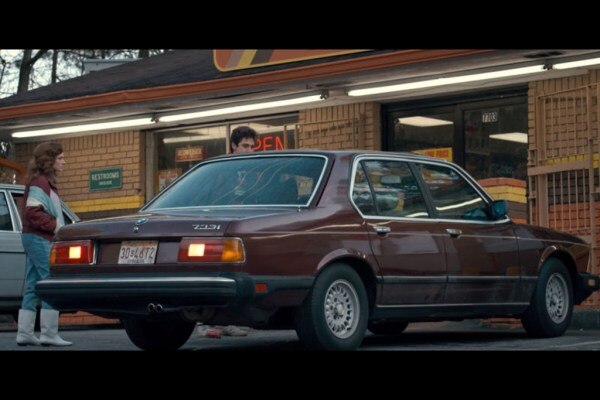 4. Steve Harrington's 1981 (?) BMW 733i
With a name as tony as Steve Harrington, an equally prestigious vehicle is a must. The 733i, with its clean lines and plum-hued crispness, fits Steve to a stately, chiseled T. As the cocky jock turned endearing BF, Steve shares more than a few traits with his father's flagship sedan — both are fast, flirtatious and fearless.
The 733i was part of the first generation of the BMW 7 Series of luxury cars that was produced from 1977 to 1987. It featured a slew of electronic features never seen before in a BMW, including an on-board computer and a complex climate control system. It was also the first BMW to offer an anti-lock braking system (ABS), a driver's airbag and a new design of front suspension. Find a used BMW 7 Series for sale
5. Lonnie Byers' 1972 Oldsmobile 442
Lonnie's a tough character to like, but his Oldsmobile is pure muscle car joy. Joyce's selfish, deadbeat ex-husband isn't around much, so it's gearhead giddiness when we watch him drive up in a classic 442.
Manufactured between the 1964 and 1980, it was introduced as an option package for F-85 and Cutlass models, before becoming a model in its own right from 1968 to 1971.
It was born out of competition between the Pontiac and Oldsmobile divisions of General Motors. When the GTO version of the Pontiac LeMans intermediate proved to be a hit in 1964, Oldsmobile decided to beef up its Cutlass, which ultimately became the 4-4-2 — a name that comes from the original car's 4-barrel carburetor, 4-speed manual transmission and dual exhausts. Find a used Oldsmobile for sale
6. Barbara Holland's 1988 Volkswagen Cabrio
Sweetly sufficient, endearingly cute, the Cabrio was an 80s favorite. It was the driving dream of scores of newly licensed teens, and it peppered more than a few sitcoms and rom-coms, from "Who's the Boss?" to "Can't Buy Me Love." Sold from 1980 to 1993, the Golf-esque convertible was a perky, glee-inducing ride.
We get only a few glimpses of it in this series, and, sadly, it outlives its owner, but its powder-blue perfection motors on. One potential goof: Barb's Cabrio is from the late 80s, but the show is set in 1983. Perhaps it was an oversight, or just one of those science fiction-y things. No matter. A cute car in a creepy show makes strangely perfect sense. Find a used Volkswagen for sale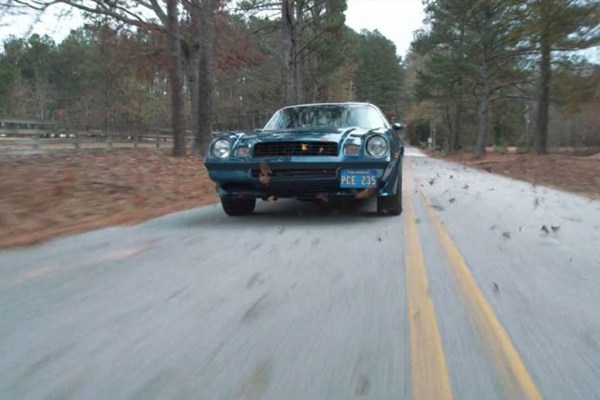 7. Billy Hargrove's Late 70s Chevrolet Camaro
What's a brash, brazen bully named Billy drive? The equally loud, ultra-showy Chevy Camaro. Not much is known about Billy (he shows up in Season 2 with the demeanor of a lightening bolt — thunderingly loud and thugish), so the whole Camaro thing is wholly believable. Blasting music as he careens onto the Hawkins High School campus, Billy's hubris is searing and somewhat cringeworthy.
Unlike the first generation of Camaro, Billy's car is more elongated and wider than its predecessor. It packs a punch, and leaves a noisy mark. Again, a perfect, perfect match for Billy's brutish ways. Find a used Chevrolet Camaro for sale
8. 1981-1983 Chevrolet Vans
Nothing beats a police chase, and season 2 kicks off with a doozy. A ragtag team of punks pile into an early 80s Chevrolet Van G20 Lowtop, complete with two-toned design, whereas the evil folks from the Department of Energy sport a fleet of perfunctory Chevy vans to track down the folks who know too much. These vans — precursors to minivans — were designed as passenger vehicles; in the mystery-laden underbelly of Chicago and Hawkins, however, they take the baddies for a ride. Find a used Chevrolet van for sale
9. 1977 AMC Pacer Wagon
The tone and style of the show is early 80s retro, with late 70s sensibilities. Scenes with an un-flashy, relatively utilitarian AMC Pacer wagon in the background are not uncommon, but why it shows up again and again remains a mystery.
Whereas traditional Pacers sported a rounded, aerodynamic shape, the 1977 station wagon had a squared-off back and nearly upright, roomy rear-side windows. Some also sported woodgrain siding — a styling fad that bedecked countless cars of that time.
After delving into "Stranger Things," we now know that friends don't lie, and mornings are for coffee and contemplation. We also know that its cars make for a very nostalgic ride. Find a used AMC for sale