Top Cars
Top 10 EVs With the Longest Range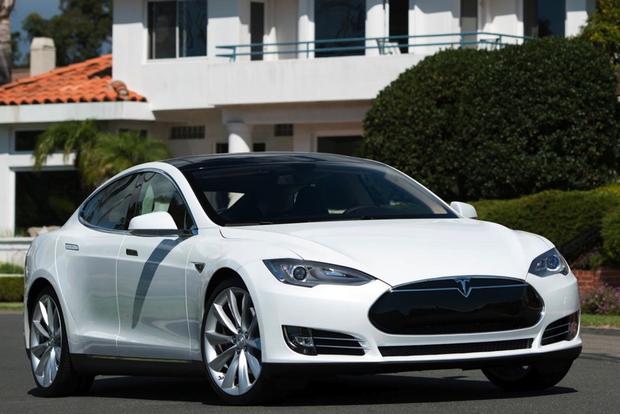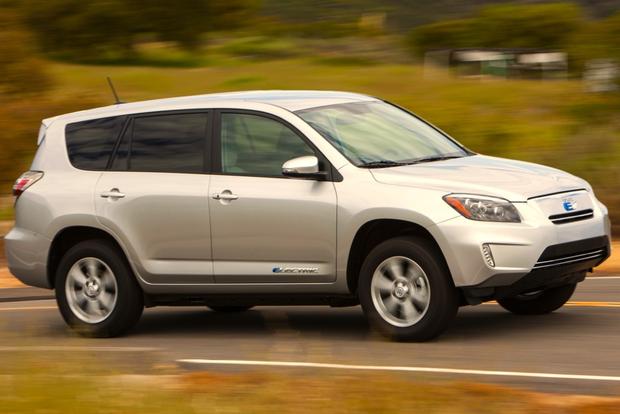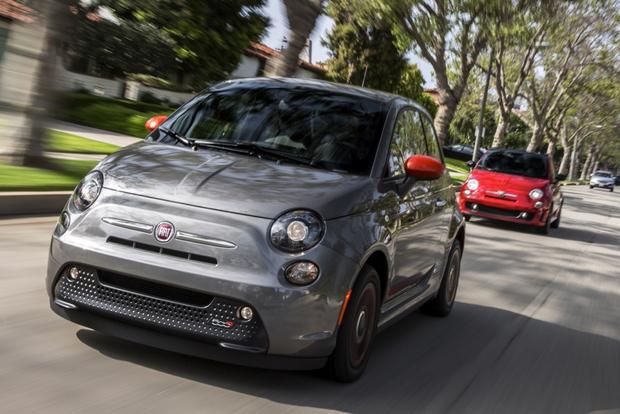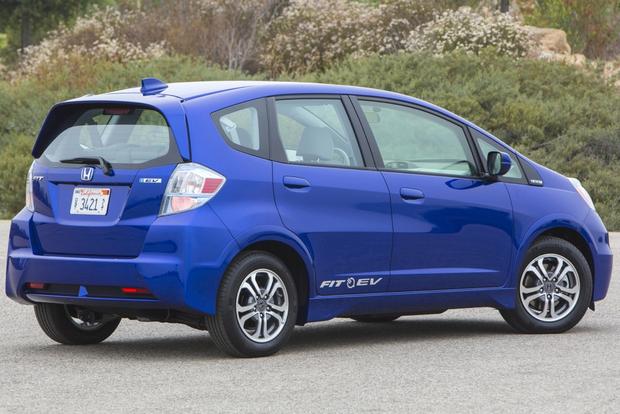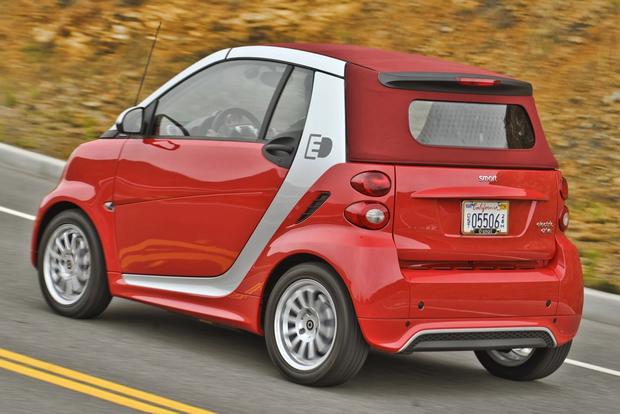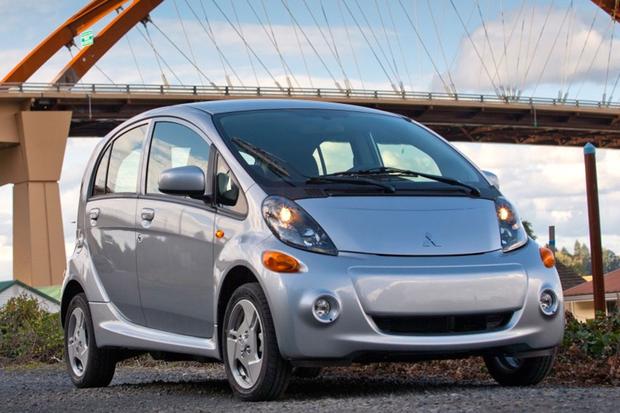 In the market for an electric vehicle? If so, you've probably got range on your mind, and that's where our latest list comes in. We've listed each of today's EVs by range, from longest to shortest. Now you'll know exactly which models offer enough distance between charges to fit in with your driving patterns.
1. Tesla Model S: 208-265 miles
It's not even a close race for number one on our list: The Tesla Model S wins by a mile. Actually, it wins by more than 100 miles, or 150 if you upgrade to the more powerful Performance model. That's because the base-level 60-kWh Model S ($71,000 with shipping) boasts a 208-mile range, while the upgraded P85 ($91,000) offers a more indulgent 265 miles between charges. Regardless of which Model S you choose, you'll get a long list of standard features that includes alloy wheels, heated seats, a rearview camera, dual-zone automatic climate control and a monstrous 17-inch center-mounted touchscreen.
2. Toyota RAV4 EV: 103 miles
That's right: The title of second-longest range belongs to an SUV. More precisely, it's a Toyota RAV4 with a fully electric motor, also known as the Toyota RAV4 EV. And according to the Environmental Protection Agency (EPA), it can travel an impressive 103 miles between charges. Beyond its impressive range, the RAV4 EV is also highly useful thanks to SUV cargo space and interior room, and a long list of standard equipment that includes keyless entry and ignition, heated front seats and dual-zone automatic climate control. The only problem: It's not sold outside of California. Oh, and it costs more than $50,000, though tax breaks help soften that number once you've signed the paperwork.
Find a Toyota RAV4 EV for sale
3. FIAT 500e: 87 miles
The FIAT 500e is an impressive electric car, assuming you live in California. You'll have to in order to buy one, as FIAT is currently limiting sales to California residents, though we wouldn't be surprised to see that change in the next few years. For now, shoppers in California can enjoy the FIAT 500's charming look coupled with an 87-mile range and a long list of standard equipment that includes navigation, automatic climate control and keyless entry. Pricing starts around $32,500, a hefty premium over the standard 500 but one that can be decreased with tax breaks.
4. Nissan Leaf: 84 miles
The Nissan Leaf remains near the top of the EV pack with an 84-mile range -- a figure that recently increased thanks to updates for the 2014 model year. The Leaf's range is especially noteworthy considering its low starting price (under $31,000 with shipping) and its seating for five, which makes the Leaf among the most practical and affordable EVs on the market. Standard features don't quite match those of rivals, but the Leaf's big trick is a new 6.6-kW onboard charger, which helps the hatchback fully recharge in just four hours.
5. (TIE) Chevrolet Spark EV: 82 miles
When you consider "fuel-efficient" and "Chevrolet," you probably think of the brand's Volt plug-in hybrid, but the recently released Chevrolet Spark EV can travel much longer between charges than a Volt. Of course, the Spark doesn't offer the Volt's range-extending gasoline engine, but it does include alloy wheels, keyless entry and ignition, Bluetooth and a 7-in touchscreen with Chevrolet's MyLink infotainment system, all for around $27,500 with shipping. Unfortunately, it's only available in California and Oregon, but we'd expect that to change in the next few years.
Find a Chevrolet Spark EV for sale
5. (TIE) Honda Fit EV: 82 miles
The Honda Fit EV offers a long list of benefits, including a practical interior and one of the longest ranges in the electric car world: 82 miles. It also boasts luxury-car levels of standard equipment, with features ranging from automatic climate control and a navigation system to a rearview camera, heated seats, Bluetooth and infotainment voice controls. Its main demerit is price: The hatchback's $37,500 base figure is a bit steep, especially considering that a gas-powered Fit, which returns a respectable 33 miles per gallon on the highway, starts at around $16,000 with shipping.
7. Ford Focus Electric: 76 miles
The Ford Focus Electric is competitive with the Nissan Leaf and Honda Fit EV thanks to a 76-mile range and a roomy interior. Things are even more competitive for 2014 now that Ford has slashed the Focus Electric's price by more than $4,000. And while the hatchback's new base price of $36,000 with shipping is still fairly high, the Focus Electric comes fully loaded. Standard equipment includes navigation, rear parking sensors, remote start and a rearview camera. The Focus Electric can also be recharged in three to four hours, which mirrors the Leaf when it's equipped with the new 6.6-kW charger.
Find a Ford Focus Electric for sale
8. smart fortwo electric drive: 68 miles
The ultra-tiny smart fortwo electric drive is on the low end of the EPA's range scale with an estimated figure of 68 miles, but that won't bother most drivers, since the smart fortwo is hardly built for long-distance driving. Instead, think of it as an EV that's perfect for around-town jobs and commuting -- and an enticing one at that, considering its base price of under $26,000 with shipping. Unfortunately, that figure doesn't buy you many features, but $3,000 more will get you the smart fortwo electric drive cabriolet, which remains today's only electric convertible.
9. Mitsubishi i-MiEV: 62 miles
The Mitsubishi i-MiEV looks like it's from the future, thanks to an egg-shaped body and an unusual rear engine setup. Unfortunately, its range figures aren't especially futuristic, as the i-MiEV lags behind nearly all competitors. But there's a silver lining: The i-MiEV starts at an impressive $23,500 with shipping, which makes it the least expensive electric vehicle on the market today. And while you can't use the i-MiEV for long trips, its reasonable base price and four doors mean that it can be a great choice if you're looking for a practical ride that will bring you around town as efficiently as possible.
Find a Mitsubishi i-MiEV for sale
10. Scion iQ EV: 48 miles
The Scion iQ EV is a fully electric hatchback aimed at city dwellers looking for a zero-emissions ride around town. Unfortunately, shoppers who meet that description can't buy one, as the iQ EV is currently only being sold to car-sharing programs and other urban-area fleets. If you do get the chance to climb behind the wheel, you'll note that the boldly-styled iQ EV offers an unusual 3+1 interior, a surprising amount of headroom and 3-hour charge times. However, its 48-mile range can be very limiting.