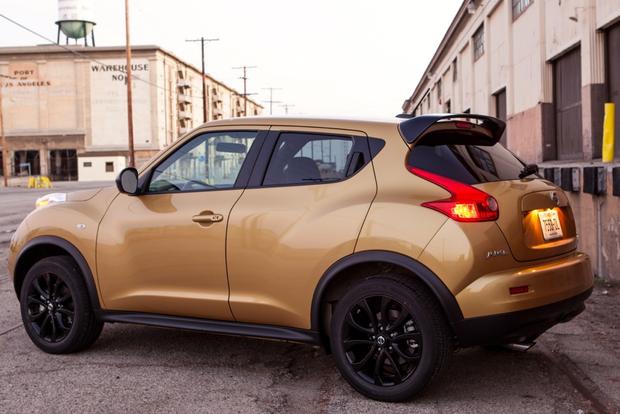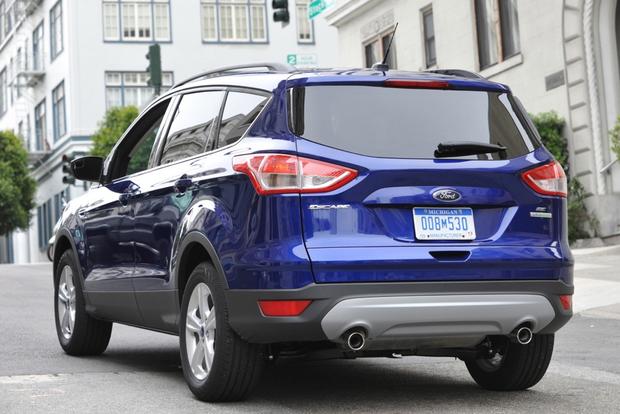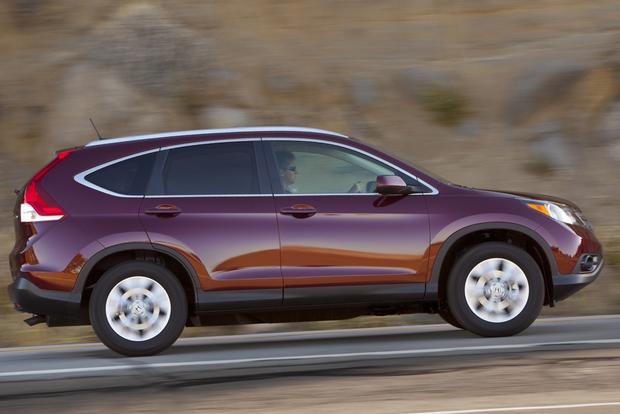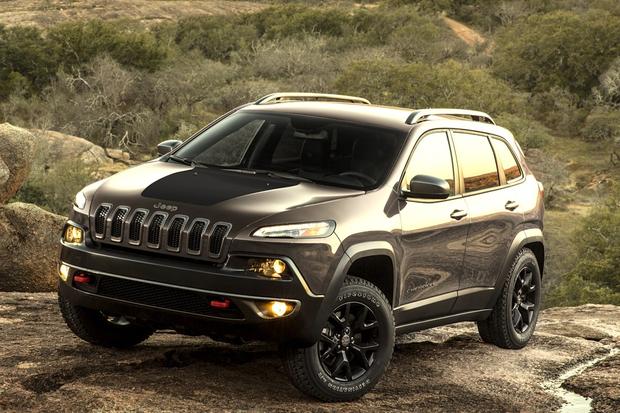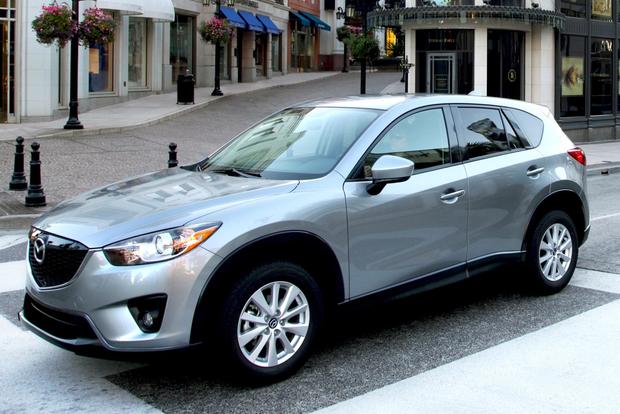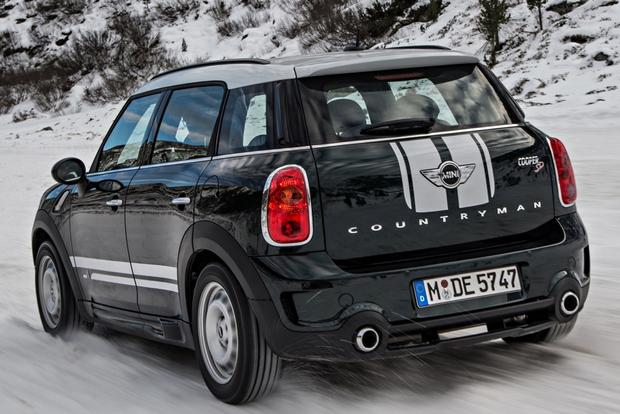 If you live in the city and you're searching for an SUV, our latest list is just for you. That's because we've rounded up seven of our favorite SUVs that include each of the qualities every city dweller will want: small size (for easy parking), nimbleness (for quick lane changes), ground clearance (for nasty potholes) and, of course, practicality (for holding all your gear, or your friends).
Ford Escape
The Ford Escape offers a large interior with generous rear-seat room and more cargo space than nearly all of its rivals. It also boasts a powertrain for all purposes, from the base-level 2.5-liter 4-cylinder to a fuel-saving 1.6-liter turbocharged 4-cylinder and a speedy 2.0-liter that makes a whopping 240 horsepower. Our favorite part, however, is a long list of available features, from a system that lets you swipe your foot under the bumper to open the rear hatch (useful when your arms are full) to rear cross-traffic alert, which helps drivers pull out of parking spaces in tight lots. Base pricing starts from $24,000, which is a little higher than some rivals, but base-level Escape models are also better-equipped than most.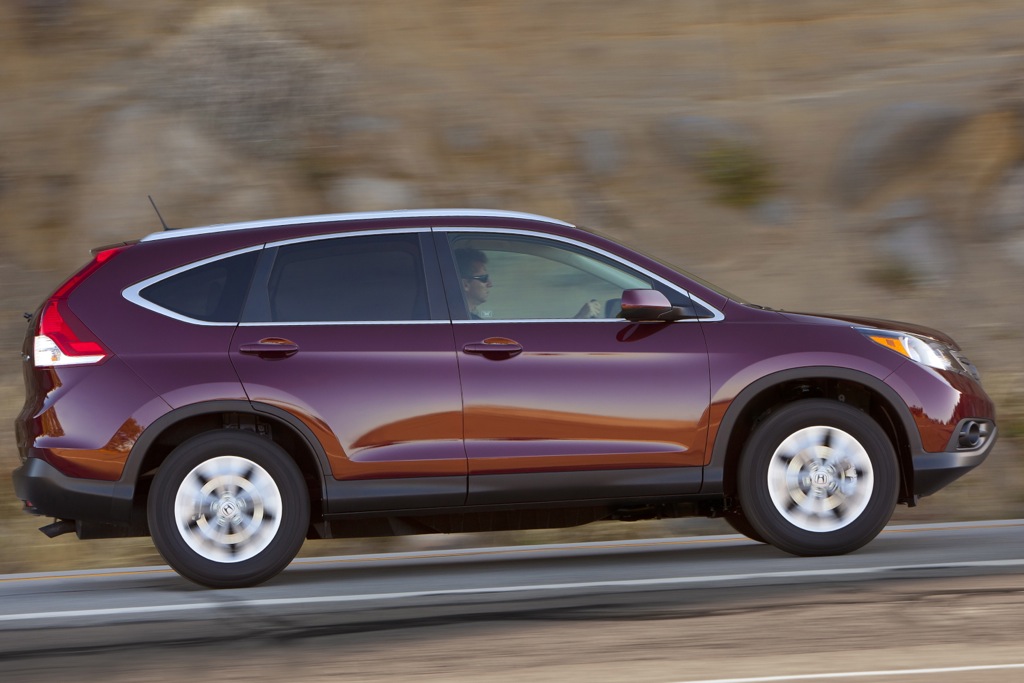 Honda CR-V
Spend a few days with a CR-V and you'll realize the small crossover was engineered with city drivers in mind. One reason is that there's no powerful V6 designed for highway use, just a fuel-efficient 4-cylinder that boasts 23 miles per gallon in the city. There's also an impressive 71 cu ft of cargo space, which is closing in on best-in-class honors. And it all fits in a reasonably-sized wrapper that's no longer than a Honda Civic, which makes parking a breeze. The CR-V's base price of $24,500 is higher than some rivals, but many shoppers believe it's worth the premium.
Jeep Cherokee
The latest Jeep Cherokee has just made its debut for the 2014 model year, and we're already impressed. With a starting price of around $25,000 including destination, the Cherokee is more expensive than many rivals. But it's also more advanced, with a standard 9-speed automatic, an available and highly muscular V6, and optional Jeep off-road capabilities. We also love the available infotainment system, which we consider to be one of the best in the business. Fuel economy is also strong, coming in at 22 mpg in the city.
Kia Sportage
The compact Kia Sportage is an excellent crossover for city-dwelling shoppers looking for the practicality of an SUV with the driving characteristics of a car. One reason is its size: The Sportage is just 175 inches long, making it shorter and easier to park than most compact cars, such as the Ford Focus and Toyota Corolla. We also appreciate its fuel economy rating of 21 mpg in the city and its standard 182-hp engine. Best of all, we like the Sportage's base price of around $23,000 -- an excellent figure for a crossover that comes standard with an automatic transmission.
Mazda CX-5
The Mazda CX-5 is one of our favorite SUVs in general, and it's even better if you're in need of a nimble, fuel-efficient vehicle that's ready for the chores of city life. That's because the CX-5 joins the carlike handling that we've come to expect from Mazda with impressive, efficient engines that return nearly 30 mpg in city driving. We also appreciate the CX-5's long list of available safety features, including Smart City Brake Support, which helps to stop the SUV in the event of an imminent low-speed collision. Pricing is also reasonable, with a starting figure of around $23,000 including destination.
Mini Countryman
The Mini Countryman isn't the most practical small crossover, as its 42.2 cu ft of cargo space is among the lowest figures in its class. It's also not the least expensive, as a base price of $23,500 buys you a sparsely equipped base model with a weak 4-cylinder. But the Countryman does offer some of the most exciting styling in its class, and there's no arguing with the fact that it's the best-handling SUV on the road, making it perfect for avoiding potholes, bumps and other city road hazards. Gas mileage is also excellent, with base models touting 27 mpg in the city.
Find a Mini Countryman for sale
Nissan Juke
With its tiny cargo area and small back seat, the Nissan Juke may not be the most practical crossover on the market, but it's clearly the most entertaining. That becomes true the second you look at it, when you notice its unusual rear fenders, its strange headlights and its outside-the-box shape. The Juke also boasts some crazy features that you wouldn't find in a normal car, such as a G meter that shows you how aggressively you're cornering. Best of all, base pricing starts at an excellent $20,500 with shipping, and fuel economy reaches 27 mpg in the city.
What it means to you: If you live in the city, an SUV can be an excellent choice, considering all the potholes, parking curbs and other obstacles. Our latest list shows that you can combine small-car friendliness with SUV practicality.