Sometimes it's hard to be frugal with fuel when you need a vehicle that can haul a lot of people. If you have a family of five or more, it can be tough (or impossible) to squeeze everyone into a Toyota Prius. Luckily, automakers have responded in recent years to the need for fuel-efficient minivans and crossovers with three rows of seats for thrifty families who don't want to pay to feed a gas guzzler just to take the kids to school. Here are the top fuel-efficient SUVs and minivans with 3-row seating for 2019.
8. 2019 Kia Sorento
One non-hybrid that gets an honorable mention on our list is the efficient Kia Sorento. This 3-row SUV is more efficient than the Kia Sedona minivan with the front-wheel-drive Sorento returning 22 mpg city/29 mpg hwy/25 mpg combined. This is another one that's as budget-friendly as it is family-friendly costing a little more than the Outlander, but still starting in the mid-$20,000 range. Like the Mitsubishi, this Kia is available with AWD, but that extra traction will cost you a little at the pump.
Find a Kia Sorento for sale near you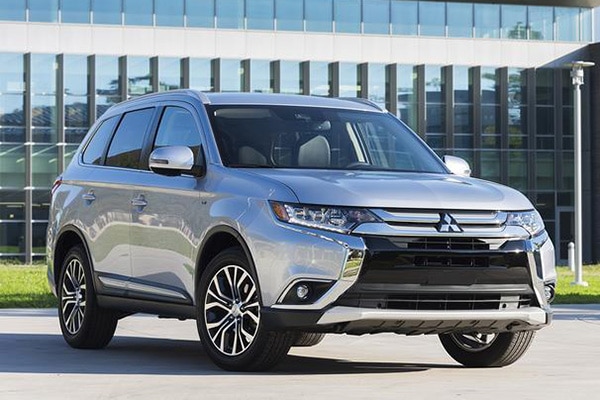 6. 2019 Mitsubishi Outlander (tie)
The most fuel-efficient vehicle on this list that isn't a hybrid or an EV is also the most affordable. A Mitsubishi Outlander Hybrid is available, but not with three rows of seats. Luckily, you won't miss the hybrid efficiency too much with the standard Outlander, which has seven seats and returns 25 mpg city/30 mpg hwy/27 mpg combined for the FWD model. That means it matches the combined fuel economy of the Acura MDX Sport Hybrid for a much lower price starting at right around $25,000. It might not be as nice as the aforementioned luxury hybrids, but it's a pretty attractive option at half the price.
Find a Mitsubishi Outlander for sale near you
6. 2019 Acura MDX Sport Hybrid (tie)
The Acura MDX Sport Hybrid is the closest competitor to the Lexus RXL Hybrid. It gets strong fuel economy numbers of 26 mpg city/27 mpg hwy/27 mpg combined, which falls a little behind the similar Lexus, but the Acura delivers a slight performance edge with more horsepower. Pricing is similar for these two luxury SUVs with the Acura having a slightly higher starting price, but still coming in at the low $50,000 range.
Find an Acura MDX Sport Hybrid for sale near you
4. 2019 Toyota Highlander Hybrid (tie)
The Toyota Highlander Hybrid is one of the original hybrid 3-row crossovers and it's still one of the best. There's no plugging in required with this conventional hybrid, it just runs on regular gasoline and returns excellent fuel economy for its class at 30 mpg city/28 mpg hwy/29 mpg combined. Like the much smaller Prius, the Highlander Hybrid achieves better fuel economy in the city than it does on the highway, which can be a big perk for a family vehicle that spends a lot of its time in the city. Another nice perk is standard AWD on every hybrid model. The Highlander Hybrid's price premium over a similarly equipped non-hybrid AWD Highlander isn't that much putting its starting price in the mid-$30,000 range.
Find a Toyota Highlander Hybrid for sale near you
4. 2019 Lexus RX 450hL (tie)
Mechanically similar to the Toyota Highlander Hybrid is the Lexus RX 450hL. The hybrid Lexus RX is nothing new, but the long-wheelbase model with three rows of seats is. The RXL hybrid gets the same combined fuel economy as the Highlander Hybrid and it also gives you standard AWD, but its obviously a more luxurious and more expensive option. Like the Highlander, however, upgrading from a conventional, non-hybrid Lexus RXL to a hybrid model is a modest upcharge, this time into the low $50,000 range.
Find a Lexus RX for sale near you
3. 2019 Volvo XC90 T8 Twin Engine E-AWD
Its name is a mouthful, but this big Volvo XC90 hybrid is the most efficient hybrid 3-row crossover out there. It returns 62 MPGe, achieves 19 miles of all-electric range, and has a combined mpg rating of 25 with a dead battery. Standard all-wheel drive is a nice perk for drivers looking for more traction without sacrificing fuel economy. This luxurious SUV doesn't come cheap and you can expect pricing to start in the high $60,000 range.
Find a Volvo XC90 for sale near you
2. 2019 Chrysler Pacifica Hybrid
The Chrysler Pacifica Hybrid has the distinction of being the first and only plug-in hybrid (PHEV) minivan on the market. It has an MPGe rating of 82 and it can go 31 miles on a full charge. When the battery dies, the gas engine kicks in and even with a dead battery the Pacifica Hybrid returns a respectable fuel economy rating of 30 miles per gallon in combined driving. For reference, every other minivan on the market has a combined mpg rating in the low 20s. The downside of opting for the hybrid model over the conventional Pacifica is you lose Stow 'n Go seating due to the battery taking up space where the second-row seats normally fold down. Pricing for the Pacifica Hybrid starts right around the $40,000 mark which is a little pricey for a minivan, but still a strong value for what you're getting.
Find a Chrysler Pacifica for sale near you
1. 2019 Tesla Model X
As of this writing, the Tesla Model X is the only all-electric vehicle on the market with three rows of seats. It's not the roomiest vehicle on our list, but it certainly has the lowest fuel costs. The EPA rates the most efficient Model X at 93 MPGe. MPGe is a measurement for the average distance traveled per unit of energy consumed. The distance an electric car can move based on using the same amount of energy made by burning a gallon of gas is its MPGe rating. In the case of the Model X, that translates to an estimated annual fuel cost by the EPA of only $700 for the 75D model. The price of this EV varies depending on your state and local incentives, but you can expect the starting price of a Tesla Model X to be in the high $70,000 range.
Find a Tesla Model X for sale near you
With so many electrified family haulers on the market right now, this is a good time for big vehicles without big fuel costs.
Check out our previous list of Top Fuel-Efficient SUVs and Minivans With 3-Row Seating