Top Cars
Top Inexpensive Cars With Third-Row Seating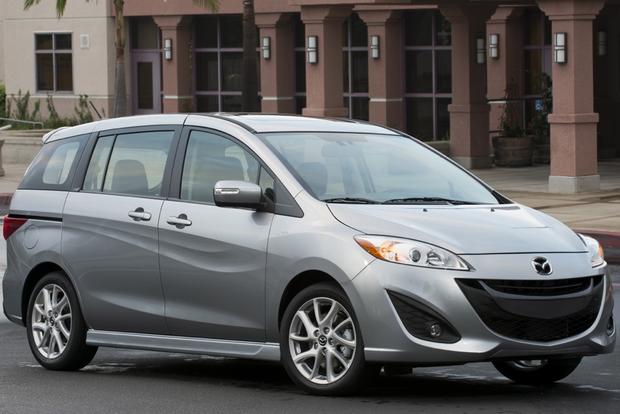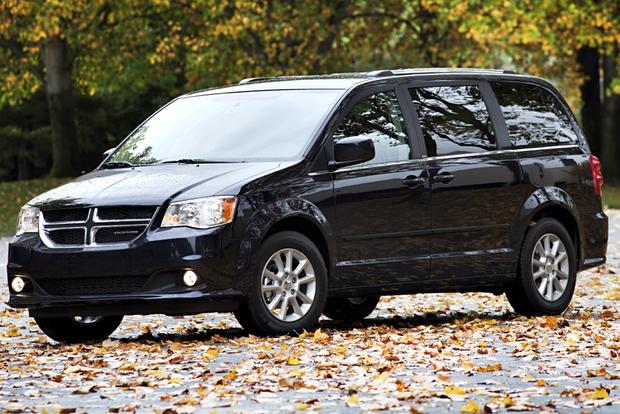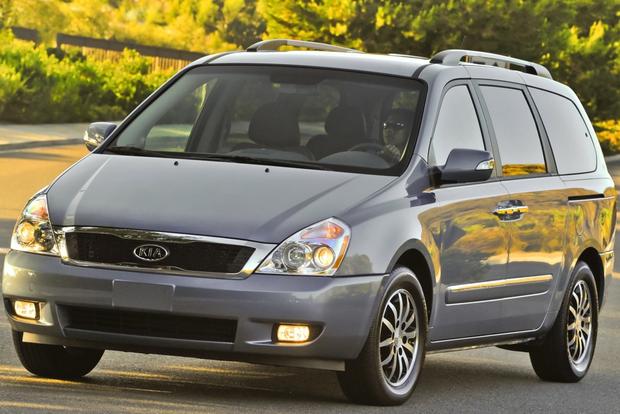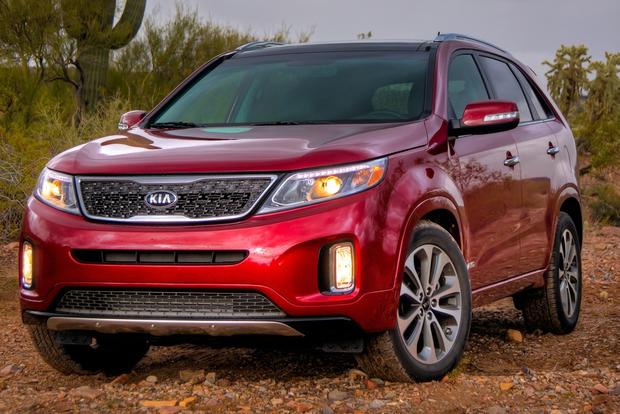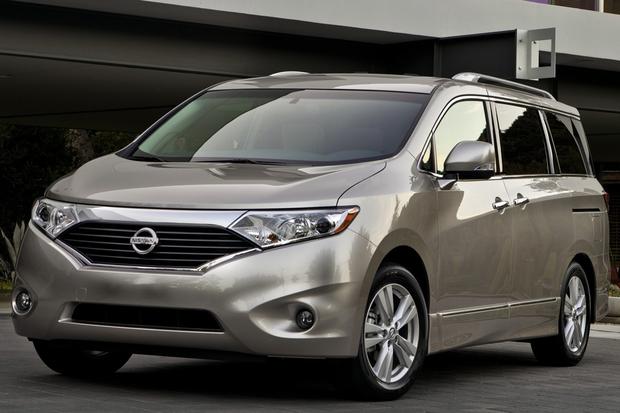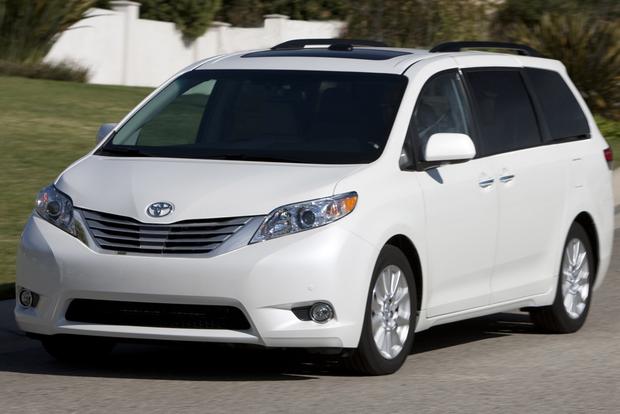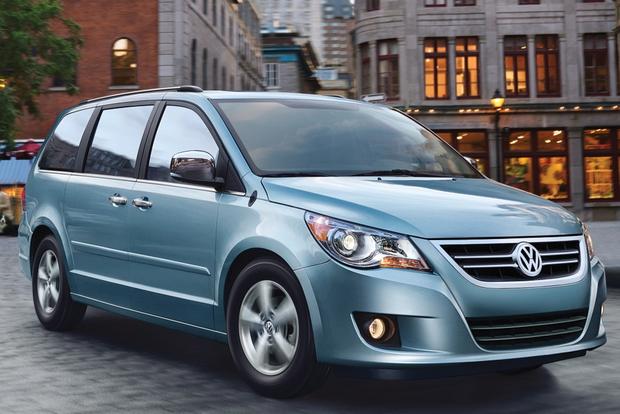 For many car shoppers, a third-row seat is a must-have. But while most shoppers think a new car with a third row is out of reach, that isn't always true. We've listed the most inexpensive cars available today with 3-row seating, proving to shoppers that you don't need to spend a fortune to get a brand-new car with a third row.
2013 Mazda5
With a base price of just over $20,000 with shipping, the 2013 Mazda5 is today's least expensive vehicle with a third row. The catch: Seating is in a 2-2-2 configuration, so it only seats six. If that's not a problem, we urge you to check out the Mazda5. One reason you should consider this model is its miserly engine, which returns 21 miles per gallon city and 28 mpg highway with either manual or automatic transmissions. The Mazda5 also boasts many standard features, such as remote keyless entry, 16-inch alloy wheels and automatic climate control. For shoppers on a budget, it's a great minivan alternative.
2013 Dodge Grand Caravan
The Grand Caravan is the cheapest 7-passenger vehicle on the market. Its base price is around $21,000, which includes a standard third row. It also includes a bold new 3.6-liter V6 from parent brand Chrysler that makes 283 horsepower. Despite the power, gas mileage is good: The standard 6-speed automatic returns 17 mpg city/25 mpg hwy. And while base-level Grand Caravans don't offer a lot of toys, they do come with everything most drivers need. That includes side curtain airbags, dual-zone climate control and remote keyless entry.
2013 Mitsubishi Outlander SE
The base-level ES trims for the Mitsubishi Outlander don't have a third row, but the mid-level Outlander SE includes it as standard. That model starts at just over $24,000, making it the least expensive SUV available with three rows of seats. The Outlander SE also includes a long list of other features, such as keyless access with push-button start, leather seating and 18-in alloy wheels. Unfortunately, Mitsubishi's powerful V6 is reserved for the Outlander GT. But the SE has a respectable 2.4-liter 4-cylinder that makes nearly 170 hp and returns 23 mpg city/28 mpg hwy in 2-wheel drive form.
2012 Kia Sedona
Although the Kia Sedona minivan was briefly cancelled, hundreds of lightly used examples are likely available in your area. That means the minivan's base price of around $25,500 with shipping can likely be dropped with some clever haggling. In fact, budget-minded shoppers may even be able to get a good deal on the upscale Sedona EX. That model includes luxury goodies such as a rearview camera, power sliding doors and dual power front seats. But even the base-level Sedona LX is a good choice, thanks to tri-zone climate control, Bluetooth and side curtain airbags. All models use a 271-hp V6 that returns 18 mpg city/25 mpg hwy. The Kia Sedona returns for 2014 so new or used, there are plenty of good choices.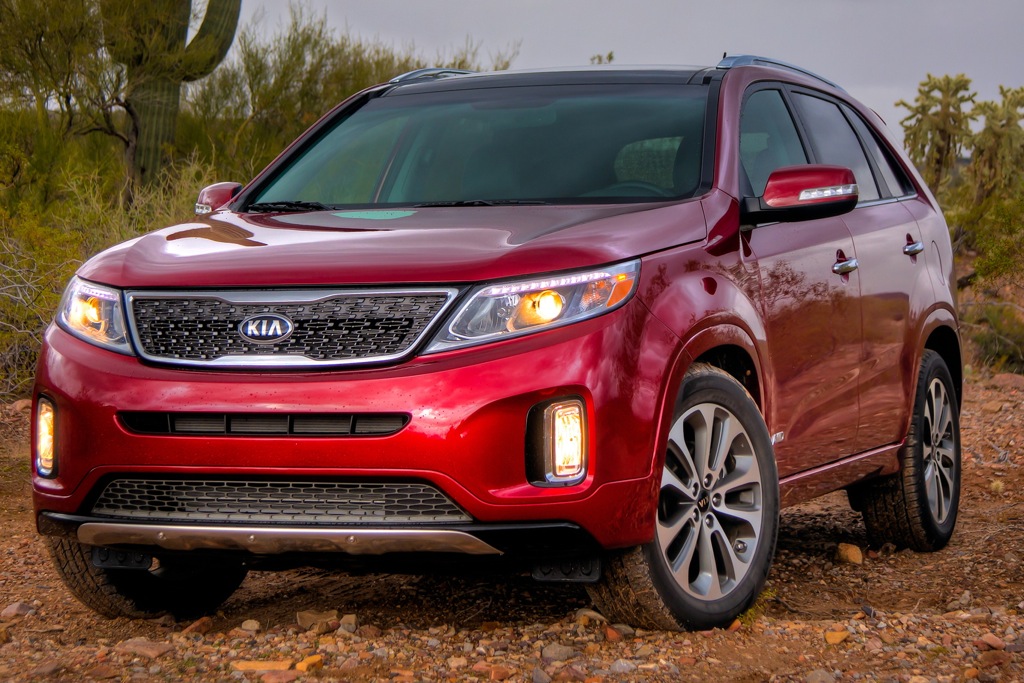 2013 Kia Sorento LX V6
The midsize Kia Sorento crossover offers standard third-row seating in its LX V6 model. The Sorento LX V6 uses a 271-hp 3.5-liter V6 capable of 20 mpg city/26 mpg hwy. It also includes a standard 6-speed automatic, side curtain airbags, remote keyless entry and Bluetooth. Pricing starts around $26,500, while adding the year-round security of all-wheel drive boosts that figure by around $2,000. Our only note of caution is for used-car shoppers. If you're looking for a used Sorento with a third row, you'll have to choose an EX V6. The LX V6 only added the extra seats for 2013.
2013 Nissan Quest
The base-level 2013 Nissan Quest S is one of the most inexpensive cars with a third row, as the price starts at under $27,000. It also features a long list of features, including keyless access with push-button starting and rear climate controls. Power comes from a 260-hp 3.5-liter V6 mated to a continuously-variable automatic. According to the Environmental Protection Agency (EPA), the Quest returns 18 mpg city/24 mpg hwy. The Quest is also often available with strong factory incentives, ranging from lease specials to low-interest deals and, for shoppers paying in full, cash back.

2013 Toyota Sienna
Finding a base-level Sienna can be hard, but shoppers who do will get one of the least expensive minivans on sale. For a base price of around $27,000, the Sienna L includes tri-zone climate control, keyless entry, side curtain airbags and the all-important third row. It also uses a powerful 3.5-liter V6 that makes 266 hp and returns 18 mpg city/25 mpg hwy. The Sienna should also appeal to shoppers in northern climates, as it's the only minivan available with all-wheel drive. Unfortunately, models equipped with that feature start above $33,000, meaning that those on a tight budget may have to consider a used example.
2012 Volkswagen Routan
Volkswagen's Chrysler-based Routan minivan is no longer offered for retail sale in 2013. But with dozens of 2012 models left on dealer lots, shoppers should have no trouble finding a new model. Better yet, some haggling can probably result in a strong discount. For a 3-row vehicle, the Routan is already priced well, coming in at just under $28,000. Standard equipment includes tri-zone climate control, side curtain airbags and an iPod hookup. Like its Chrysler twins, the Routan also uses a 283-hp 3.6-liter V6 capable of 17 mpg city/25 mpg hwy.