The popularity of small cars is on the rise. More and more, drivers are downsizing into more efficient vehicles. Whether to reduce the impact of rising fuel prices or to move away from an unnecessarily large vehicle, the choice to go smaller has never been so easy.
Plenty of today's pint-sized cars boast safety and performance comparable to larger cars. Advanced drivetrain technologies even allow some mid-sized vehicles to be incredibly efficient. Our affordable, efficient luxury picks go a step further, offering drivers prestigious nameplates and the comfort and convenience features one expects from upscale automakers.
Perhaps our greenest pick is the Lexus CT 200h, a sporty looking 5-door hatchback. Its hybrid drivetrain pairs a battery-powered electric motor with a gasoline engine to yield an impressive 42mpg combined fuel economy rating. For even greener zero-emissions motoring, CT drivers can switch into electric-only EV mode.
With a starting price of $29,120 the CT is Lexus's least expensive model, yet it comes packed with standard features and offers a long list of optional equipment. Interior upholstery is NuLuxe, which has the look and feel of leather but is more environmentally friendly. Front seats are heated, and the driver sits in a 10-way power-adjustable throne with power lumbar support. A moonroof, dual-zone climate control and a six-speaker sound system with Bluetooth, SiriusXM satellite radio and USB/iPod connections are all standard.
Optional luxury-grade equipment on the CT 200h includes navigation with voice command and back-up camera, leather interior, rain-sensing wipers, and adaptable cruise control with Lexus's advanced pre-collision warning system.
For 2012, Lexus's F Sport Special Edition presents the CT in sportier guise. The package ads F Sport 17-inch wheels, firmer suspension, leather F Sport steering wheel and shift knob and unique exterior details to the CT 200h Premium model's equipment list.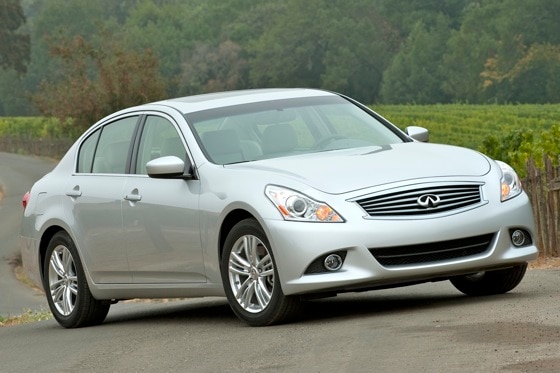 Drivers who prefer a sporty experience behind the wheel may find the six-cylinder Infiniti G25 appealing. While the G25 does not post the standout performance numbers of the G37, its big-engine sister model, the 218-horsepower motor and seven-speed automatic transmission are ample and yield a 29mpg highway rating on the rear-drive sedan. The all-wheel-drive G25x benefits from better traction, especially in slippery conditions, but fuel economy takes a slight hit.
That the G is available with bigger, G37 muscle helps the G25. The more economical G25 gets the same 4-wheel independent suspension with lightweight aluminum components. Also like the G37, the G25's motor is mounted behind the front axle for better weight distribution. The 7-speed automatic transmission is identical in the two cars and features performance-minded tricks like rev-matched downshifts and Adaptive Shift Control, which allows quick, high-rev gear changes.
The G25 offers standard comfort and convenience amenities like leather seats, xenon headlights, LED taillights, push-button start and 17-inch alloy wheels. But the G can be further specified with a touch-screen, voice-activated navigation system, adaptive cruise with brake assist and the Infiniti Studio on Wheels by Bose sound system, which has no fewer than three subwoofers.
Like the CT 200h, the Lincoln MKZ Hybrid achieves superb fuel economy by combining the power of gasoline and electric motors. This Lincoln further promotes efficient driving using SmartGauge with EcoGuide, an interactive technology that reports economy to the driver in real time. All of this attention to efficiency results in a rating of 41mpg city and 36mpg highway, excellent numbers for a mid-size luxury sedan.
Some hybrids make sacrifices in equipment and styling to save fuel. Instead, Lincoln gave the MKZ Hybrid an elegant and mature look inside and out while including appointments befitting the upscale nameplate.
Optional equipment like navigation, adaptive headlights, a blind spot warning system and a 600-watt, 14-speaker THX audio system are available, but standard equipment is luxury car grade, too.
Lincoln's SYNC system is standard on the MKZ Hybrid and incorporates a range of functionality including voice recognition, Bluetooth hands-free phone and audible text capabilities. Further standard equipment outpaces the competition. Front seats are not just heated but cooled, too. Convenience is aided by a standard keyless entry pad and Lincoln's Easy Fuel capless fuel filler.
Fuel stops in the MKZ Hybrid may be infrequent, though – the most fuel-efficient luxury car in America can travel more than 700 miles on a single tank.

The only coupe that made the cut on this list is BMW's 128i, a sporty little car with a powerful six-cylinder engine. Serious drivers take note: the 230-horsepower 128i is a top pick for combining luxury and sporty driving dynamics with a relatively low price point and cost of ownership.
City fuel economy is rated at 18mpg, but with the standard six-speed manual transmission, the 128i achieves a respectable 28mpg highway rating. With a starting price a tick above $31,000, the little BMW offers plenty for the money, beginning with high build quality and exceptional fit and finish.
Aside from the components necessary to uphold BMW's reputation for legendary performance and driver engagement, the 128i has standard automatic climate control, rain-sensing wipers, auto headlights, HD radio, iPod-, auxiliary- and USB-capable audio, leather-wrapped steering wheel and push-button starter. Options include leather interior, xenon headlights, heated seats and a moonroof.
Performance options are available as well and include sport suspension and seats, 17-inch wheels and steering wheel-mounted paddle shifters.
While the BMW lacks some of the standard equipment found on our other top picks, no car here matches its performance capabilities thanks to that powerful 230 hp engine, 17 inch wheels, sharp handling and rear-wheel drive. The 128i is the economical and luxurious choice for the sports car enthusiast.
When it comes to options and packages, Acura keeps things relatively simple. The four-cylinder version of the TSX is available in base trim, as a Special Edition or with Acura's Technology Package. Each of these choices offers luxurious features and excellent value compared to the competition.
The 4-cylinder TSX is powered by a 201-horsepower, 2.4-liter engine benefitted by Acura's iVTEC system. Along with aerodynamic enhancements, the efficient powerplant yields highway fuel economy ratings of 29mpg with the manual transmission and 31 with the automatic.
The sedan sports clean lines and Acura's signature grille, and standard 17-inch five-spoke wheels compliment the edgy look. Xenon headlights and integrated fog lamps come standard and further enhance the appearance.
The Special Edition allows the choice of an automatic or manual transmission and adds polished wheels and other exterior enhancements. Inside, the Special Edition gets Lux Suede seat inserts, contrasting stitching and aluminum pedals.
Drivers that choose the base TSX will not be disappointed. Leather seats are heated and power-adjustable up front. Dual-zone auto climate control, premium audio with Bluetooth and a power moonroof are all standard.
Acura's Technology Package loads on navigation and a backup camera along with AcuraLink, a communications system that provides real-time traffic and weather reporting. An upgraded audio system has ten speakers and a 15GB hard drive. The Technology Package even adds GPS-linked, solar-sensing climate control.
Volvo's C30 two-door hatchback is an excellent example of the brand's refined image. Safety remains a top priority for the Swedish automaker, but as with other current Volvo models, the C30 conceals its safety equipment and sturdy bits beneath sleek and sporty sheet metal.
A study in safety was in fact the purpose for Volvo's Safety Car Concept (SCC), the vehicle on which the C30's styling is based. Many of the technologies explored in the SCC are now found in Volvo's production vehicles.
The face of the C30 is familiar Volvo, but from the base of the windshield back, styling departs from other models in the current lineup with a tapering hatchback, short rear overhang and cool, all-glass tailgate.
A turbocharged five-cylinder powers the C30, yielding 230 horsepower and a 30-mpg highway fuel economy rating with the automatic transmission. A six-speed manual is also available for drivers who want a gearbox that matches the C30's athletic look.
In base trim, this Volvo lacks some of the standard equipment offered by other vehicles here, but the C30 is a relative bargain, starting at just $24,700. Volvo's Platinum trim level adds a moonroof, power front seats, premium sound with SiriusXM and navigation for an additional $4,400.
Our choices here run from coupe to hatchback to sedan, from four-cylinder to six-cylinder to gas-electric hybrid. Many of these vehicles will be chosen by younger, first-time luxury car buyers. But with rising fuel prices and crowded streets, they are sure to appeal to a wide range of drivers. The CT 200h, for example, may work as well for a suburban empty nester as for a young, urban professional.
Efficiency without sacrifice is the goal of our top picks. With all six choices delivering, narrowing the field from here is simply a matter of personal preference.