Most car enthusiasts would agree that the decade of the 1980s wasn't the greatest in muscle car history. Heck, most muscle cars then were just stickered up with nice graphics and fancy wheels to make them look a lot more menacing than they actually were. Still, there are some great examples that have stood the test of time and are sought out by collectors and enthusiasts. So break out the Poison and Whitesnake cassettes, pop them in the boom box, and read on as we look back on some of our favorite '80s muscle machines.
1985 – 1990 Chevrolet Camaro IROC-Z
Introduced in 1985, the IROC-Z was styled similarly to the racecars competing in the International Race of Champions. For its first two years of production, the IROC-Z was only available with a 305 V8, but an optional 350 became available in 1987. In 1988, the IROC-Z became an actual trim, replacing the Z28. Sadly, the only way to get a manual transmission when ordering an IROC-Z was to put a check mark for the standard 305 on the option sheet. Power ranged anywhere from an asthmatic 155 horsepower base engine to an available 5.7-liter with 230 hp. With lofty power numbers for the era, the IROC-Z could sprint from 0 – 60 in 6.9 seconds. A rare treat is to find an IROC-Z convertible, as they're hard to find in good condition.
1986 Pontiac Grand Prix 2+2
The Pontiac Grand Prix 2+2 was a limited-edition model built to satisfy NASCAR requirements for racing. The name 2+2 came from the legendary Catalina that was launched in the '60s. The idea for this sleek aerodynamic coupe, along with a prototype of the 2+2, was initially proposed by NASCAR legend Richard Petty. Styling cues that set it apart from the regular Grand Prix were a rounded front bumper and flat rear glass that extended across to the trunk. Sole power was an anemic 165-hp 305 V8 with a 4-speed automatic transmission. Finding an immaculate example is like finding a needle in a haystack, since only around 1,100 were built.
1989 Dodge Shelby Dakota
For one year only, Dodge introduced the limited edition Shelby Dakota pickup. Production of this high performance pickup was limited to only 1,500 units, sporting 175 horsepower and 270 foot-pounds of torque. In order to get this much power under the hood, Dodge removed the 3.9-liter V6 and replaced it with a 318 cubic inch V8. The only colors available where white or red and were highlighted by blacked-out bumpers, grille, and Shelby graphics on the hood and sides of the truck. 0-60 times were commendable for the time at 8 seconds. The Shelby Dakota was Carroll Shelby's first rear wheel drive creation since the Mustang.
1979 – 1993 Ford Mustang
Debuting in 1979, Ford's Fox-body Mustang was a welcome change to the mediocre Mustang II it replaced. The new Mustang featured an aerodynamic wedge shape and featured a sloping hood and sculpted roofline. Engine choices ranged from an 88-hp 4-cylinder to a 5.0-liter V8 sporting 140 hp. Some of the more popular trims included the Ghia and the Cobra with its flashy hood graphics. A favorite among collectors is the Indy 500 Pace Car replica featuring a blacked-out grille, red and orange striping, and Recaro seats.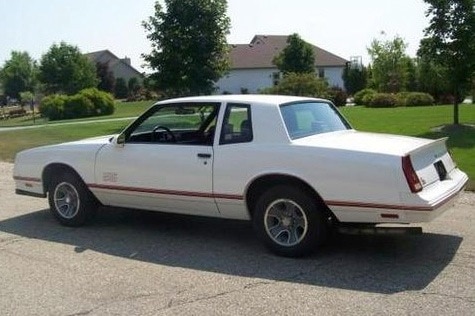 1983 – 1988 Chevrolet Monte Carlo SS
Just like its Pontiac 2+2 sibling, the Chevrolet Monte Carlo SS was created for NASCAR racing requirements. One of the last carbureted, rear-wheel-drive muscle cars left, the SS featured a unique front bumper, blackout grille, and rear spoiler. Early models were offered only in white and blue, but in 1985, black, maroon, and silver were added to the color palette. T-tops were also made available as an option in 1985. 1986 saw the introduction of the Aerocoupe, which featured sloped rear glass and a shorter trunk lid. Due to their limited numbers and 2-year only production run, these are sought out among collectors. 1988 was the last year of production. It would be over a decade before a Monte Carlo SS would return to the Chevrolet lineup.
1983 – 1984 Oldsmobile Cutlass Hurst/Olds
Following on the success of the Chevrolet Monte Carlo SS, Oldsmobile reintroduced the Hurst/Olds in 1983 to celebrate the 15th anniversary of the original. Painted in silver and black with red stripes, the 442 also featured 15-inch wheels, eye catching hood bulge, and a rear spoiler. Power was supplied by a 307 cu-in engine pumping out 180 hp. The interior was classic Oldsmobile, with its plush seating and featured the 3-stick Hurst Lightning Rod shifter. 0 – 60 runs were pretty impressive for the time at about 8.5 seconds.
What it means to you: If you're searching for the '80s muscle car you didn't get back in the day, there are some good examples out there waiting for you.