With many great end-of-the-year deals, now is a great time to buy a car for your wife.
Many new cars combine stylish designs, new features and great gas mileage to make for the perfect gift.
Our favorite is the surprisingly practical Ford Mustang, which offers a muscular engine, 30 miles per gallon and a starting price of around $22,000.
Struggling to come up with a unique gift idea for your wife this holiday season? Our idea: skip the usual perfume or necklace and go with a new car. With end-of-the-year incentives and holiday deals in full swing, now is the best time to buy a car – and as you can see from our list below, many new models offer a fantastic array of features, great gas mileage and exciting styling that will wow your wife without breaking the bank.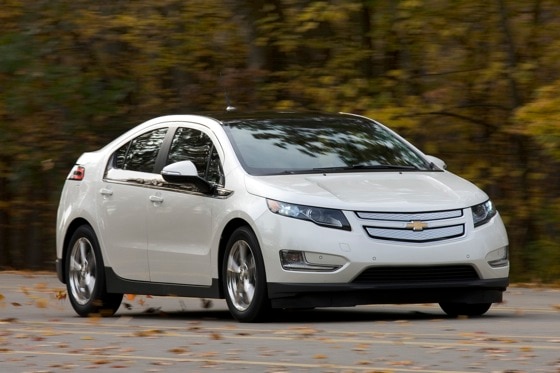 Help save the planet this holiday season by buying your wife a Chevrolet Volt. Featuring a fully electric motor with a range-extending gasoline engine, the Volt makes sense on a financial level thanks to an EPA fuel economy rating of 93 miles per gallon equivalent, and on a practical level due to its roomy hatchback body style. Your wife is also sure to love the iPod-lookalike center stack and the exciting instrument cluster, which constantly computes gas mileage and environmental impact. Sure, it's no sporty convertible, but the Volt is sexy in its own right – and we bet your wife will think so, too.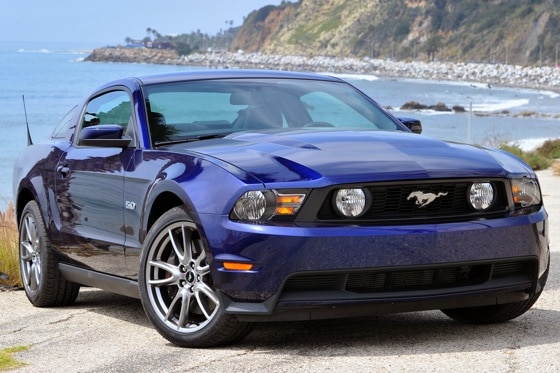 While some wives may disapprove of the Mustang due to its cramped rear seats and two-door body style, the newly redesigned sports car is actually surprisingly practical. Its standard 305-horsepower 3.7-liter V6 provides more muscle than most drivers will ever use and returns around 30 miles per gallon in highway driving, while rear seats are impressively roomy thanks to a sedan-like 107.1 inch wheelbase. And at just over $22,000, base pricing is inexpensive considering the sports car's expressive styling and sporty character. If all that doesn't sell your wife, just tell her to picture driving the Mustang down a winding stretch of road with the top down and the wind in her hair. We think that'll do the trick.
Honda's compact CR-V is extremely popular with women due to its attractive styling, practical interior, reasonable base price starting from $22,000 and impressive fuel economy rating of 24 miles per gallon in mixed city and highway driving. Now, with Honda's end-of-the-year "Happy Honda Days" event, it's also a great deal thanks to interest rates from just 0.9 percent for up to 60 months and lease deals starting at $219 per month with $1,999 due at signing. With figures like that and standard equipment that includes curtain side airbags, remote keyless entry and an iPod hookup, the CR-V is a no-brainer gift for your wife this holiday season.
If you're looking for a practical small car for your wife this holiday season, the exciting Mazda3 offers a good alternative to many mundane options currently on the market. Your wife will undoubtedly appreciate the Mazda3's stylish exterior design and racy interior and marvel at the compact's impressive fuel economy figures of around 30 miles per gallon in mixed city and highway driving. As a bonus, the spunky Mazda3 is also sold as a handsome hatchback that includes more than 40 cubic feet of cargo space with the rear seats folded. Best of all, the Mazda3 offers an exciting high-performance MazdaSpeed model that combines many of the standard model's benefits with a turbocharged 263-horsepower four-cylinder engine.
Your wife is sure to love the recently redesigned Mercedes SLK thanks to its practical folding hardtop, stylish new design and impressive luxury features. Currently offered as the V6-powered SLK350, an SLK250 is close behind with a reasonable base price in the mid-$40,000 range and a 201-horsepower turbocharged four-cylinder engine under the hood. Standard features on the SLK350 include leather seating, an in-dash 6-disc CD changer, rain-sensing wipers and 18-inch alloy wheels, while options include Mercedes' unique Airscarf system, which provides neck-level heating for occupants while the roadster's top is down – a surefire hit with any wife given the upcoming winter weather.
Volkswagen's distinctive Beetle hatchback is among the most popular cars with female drivers, and it's easy to see why. Fully revamped for 2012 with cute new styling, the Beetle touts an exciting new interior and a generous list of standard features that includes four-wheel anti-lock brakes, keyless entry, 17-inch alloy wheels and an iPod hookup. Offered only as a hatchback with a convertible body style not far behind, the Beetle starts at around $19,000 – not a bad entry price considering its unique styling and brand new body style.
What it means to you:
We think it would be hard for any wife to resist the exciting new cars included on this list.