Many new cars combine attractive pricing, exciting features and a hint of practicality.
Some sporty cars also offer great gas mileage and seating for four or more.
Our favorite is probably the high-performance Jeep Grand Cherokee SRT8, which is among the sportiest SUVs you can buy.
Hey ladies: while ties, books, chocolates and electronics are sure to be good gifts for your husband this holiday season, we think he might get a bigger kick out of a brand new car. To help you start the search, we've compiled a list of some great cars that combine attractive pricing, exciting features, a "wow" factor and even a dash of practicality that make the holiday perfect gift for just about any husband.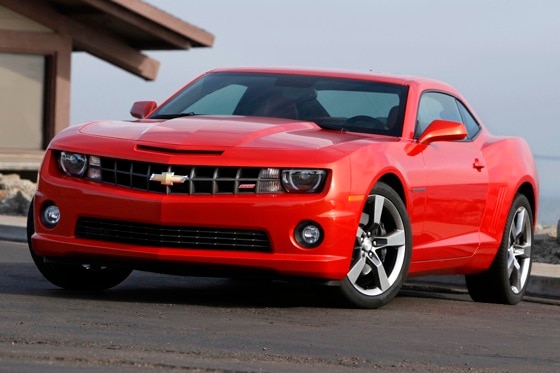 Chevrolet's recently released Camaro is thrilling, fast and not as expensive as you might think. Of course, your husband will love the styling, which is reminiscent of the original 1967 Camaro with a modern twist. The same goes for the cockpit, which combines retro-themed gauges with up-to-date technology and a contemporary look. And even the base engine, a 323-horsepower 3.6-liter V6, turns the coupe into a rocket ship. But with a starting price of around $24,000 and highway fuel economy of nearly 30 miles per gallon, you don't need deep pockets to afford a modern muscle car.
If a new baby is just around the corner and your husband doesn't want to give up his sports car, consider trying to compromise with this high-performance SUV. Featuring a 465-horsepower 6.4-liter V8, the Grand Cherokee SRT8 is among the fastest SUVs of all time, hitting 60 mph from a standing start in less than 5 seconds. But it also includes a standard navigation system, a rearview camera, heated front and rear seats, a power rear liftgate and even a remote engine starter, along with nearly 70 cubic feet of space with the rear seats folded down. And while the SRT8's base price of more than $50,000 may seem steep, just remember it's probably cheaper than keeping the sports car and getting something else to haul around the kids.
Even with today's technology, it's difficult to combine performance, fuel economy and handsome styling – but Lexus says its recently released CT200h hatchback does just that. Featuring a 134-horsepower 1.8-liter hybrid four-cylinder, the CT200h is surprisingly energetic – especially the newly available F Sport model, which includes unique alloy wheels and sport-tuned suspension. The hatchback also features a standard continuously-variable automatic transmission capable of more than 40 miles per gallon in city driving, along with a well-proportioned exterior that gives off a luxurious yet sporty vibe. Base pricing below $30,000 rounds out the CT200h's desirable attributes and makes the hatchback an easy sell to any husband looking for a new ride.
Don't think you can afford a luxury car? Think again. A new base-level model joined the C-class range for 2012, making the sedan more affordable than ever before. Dubbed the C250, the new trim level offers a 201-horsepower 1.8-liter turbocharged four-cylinder coupled with a standard seven-speed automatic transmission. The result is a starting price of around $34,000 and fuel economy figures of more than 30 miles per gallon in highway driving – not bad for a car your husband will be proud to drive around and show off to his friends.
Although the traditional Mini Cooper, the Mini Countryman crossover and the extended-length Mini Clubman are exciting, practical and fun to drive, we think the all-new Mini Cooper Coupe is the one your husband is really yearning for – especially in sporty Cooper S Coupe guise. That's because the exciting S model offers a high-revving 1.6-liter turbocharged four-cylinder capable of 181 horsepower and 0 to 60 times in the low six-second range, all for a reasonable base price of around $25,000. We also suggest skipping the optional automatic and going for the cheaper, more efficient and more exciting 6-speed manual gearbox.
If your husband dreams of a Mitsubishi Lancer Evolution, but he doesn't have the hefty budget required to make his dream a reality, we have a suggestion: the Lancer Ralliart. Featuring the same basic styling as the raucous Lancer Evo and a less powerful 237-horsepower version of the super sedan's turbocharged four-cylinder engine, the Ralliart is a bargain by comparison at around $6,000 less expensive. Standard features are generous and include all-wheel drive, keyless access and starting and sport suspension, while performance remains impressively spry. Best of all, driving the Lancer Ralliart won't break the bank thanks to an EPA rating of 25 miles per gallon on the highway.
What it means to you:
We wouldn't suggest buying a car for your husband without checking with him first. But if you do, make sure it's one of these.