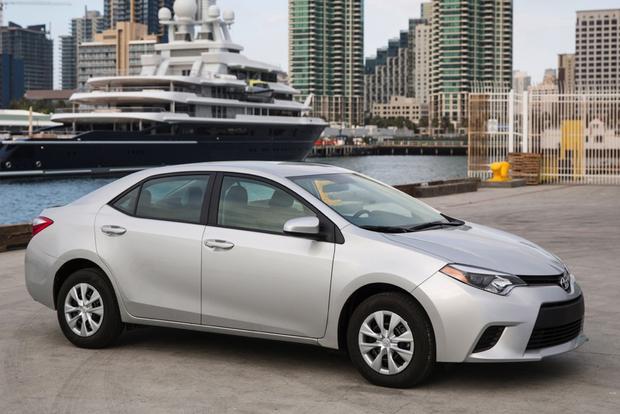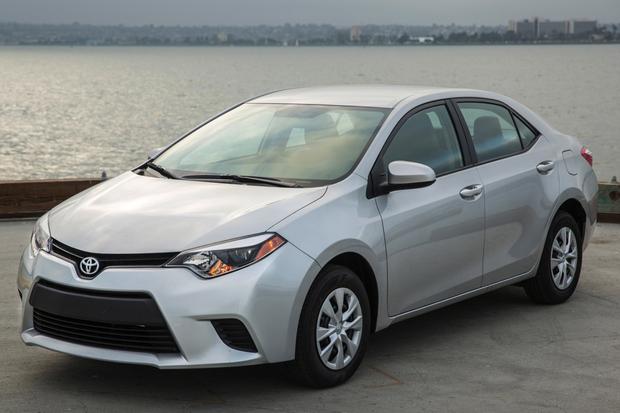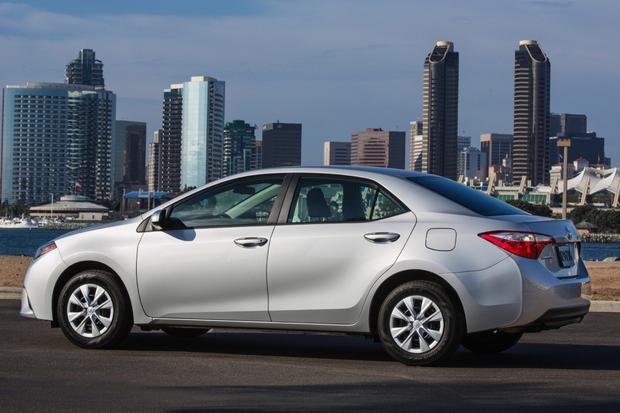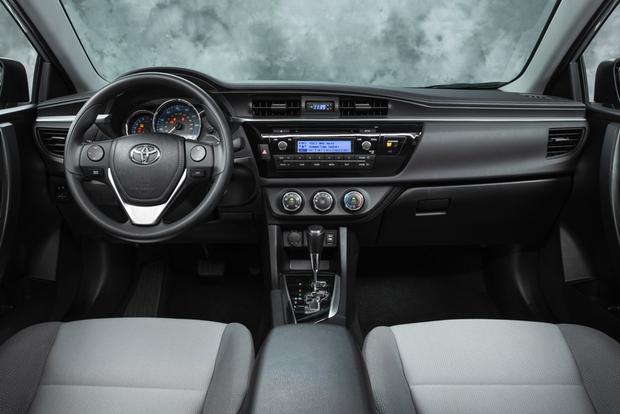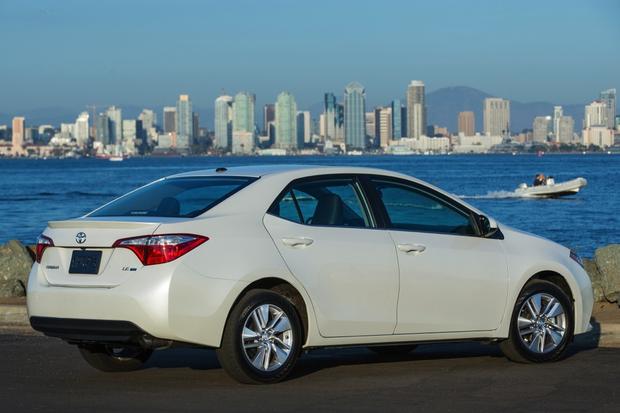 Did the all-new 2014 Toyota Corolla really need a complete overhaul? That depends on whom you ask. If you talk to our editors, they'll tell you that the previous Corolla was a dinosaur compared to the competition -- a cassette tape in the age of MP3s. But car shoppers apparently disagreed, because even in its final days, that old Corolla was still one of the best-selling cars in its class.
Based on sales performance, then, the Corolla could have just kept on cruising. But Toyota's been revamping its lineup lately with a renewed focus on style and technology, and the company wasn't going to neglect its iconic small sedan. Accordingly, the 2014 Corolla has received perhaps the most thorough redesign in Corolla history. The styling is much bolder, the high-tech cabin's got a bigger back seat and the new continuously variable automatic transmission (CVT) improves fuel economy and makes the car feel more responsive.
Lest you worry that the new Corolla has lost touch with its roots, we can confirm that plenty of "Corolla-ness" persists. The controls are still laid out sensibly, and the ride is still smooth and compliant. In other words, Corolla loyalists aren't likely to jump ship. But there's a lot more attitude in this redesigned model, no doubt, and Toyota hopes that will enhance the Corolla's crossover appeal.
What's New for 2014?
The Corolla is completely redesigned for 2014.
What We Like
Excellent fuel economy; improved feature content; upgraded interior with bigger back seat; sharper design; reasonable pricing
What We Don't
Outdated base 4-speed automatic; inferior rear drum brakes (except S Plus)
How Much?
$17,610-$20,510
Fuel Economy
All Corollas except the new Eco model come with Toyota's familiar 1.8-liter 4-cylinder engine. Rated at 132 horsepower and 128 lb-ft of torque, it's essentially the same motor that Corolla drivers have depended on for the past decade. Fuel economy, according to the Environmental Protection Agency, is 28 miles per gallon city/37 mpg hwy with the 6-speed manual transmission, 27 mpg city/36 mpg hwy with the 4-speed automatic transmission and 29 mpg city/38 mpg hwy with the CVT. Note that the S trim level, when equipped with its optional sportier CVT with paddle shifters, drops to 37 mpg hwy.
The Eco gets a 1.8-liter 4-cylinder, too, but it's a new version with modifications that yield 140 hp and 126 lb-ft of torque. Usually, more power means fewer mpg, but the Eco bucks this trend with its impressive 30 mpg city/42 mpg hwy rating. If you opt for the larger 16-inch wheels, though, that highway number falls back to 40 mpg, so the standard 15-in wheels are better for fuel savings.
Standard Features & Options
The 2014 Corolla sedan is offered in four trim levels: L, LE, LE Eco and S.
The entry-level L ($17,610) starts with 15-in steel wheels with plastic covers, LED running lights, power accessories, air conditioning, Bluetooth, an adjustable-height driver seat and a 4-speaker audio system with iPod/USB connectivity and an auxiliary audio input.
The LE ($19,110) adds 16-in steel wheels with plastic covers, keyless entry, cruise control, a 6.1-in touchscreen interface, a rearview camera, automatic climate control and a 6-speaker audio system with Bluetooth audio. The LE Plus package adds 16-in alloy wheels and fog lights, while the LE Premium package tacks on those items plus SofTex faux-leather upholstery.
The LE Eco ($19,510) features the special 140-hp engine with improved fuel economy, aerodynamic tweaks (including a subtle rear spoiler) and eco-biased tires, but otherwise it mostly shares the LE's equipment roster. The LE Eco Plus package adds 16-in alloy wheels, fog lights, chrome exterior trim and an Eco driving mode, while the LE Eco Premium package contributes those items plus SofTex upholstery.
The S ($20,510) adds a sport-tuned suspension, sportier version of the CVT with paddle shifters, a different gauge cluster with a TFT trip computer screen, piano-black dashboard trim, sport front seats and a leather-wrapped steering wheel. The S Plus package adds 17-in alloy wheels and rear disc brakes; the S Premium package includes those items plus SofTex upholstery.
Notable options include a sunroof and a Driver Convenience package (including keyless entry/ignition, smartphone-app integration, satellite radio and a navigation system).
Trunk space measures an average 13 cu ft, and the rear seat backs fold down for enhanced capacity.
Safety
The new Corolla comes with anti-lock brakes, stability control and eight airbags (front, driver knee, passenger seat-cushion, front-side, full-length side curtain). Disappointingly, the Corolla continues to be equipped with front disc and rear drum brakes rather than discs all around. Discs are a more modern and generally more effective design employed by many Corolla rivals. You can get a Corolla with rear discs, but only if you opt for the pricey, sporty S model with the Plus or Premium package.
The government has not crash-tested 2014 Corolla as of this writing. The independent Insurance Institute for Highway Safety gave the Corolla its top rating of Good in all crash tests except the new small overlap frontal test, where the Corolla was deemed just Marginal (second worst of four rating levels). In all fairness, many cars have struggled to pass this test thus far.
Behind the Wheel
In our interior evaluation, we were struck by how much more upscale this new Corolla seems. The supple dashboard materials are much improved, and stitched accents on some panels add to the premium ambiance. This is hardly business as usual for Toyota's best-seller; indeed, "upscale" and "premium" are words we've never associated with Corollas in the past.
The Corolla's standard front seats provide adequate support, but the S model's sport seats stand out due to their enhanced lateral bolstering. In back, adult passengers will find unprecedented space by Corolla standards; thanks to three extra inches of length, the rear seat provides almost midsize-grade accommodations.
The Corolla's technology offerings are likewise impressive, including a standard 6.1-in touchscreen with optional smartphone-app integration from the LE trim level on up. We also appreciate that every Corolla comes with expected tech features, such as iPod/USB connectivity and Bluetooth, though if you want Bluetooth audio, the base model won't do -- you'll need at least the LE.
On the road, the 2014 Toyota Corolla lets a fair amount of road noise into the cabin at speed, but its ride is pleasantly smooth on most surfaces. Handling is sharper than in past models, and we like how the compact 3-spoke steering wheel feels in our hands. The new CVT is better executed than most, and it does a fairly convincing impression of a regular automatic with its simulated shift points. Although acceleration is basically unchanged from the previous Corolla, the CVT does make the car feel quicker. For this reason, as well as the fuel-economy gap, we'd stay away from the archaic 4-speed automatic that's offered in the L trim.
Other Cars to Consider
Ford Focus-- The Focus feels larger and more substantial than the Corolla, and it's more fun to drive but also more expensive.
Hyundai Elantra -- The stylish Elantra continues to provide excellent value, and its performance and fuel economy are close to the Corolla's.
Mazda3 -- A more premium option, the redesigned 3 is an intriguing alternative with its adept handling and improved technology.
Volkswagen Jetta -- Check out the new turbocharged Jetta 1.8T if you're looking for a sedan in this segment with a bit more punch.
AutoTrader's Advice
We like the S model's engaging paddle shifters and snug seats, and we'd want the S-only optional disc brakes, too. So the S is arguably the Corolla to have, though it's at the upper end of the price spectrum.