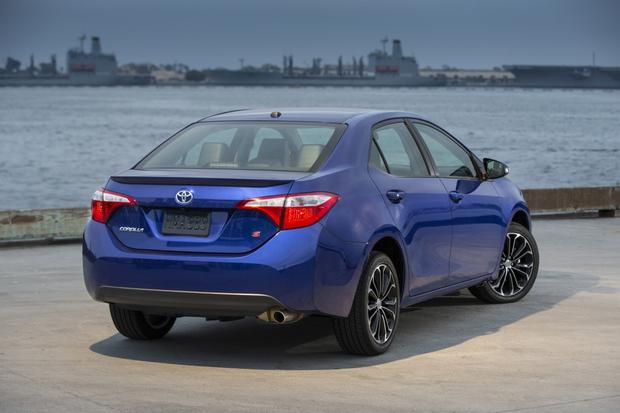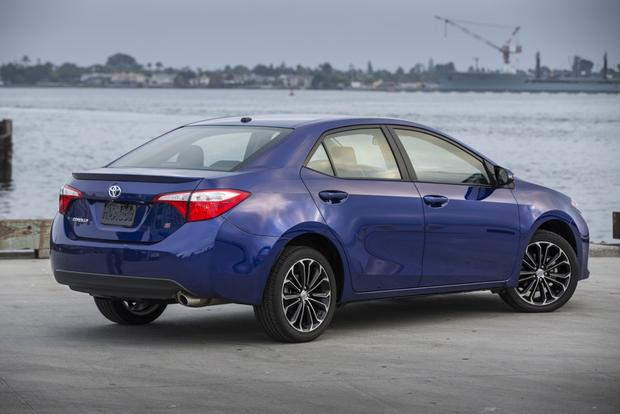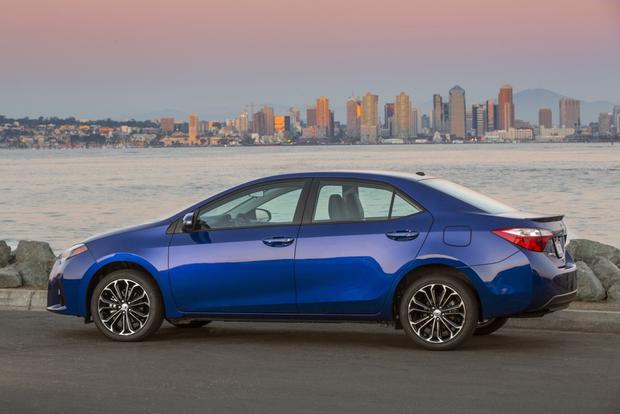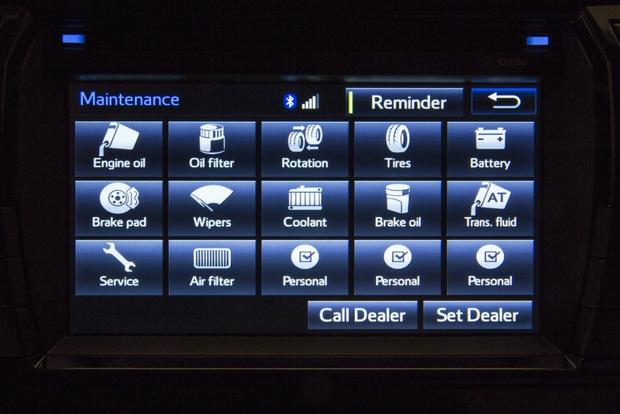 A redesigned 2014 Toyota Corolla is rolling into showrooms, replacing a car that's dependable but not very exciting. Toyota aims to change that with the new 2014 Corolla, so we spent some time driving the S model to see how well this car works in the real world.
Dynamic Design
Toyota says that Gen Y buyers or Millennials are the target with the new Corolla. Looking slightly angry and a little upscale at the same time, the new Corolla's styling should age well. Plus, the sporty Corolla S model finally loses its overly optimistic body kit.
Inside, the new Corolla's look and feel is improved, too. Soft-touch surfaces, new headliner material, gloss-black trim with metallic accents and, for some models, a 2-tone decor treatment make the car appear more expensive than it is.
Improved Comfort
Thanks to a 3-inch wheelbase stretch, a roomier interior and new seats, the 2014 Toyota Corolla is much more comfortable than the car it replaces. The driver's seat includes a standard height adjuster and, in combination with a standard tilt/telescopic steering wheel, makes it easy to find a proper driving position with excellent outward visibility. Taller people may still complain about restricted seat track travel.
Toyota claims best-in-class rear-seat legroom for the new Corolla, which adds 5.1 inches of space. To give you an idea of how spacious this is, the new Corolla has 3.5 inches more rear-seat legroom than the Toyota Camry -- and at 41.4 inches, the Corolla's rear legroom is only an inch short of front-seat legroom. Parents with young kids will be happy because the extra space means less seat-back kicking.
Moreover, the rear seat is redesigned, sitting taller with greater thigh support. This may be the best seat in the house.
Better Fuel Economy
In most models, Toyota installs the old Corolla's 1.8-liter 4-cylinder engine into the new Corolla. A new 6-speed manual gearbox is standard for the basic Corolla L model and the sporty Corolla S model. The mainstream LE has a new continuously variable transmission (CVT), which is optional for the Corolla S.
Last year, the Corolla was rated to get between 29 and 30 miles per gallon in combined city and highway driving. This year, based on Toyota's estimates, the range is 31 miles per gallon to 32 mpg -- unless, of course, you get the new Corolla LE Eco model, which has Valvematic technology that increases fuel economy, adds horsepower and delivers torque at lower rpm. The rating for the LE Eco is 34 to 35 mpg in combined city and highway driving.
During my drive, I averaged 27.2 mpg in models with CVT and equipped with the bigger wheel-and-tire combos. That included plenty of city and mountain driving, though, so we think Toyota's more favorable estimates are accurate.
More Fun to Drive
With few exceptions, Corollas made over the past 25 years were not much fun to drive. There have been low-volume XRS models available only with a manual transmission, which dented appeal in a country where clutch pedals are rapidly vanishing, but nothing approaching the cool factor of the Corollas of the 1980s. Does the redesigned 2014 Corolla change that?
If you get the 2014 Toyota Corolla S model, the answer is a qualified yes. This is the sporty version of the Corolla, with retuned electric steering and suspension components to make the car more entertaining in a corner. Get one with the CVT and there's a Sport driving mode and paddle shifters to extract maximum performance from the 132-horsepower engine. Select one in Plus or Premium trim and Toyota tosses in rear disc brakes, a set of black-painted 17-in aluminum wheels and lower profile tires.
Why is our "yes" qualified? Because the Corolla S isn't any more powerful than other models, and it has an old-style rear suspension that suffers from the jitters if your favorite twisty back-road isn't perfectly smooth. Then again, we expect very few Corolla buyers to take their car on a back road just for the fun of it.
Will People Want a Corolla?
Lots of people already want a sensible Toyota Corolla; it is one of the best-selling models in America. Will the new 2014 Corolla push emotional buttons and inspire small-car buyers to flock to Toyota dealers? In all the ways that matter to most people, our bet is yes.