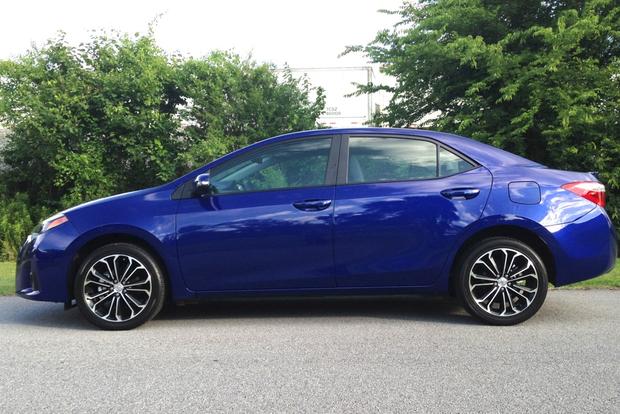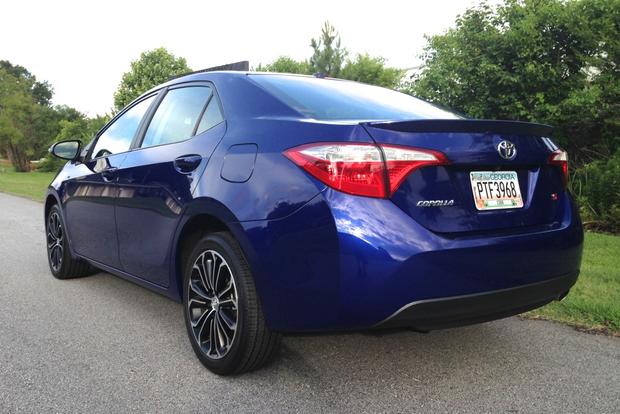 The Toyota Corolla is redesigned for the 2014 model year to offer new features and a totally new look inside and out. The most striking version of the newly updated Corolla is the sporty S model, which features striking wheels and unique design traits. How is the 2014 Toyota Corolla S on the road? We spent a week behind the wheel of the sporty trim level to find out.
"S" Isn't for Sport
To start, it's important to understand that we generally liked the Corolla. We appreciated its fuel economy, its interior and its new look, all of which we'll cover in more detail below. But if you're searching for sportiness with the purchase of your Corolla S, you're barking up the wrong tree.
Here's what we mean: Although nearly everyone who drove the car agreed that the Corolla S offers bold, sporty styling, the car simply doesn't perform like a sport model should. As noted by one tester, Kris, "this is still a commuter car -- and nothing more." And he's right: Once you get past its exterior changes, the sporty Corolla S offers little more than an LE model, right down to the same 132-horsepower 1.8-liter engine and continuously variable automatic transmission (CVT).
So What?
Despite the S model's lack of actual sport, we're impressed with it. One major reason is styling: While it may not pack any extra punch under the hood, the Corolla S looks far better than its LE stablemate. Our editor, Brian, especially confirms this, noting that the S model "looks cooler than the Civic, Focus, Cruze and Elantra," but that the LE is "a huge step down." Those are strong words, especially considering that just $700 separates the LE's $19,000 base price with shipping from the S model's $19,700 base MSRP.
Under the Skin
Beyond the styling, we've also found ourselves impressed with the latest Corolla in general. One tester, Sadie, said that the sedan offers "smooth, responsive acceleration and handling," while Brian noted that the car boasts a "generous back seat." Other accolades include a nice, thick steering wheel, comfortable seats, and multiple comments about the car's smooth ride and quiet cockpit.
The Corolla's interior also drew a lot of comments from our testers. While earlier Corolla models have used fairly typical compact-car interiors, the 2014 Toyota Corolla deviates from the norm. Instead of a nondescript dashboard and a functional-but-dull center console, the 2014 Corolla goes for a flat, tiered control stack that makes the car's interior a lot more memorable.
While this layout strikes me as odd, nearly everyone who drove the car for the first time disagreed. One tester, Tommy, called out the dashboard for its "flat and boxy" appearance but noted that it "works for this car." That sentiment was echoed by another driver, Ben, who noted that he "LOVED the interior dash layout." No matter your opinion, it's certainly a striking change that may shock you if you've had experience with earlier Corolla models.
Complaints?
We like the Corolla's back seat, its exterior styling, its driving experience and its interior -- and most of us like the dashboard styling. Aside from the lack of any real sport to go with its S trim level, is there anything that we don't like about the Corolla?
Interestingly, we couldn't agree on any major complaints. A few drivers suggested that they didn't like the color of our test car: an eye-grabbing finish Toyota calls Blue Crush metallic. Brian and I, however, think the color choices -- including our test car's hue -- make the sedan look surprisingly expensive, especially when paired with the S model's wheels and upgraded front end.
Another complaint was leveled at the CVT automatic, which -- according to some of our drivers -- drones on too much, even for a CVT. Our tester Tommy, on the other hand, said he thinks that the CVT is "a good fit for this car," noting that he didn't realize the car even had a CVT until he checked the window sticker. We suspect most shoppers also won't mind the CVT, especially since it's instrumental in achieving the Corolla's highway fuel economy rating of 37 miles per gallon.
Our Take
As long as you don't buy the 2014 Toyota Corolla S expecting any sort of actual sporty driving abilities, we suspect you'll like this car. It offers a roomy interior, excellent styling, good fuel economy and a nice driving experience -- all things that most compact-car shoppers will likely value ahead of most other traits.