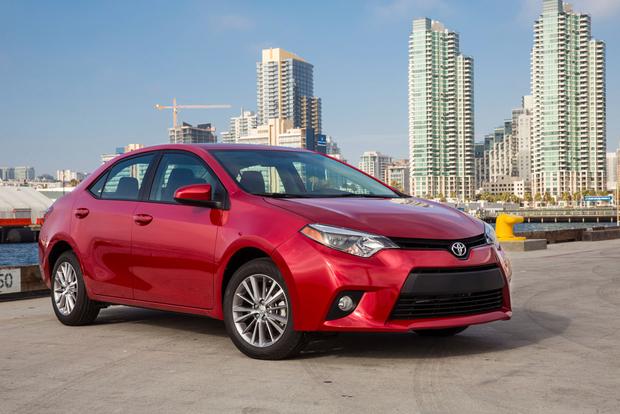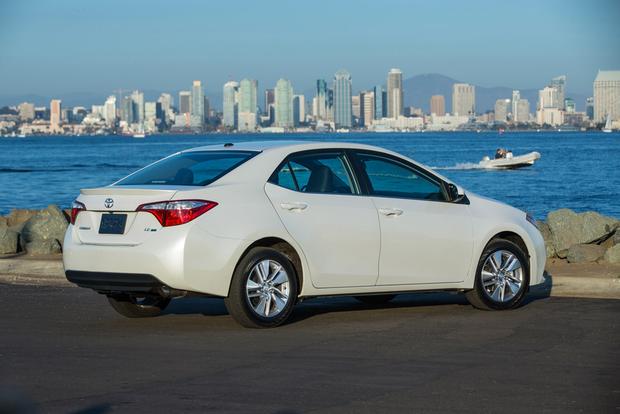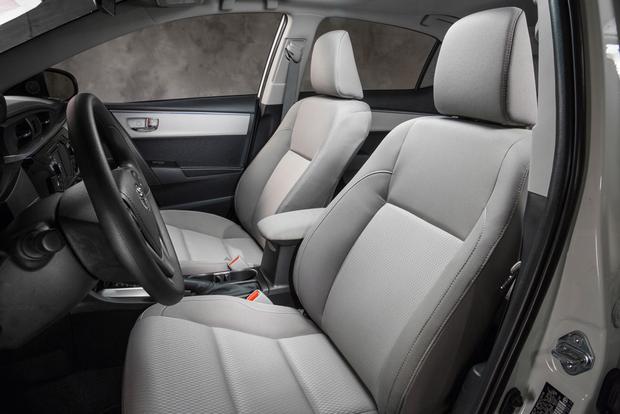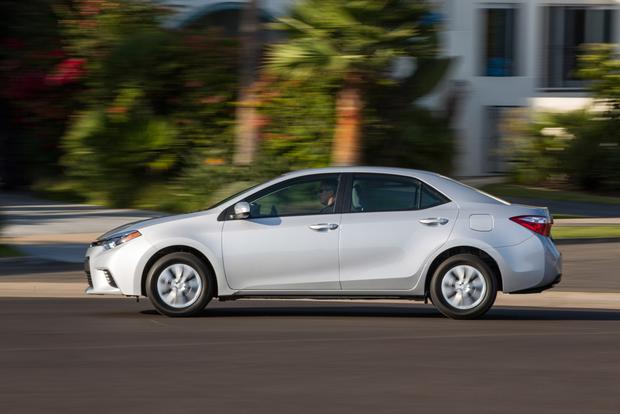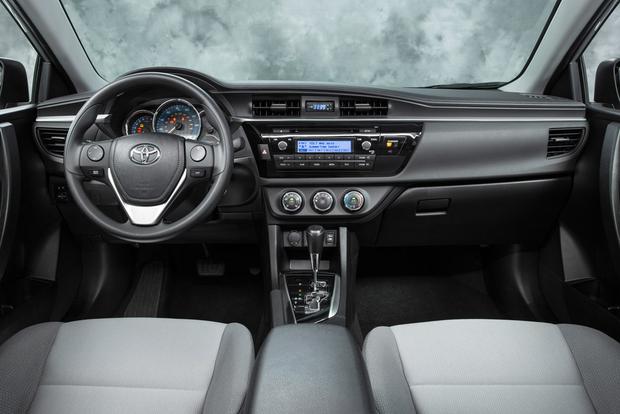 For more than 30 years, the Toyota Corolla has been on the shopping list of virtually everyone interested in a dependable, fuel-efficient compact car. That tradition continues today with the 2016 Toyota Corolla, which marks the third model year of the model's 11th global generation.
Although the Corolla is hardly an excitement machine, it remains as dependable as ever, boasting excellent reliability scores from all groups who keep track. It also remains affordable, fuel-efficient and innocuously styled (so as not to offend anyone looking for a safe choice in the compact-car realm). And with its 2014 redesign, the Corolla added a few new high-tech features to keep up with the times, giving buyers a more modern feel. No, it's not the most dramatic or stylish car on the planet, but the Corolla is still a good choice if you're looking for a compact sedan that won't give you any trouble.
What's New for 2016?
The Corolla's only real update for 2016 is a new Special Edition model that offers a few unique exterior revisions, bold colors and larger alloy wheels. Otherwise, the sedan is unchanged for the latest model year.
What We Like
Excellent fuel economy; nice interior with big back seat; sharp design; reasonable pricing
What We Don't
Outdated base 4-speed automatic; inferior rear drum brakes (except S Plus); could use more technology
How Much?
$18,000-$24,100
Fuel Economy
All Corolla models except the Eco trim come with Toyota's familiar 1.8-liter 4-cylinder engine. Rated at 132 horsepower and 128 lb-ft of torque, it's essentially the same motor that Corolla drivers have depended on for the past decade. According to the Environmental Protection Agency, fuel economy is 28 miles per gallon in the city and 37 mpg on the highway with the 6-speed manual transmission, 27 mpg city/36 mpg hwy with the 4-speed automatic transmission and 29 mpg city/38 mpg hwy with the continuously variable automatic transmission (CVT).
The Eco gets a 1.8-liter 4-cylinder too, but it's a new version with modifications that yields 140 hp and 126 lb-ft of torque. While more power usually means fewer mpg, the Eco bucks this trend with its impressive 30 mpg city/42 mpg hwy rating. If you opt for the larger 16-inch wheels, though, that highway number falls back to 40 mpg, so the standard 15-inchers are better for fuel savings.
Standard Features & Options
The 2016 Corolla is offered in four trim levels: L, LE, LE Eco and S.
The entry-level L ($18,000) starts with 15-in steel wheels with plastic covers, LED running lights, power accessories, air conditioning, Bluetooth, an adjustable-height driver's seat and a 4-speaker audio system with iPod/USB connectivity and an auxiliary audio input. Drivers can choose between a 6-speed manual and a 4-speed automatic transmission.
The LE ($19,500) adds 16-in steel wheels with plastic covers, keyless entry, cruise control, a 6.1-in touchscreen interface, a rearview camera, automatic climate control and a 6-speaker audio system with Bluetooth audio. LE models also feature a standard CVT automatic. The LE Plus package ($20,000) adds 16-in alloy wheels and fog lights, while the LE Premium package ($23,000) tacks on those items plus SofTex faux-leather upholstery, heated front seats, a power driver's seat, keyless access with push-button starting, a power sunroof, a navigation system and Toyota's Entune mobile-app-suite integration.
The LE Eco ($20,000) features the special 140-hp engine with improved fuel economy, aerodynamic tweaks (including a subtle rear spoiler) and eco-biased tires, but otherwise it mostly shares the LE's equipment roster -- including the available Plus and Premium packages.
The S ($20,200) adds on to the base-level LE model with a sport-tuned suspension, a sportier version of the CVT with paddle shifters, a different gauge cluster with a thin-film-transistor trip computer screen, piano-black dashboard trim, sport front seats and a leather-wrapped steering wheel. The S Plus package ($21,000) adds 17-in alloy wheels and rear disc brakes; the S Premium package ($24,000) includes those items, plus all the LE Premium's additional features.
Notable options include a sunroof and a driver-convenience package, which includes keyless entry and ignition, smartphone-app integration, satellite radio and a navigation system.
Safety
The new Corolla comes with anti-lock brakes, stability control and eight airbags (front, driver-knee, passenger seat-cushion, front-side and full-length side-curtain). Disappointingly, the Corolla continues to be equipped with front disc and rear drum brakes rather than discs all around. Discs are a more modern and generally more effective design employed by many Corolla rivals. You can get a Corolla with rear discs but only if you opt for the pricy, sporty S model with the Plus or Premium package. The Corolla also lags behind some more modern rivals when it comes to safety options, as it doesn't offer any modern gadgets such as a blind spot monitoring system, rear cross-traffic alert or lane-departure warning.
In government crash testing, the Corolla earned a perfect 5-star overall rating after 5-star front- and side-impact scores and a 4-star rollover rating. The Corolla earned only an average rating from the nonprofit Insurance Institute for Highway Safety after a troubling Marginal score in the firm's challenging small front-overlap crash test.
Behind the Wheel
In our interior evaluation, we were struck by how much more upscale this new Corolla seems than its predecessor. The supple dashboard materials are much improved, and stitched accents on some panels add to the premium ambience. This is hardly business as usual for Toyota's best-seller; indeed, upscale and premium are words we've never associated with Corolla models in the past.
The Corolla's standard front seats provide adequate support, but the S model's sport seats stand out due to their enhanced lateral bolstering. In back, adult passengers will find unprecedented space by Corolla standards; thanks to an extra 3 inches of length, the rear seat provides almost midsize-grade accommodations.
The Corolla's technology offerings are likewise impressive, including a standard 6.1-in touchscreen with optional smartphone-app integration from the LE trim level on up. We also appreciate that every Corolla comes with expected tech features such as iPod/USB connectivity and Bluetooth -- though if you want Bluetooth audio, the base model won't do; you'll need at least the LE.
On the road, the 2016 Toyota Corolla lets a fair amount of road noise into the cabin at speed, but its ride is pleasantly smooth on most surfaces. Handling is sharper than in past models, and we like how the compact 3-spoke steering wheel feels in our hands. The new CVT is better executed than most, and it does a fairly convincing impression of a regular automatic with its simulated shift points. Although acceleration is basically unchanged from the previous Corolla, the CVT does make the car feel quicker. For this reason, as well as the fuel economy gap, we'd stay away from the archaic 4-speed automatic that's offered in the L trim.
Other Cars to Consider
2015 Ford Focus -- The Focus feels larger and more substantial than the Corolla, and it's more fun to drive -- but it's also more expensive.
2016 Hyundai Elantra -- The stylish Elantra continues to provide excellent value, and its performance and fuel economy are close to the Corolla's.
2016 Mazda3 -- A more premium option, the latest Mazda3 is an intriguing alternative with its adept handling and improved technology.
Used Toyota Camry -- If you like the Corolla's reliability but need a bigger interior, consider a Toyota Camry, though you may need to choose a used one to match the Corolla's budget-friendly pricing.
Autotrader's Advice
We like the S model's engaging paddle shifters and snug seats, and we'd want the S-only optional disc brakes, too -- and that makes the Corolla S the one to have. Choosing between the Plus and the Premium will depend on exactly how many comfort and convenience features you need and want.