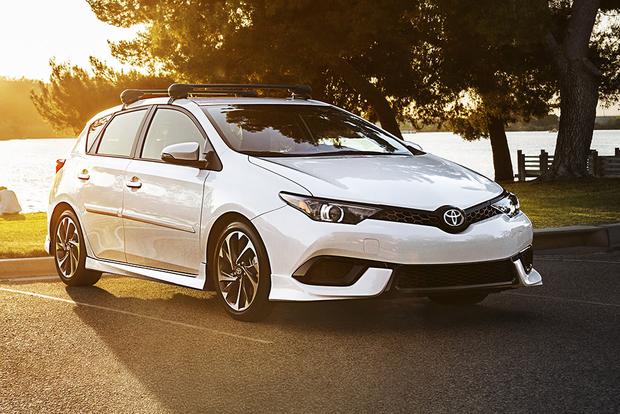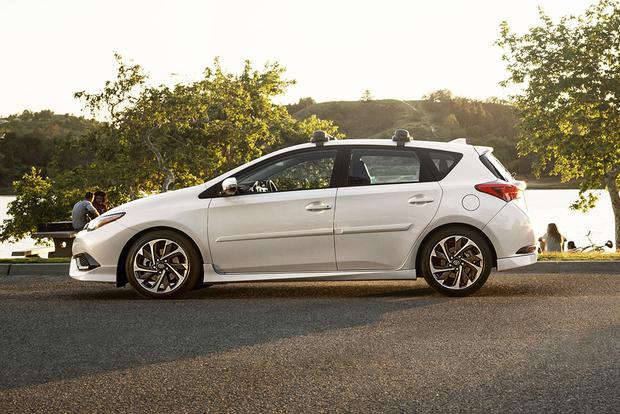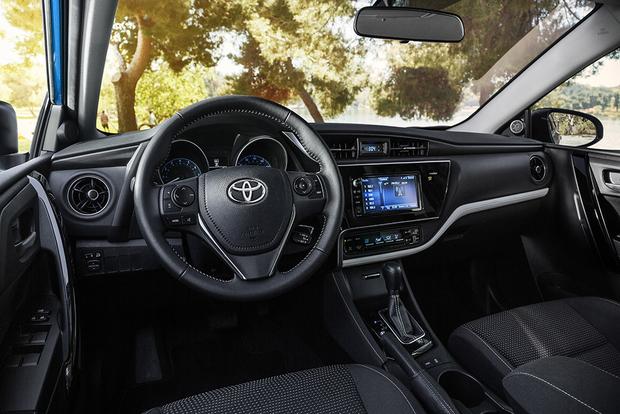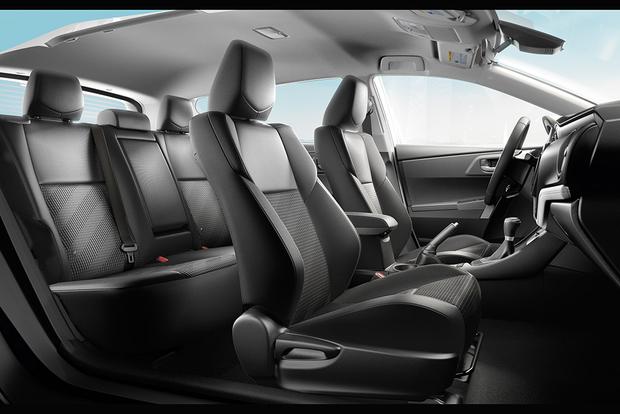 Oh Scion iM, we hardly knew ye. After a solitary year on the market, it was consigned to the annals of discontinued cars along with the rest of its brand. However, it has been resurrected under the parent company flag to become the 2017 Toyota Corolla iM.
Really, the name is far more appropriate since the iM was always the European-tuned hatchback version of the Toyota Corolla. The exterior styling, suspension tuning, cargo area and features list might be different, but beyond that, it's pretty much in keeping with its sibling and comparable to the differences between most hatchback/sedan combos. In many ways, we could actually argue that the iM's differences make it the more desirable car than the rather unremarkable regular Corolla.
At the same time, it doesn't go far enough to counteract the slow acceleration, unremarkable fuel economy, dreary driving experience and general lack of polish compared to top rivals from Honda and Mazda. Its hatchback doesn't exactly wow with its added practicality, either, and it isn't available in the same variety of trim levels as the Corolla sedan. So, the iM does live on, but we can't exactly say its survival was essential.
What's New for 2017?
Officially, the Corolla iM is a new model, but it's the same vehicle as the Scion iM sold last year. Besides its new name, it does gain standard accident avoidance tech.
What We Like
Standard accident avoidance tech; lots of equipment with reasonable pricing; superior reliability reputation
What We Don't
Slow acceleration; fewer available features; lower quality cabin compared to top rivals; dreary to drive
How Much?
$18,800-$19,500
Fuel Economy
The iM offers only one engine: a 137-horsepower 1.8-liter 4-cylinder, which is available with a 6-speed manual or a continuously variable automatic transmission (CVT). It returns 28 miles per gallon in the city, 36 mpg on the highway and 31 mpg combined with the CVT. The manual lowers these figures by 1 mpg. These are off the pace of the segment best, as is the glacial acceleration.
Standard Features & Options
The 2017 Toyota Corolla iM is offered in only one trim level. You only have to decide on your desired color and whether you want a manual transmission ($18,800) or an automatic ($19,500). Standard equipment includes 17-inch alloy wheels, automatic headlights and highbeams, a forward collision warning and automatic braking system, a lane-departure warning system, dual-zone automatic climate control, a backup camera, keyless ignition with a push-button starter, a leather-wrapped steering wheel, a 7-in touchscreen, Bluetooth, a USB port, HD radio and a 6-speaker sound system.
Although there a navigation system, Scion dealers also offer exterior style enhancements, along with performance upgrades such as an air filter, improved sway bars and suspension-lowering springs.
Safety
The Corolla iM stands out on the safety front. Besides its standard anti-lock disc brakes (the regular Corolla comes with rear drums), stability and traction control, front-side airbags and full-length-side curtain airbags, it also includes a driver-knee airbag, a front passenger under-cushion airbag, lane-departure warning and a forward-collision warning and automatic braking system.
The nonprofit Insurance Institute for Highway Safety gave the Corolla iM the best possible rating of Good in its moderate overlap frontal and side crash tests. The government has not conducted crash tests.
Behind the Wheel
Despite the iM's sporty appearance, it's a disappointment on the road. Its horsepower is leagues behind class rivals: The Honda Civic touts 174 horses, the Mazda3 offers 184 hp and the VW Golf offers 170. The result is that the iM is disappointingly slow, especially for a 2017 vehicle. We could tolerate 10-second 0-to-60 runs in the past, but no longer.
The same disappointment carries through to the iM's handling, where steering is so light and over-assisted that there's very little joy in driving the car at all. Indeed, with the iM, corners aren't something you carve so much as something you float through, pointing the steering wheel in the general direction you want to go. While handling precision probably isn't at the top of everyone's wish list, we think you'll appreciate the sharper and well-rounded driving experiences offered by the Civic and Mazda 3 in particular.
Inside, like the regular Corolla, the iM falls short of those same rivals in terms of the quality of materials used. Admittedly, there are a few nice touches and the standard touchscreen is easy to use, but this in general feels like more of an economy car.
Other Cars to Consider
2017 Honda Civic -- The car to beat in this class, offering a superb combination of space, fuel economy, performance, quality, feature content, comfort and driver engagement. Its hatchback version boasts sportier suspension tuning and an available Sport model.
2017 Mazda3 -- The Mazda3 is possibly our favorite hatchback thanks to its combination of great looks, excellent engines, superior interior quality and a satisfying driving experience.
2017 Volkswagen Golf -- The 5-door Golf hatchback isn't as roomy as the iM, but it offers a nicer interior, more power and a generally plusher level of refinement.
Used MINI Cooper -- If you like the iM's hatchback practicality but want better performance and a more luxurious interior, consider the MINI Cooper. It handles like a go-kart and feels like a baby luxury car inside -- but its higher price may mean you'll have to consider a used model.
Autotrader's Advice
Since there's only one trim level, that's the one we recommend. But if you're into steering, handling and acceleration, you might want to consider one of the iM's rivals instead.