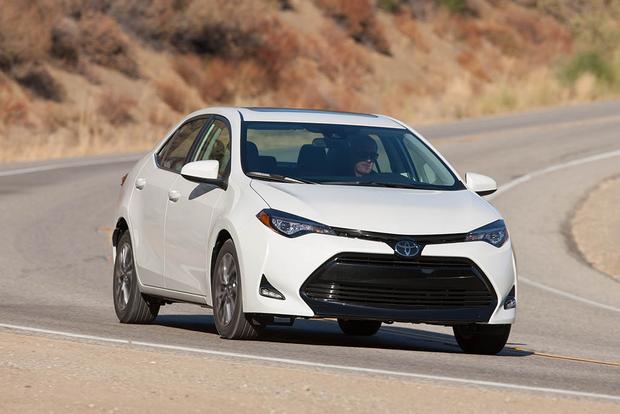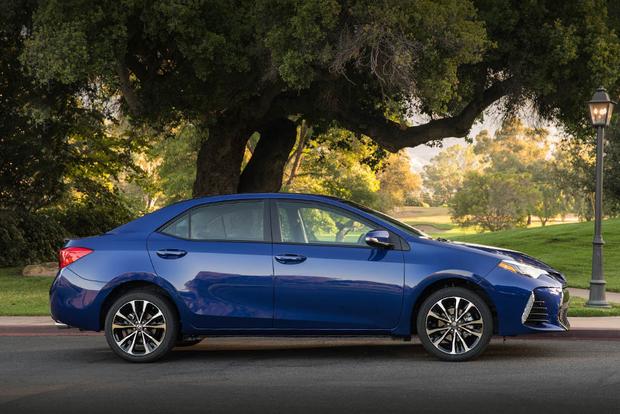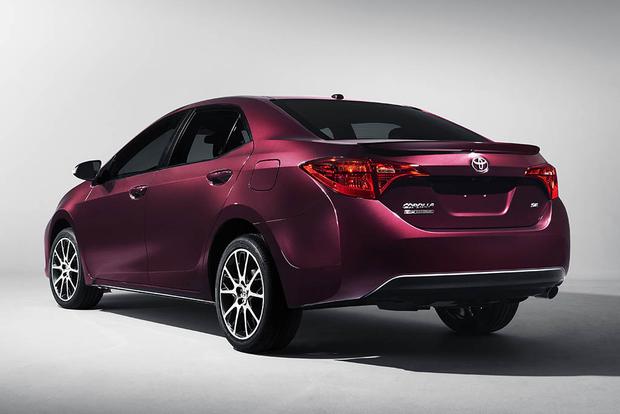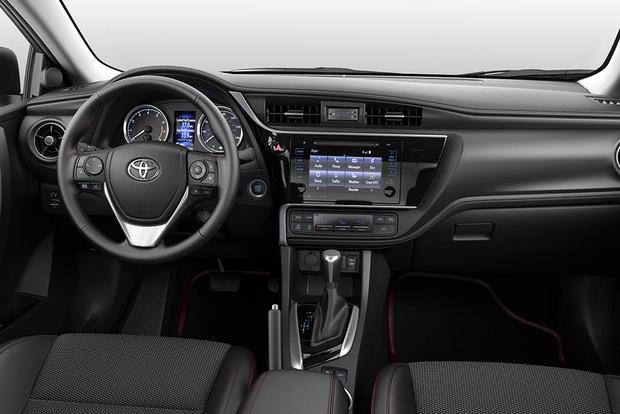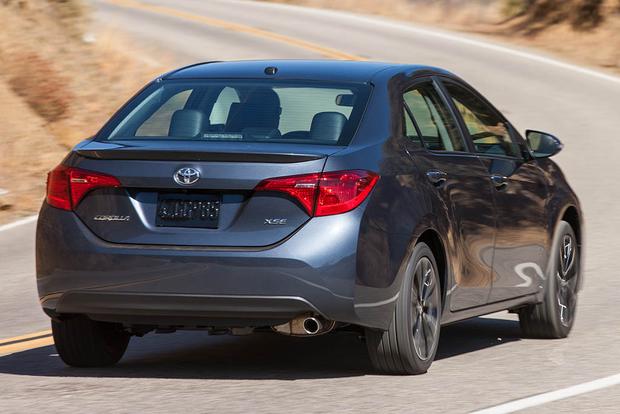 With key updates this year, the 2017 Toyota Corolla is better than it has ever been, adding some sharper styling and an improved features list to its excellent qualities of ample interior space, an efficient engine and a reputation for bulletproof reliability. It should continue to be a go-to choice for many, but we also think you'd be well served to look around a bit.
Ultimately, the Corolla is just outdone by other compact cars, specifically the Honda Civic and Mazda3. Other competitors like the Hyundai Elantra, Kia Forte and Chevrolet Cruze have plenty of worthwhile points in their favor as well. When cross-shopping the Corolla with these, we would note the differences in performance (the Corolla is quite slow), interior quality (the Corolla has a comparatively budget feel) and the way they drive. Toyota's best-selling compact car may still end up being the smartest buy for you, but at least you'll know what its competition is offering.
What's New for 2017?
The Toyota Corolla enjoys many noteworthy updates for 2017. The styling has been made a little more aggressive up front and the interior has been updated with new color combinations, upgraded seat fabric and new gauges. The features list also swells with standard accident avoidance tech now standard on all of the trim levels, which themselves have been altered for 2017 to include sportier SE and XSE trims. Finally, and importantly, the 2017 Corolla gets an update under the hood, with every model now coming standard with a continuously variable automatic transmission -- the old 4-speed automatic previously available on some trims has been mercifully dumped overboard.
Read 2016 vs 2017 Toyota Corolla: What's the Difference?
What We Like
Adult-friendly backseat; Eco trim's excellent fuel economy; standard accident avoidance tech; comfy ride; superior reliability reputation
What We Don't
Slow acceleration; inferior rear drum brakes (except SE and XSE); lower quality cabin compared to top rivals; dreary to drive
How Much?
$18,500-$21,000
Fuel Economy
All Corolla models except the Eco trim come with Toyota's familiar 1.8-liter 4-cylinder engine that produces 132 horsepower and 128 lb-ft of torque. That's not a lot, even for a compact sedan, and as such the Corolla is one of the slowest vehicles in its segment. A continuously variable automatic transmission (CVT) is standard, but a 6-speed manual can be specified on the SE trim level. With the CVT, this Corolla engine returns 28 miles per gallon city, 36 mpg highway and 32 mpg combined. The manual reduces those figures to 27/35/30. That's pretty thrifty, but more powerful competitors (Honda Civic, Mazda3) outdo it.
The Corolla LE Eco gets a 1.8-liter 4-cylinder too, but it's a different version with modifications that yield 140 hp and 126 lb-ft of torque. So yes, it's a smidgen more powerful, but more importantly it returns superior fuel economy at 30 mpg city, 40 mpg highway and 34 mpg combined. This goes down by 1 mpg when you opt for 16-in wheels.
Standard Features & Options
The 2017 Toyota Corolla is available in six main trim levels -- L, LE, LE Eco, SE, XLE and XSE -- plus a special SE 50th Anniversary Edition.
The entry-level L ($18,500) starts with 15-in steel wheels with plastic covers, LED headlights, automatic highbeams, power accessories, air conditioning, adaptive cruise control, a backup camera, forward-collision warning and automatic braking, lane-departure warning and steering assist, a height-adjustable driver's seat, Bluetooth, a 6.1-in touchscreen, a USB port and a 6-speaker audio system.
The LE ($18,900) adds 16-in steel wheels with plastic covers, keyless entry, heated mirrors, automatic climate control and some nicer interior trim.
The LE Eco ($19,300) features the special 140-hp engine with improved fuel economy, aerodynamic tweaks (including a subtle rear spoiler) and eco-biased tires, but otherwise it mostly shares the LE's equipment roster. You can have it with 15- or 16-in tires, but remember that getting the bigger ones hurts fuel economy.
The SE ($20,400) adds 17-in alloy wheels, unique styling, aggressively bolstered front seats, a leather-wrapped steering wheel, different gauges, and Normal and Sport driving modes. With the optional 6-speed manual transmission, it also includes a sunroof, passive entry with pushbutton start, and Toyota's Entune 7-in touchscreen that includes a smartphone app-based navigation system and satellite and HD radios. These can be added to CVT-equipped SE Corollas by way of the SE Premium package.
The XLE ($21,800) reverts to the LE's styling and interior, but adds 16-in alloy wheels, a sunroof, passive entry with pushbutton start, an 8-way power driver seat, SofTex vinyl upholstery, heated front seats and the 7-in Entune touchscreen.
The XSE ($22,700) essentially adds the XLE's niceties to the SE.
A Premium package available on the LE and LE Eco add alloy wheels and the 7-in Entune system. A sunroof is included with that package on the LE Eco and can be added separately on the LE version. The XLE and XSE can be equipped with a full navigation system integrated within Entune.
Safety
The 2017 Corolla comes with anti-lock brakes, stability control, eight airbags (front, driver-knee, passenger seat-cushion, front-side and full-length side-curtain), forward-collision warning with automatic braking and pedestrian detection, lane-departure warning and keeping and automatic highbeams. Disappointingly, though, the Corolla continues to come standard with front disc and rear drum brakes rather than the four-wheel discs featured on the SE, XSE and most competitors.
In National Highway Traffic Safety Administration crash testing, the Corolla earned a top 5-star overall rating along with 4-star frontal and 5-star side ratings. The Corolla also improved its performance in the nonprofit Insurance Institute for Highway Safety's ratings for 2017, receiving top scores in all relevant categories and an award of Top Safety Pick+.
Behind the Wheel
Drive the Corolla back-to-back with a Honda Civic or a Mazda3, and we think you'll find that Toyota's compact sedan comes up short. It'll be noticeably slower and less involving to drive, while lacking a certain solidity, serenity and sophistication in the way it moves down the road compared to those other sedans. It also falls short inside, as the quality of its materials are unremarkable in the face of the Honda and Mazda's surprisingly upscale environments. Now, does this mean the Corolla is bad? No, it's actually far better than it's ever been. It's just that the competition is now operating on a higher level now.
Having said that, the Corolla is one of the most spacious compact cars you'll find. Large adults can actually sit back-to-back in its cabin, while its nearly flat floor means that the middle seat should actually be usable. We also like how much equipment you get in the Corolla, even in the most basic trim levels.
Other Cars to Consider
2017 Honda Civic -- The car to beat in this class, offering a superb combination of space, fuel economy, performance, quality, feature content, comfort and driver engagement. It's also available in sedan, coupe and hatchback body styles.
2017 Mazda3 -- Another top choice. Like the Civic, the 3 boasts above average interior quality and fuel economy plus great looks and the sharpest driving experience in the segment.
2017 Hyundai Elantra -- Redesigned for 2017, the Elantra is quite similar to the Corolla, but it's a bit cheaper and comes with a longer warranty. A good value to consider.
Used Toyota Camry -- If you like the Corolla's reliability but need a bigger interior, consider a Toyota Camry, though you may need to choose a used one to match the Corolla's budget-friendly pricing.
Autotrader's Advice
We would opt for the LE Eco. For less than $1,000 over the base model, you get better fuel economy, a bit more power and worthwhile extra equipment like keyless entry and automatic climate control. We would also think twice about the SE and XSE -- they're all show and no go, with just some sportier trim and seats rather than actually adding performance enhancements as other Toyota SE trim levels do.