Overview
The new Volkswagen Jetta lineup features a complete line of models for 2006. A sporty turbocharged GLI model joins the line along with a fuel-efficient TDI turbo diesel. That's in addition to the most popular models, which are powered by a 2.5-liter five-cylinder engine.
The Jetta was redesigned and re-engineered from the ground up midway through the 2005 model year.
A 2.5-liter five-cylinder engine powers the standard models and it's pleasantly robust, with a broad power curve and a raspy sound. The 2.5-liter engine gets an EPA-rated 22 miles per gallon City, 30 mpg Highway, whether equipped with the five-speed manual gearbox or the new six-speed Tiptronic automatic. Clean-running Partial Zero Emissions, or PZEV, versions of this engine, are available in some states. Fuel-efficient TDI models are available in 45 states. Featuring Volkswagen's renowned turbo diesel engine, the TDI models get an EPA-rated 36/41 City Highway with the five-speed manual gearbox, 35/42 with the slick DSG automatic. The new Jetta GLI features a turbocharged 2.0-liter engine with a broad power curve boasting 0-60 in 6.7 seconds. The GLI gets an EPA rated 24/32 with its six-speed manual or 25/31 with the DSG.
Regardless of engine, we found the new Jetta responsive around town and comfortable on long trips. Volkswagens are known for handling, and the new Jetta carves through corners with precision. Indeed, the GLI reminds us why Germany is renowned for building excellent sports sedans.
The new Jetta is larger than previous models, and it features a more spacious interior stuffed with convenience and lavished with Volkswagen's legendary attention to detail. Even the least-expensive model offers an elegant, high-quality cabin. Its driver enjoys excellent visibility and ease of use with logical controls and instruments. Build quality is superb inside and out. All in all, the new Jetta is a solid car.
Model Lineup
The 2006 Volkswagen Jetta is available with a choice of three engines. The Jetta comes standard with a 2.5-liter five-cylinder engine rated at 150 horsepower. The base model is also available as a Partial Zero Emissions Vehicle (no charge) that uses a version of the 2.5-liter five-cylinder that emits almost no pollution. The Jetta is available with VW's highly regarded 1.9-liter TDI turbodiesel four-cylinder engine in 45 states. The GLI comes with a new 2.0-liter turbocharged engine boasting an output of 200 horsepower.
The base Jetta, called the Value Edition, comes with a choice of five-speed manual transmission ($17,900) or a new six-speed automatic ($18,975) featuring a Sport mode and Tiptronic gear selection. Standard equipment on these base models includes air conditioning; cruise control; tinted windows; power windows with one-touch open and close; AM/FM/CD/MP3 with 10 speakers; external temperature display; eight-way front-seat adjustments; heated power outside mirrors; split/folding rear seats; remote central power locking; two power outlets in the center console and one in the trunk; remote trunk and fuel-filler flap releases; and an anti-theft alarm. Standard running gear on Value Editions is 6x15-inch steel wheels with 195/65R15 all-season radials and a full-size spare wheel and tire.
The standard Jetta 2.5 ($20,290) upgrades this with dual-zone automatic climate control, premium audio with a 6CD changer, an integrated antenna, automatic headlamps, a trip computer, auto-dimming mirrors, heated power seats, fold-flat rear seats, a front spoiler, chrome trim, and 205/55R16 all-season tires. It's also available with the automatic ($21,365). Options include XM and Sirius satellite radio ($375); DVD satellite navigation ($1,800); and 17-inch alloy wheels and tires ($1,350).
TDI models with their turbo diesel engines are equipped the same way and are available with the five-speed manual gearbox ($21,290) or Volkswagen's DSG twin-clutch semi-automatic ($22,365).
The turbocharged GLI comes with a choice of six-speed manual ($23,790) or the DSG semi-automatic ($24,665). GLI adds or upgrades a number of features: eight-way manually adjustable height and reach sport front seats with fabric upholstery and adjustable head restraints; a three-spoke sport leather-wrapped steering wheel with audio and telephone controls; alloy interior trim and drilled pedals; metal loading edge protection for the trunk; special blue-tinted glass; bi-xenon headlamps with auto-leveling and headlight washers; and halogen projector lens foglamps. GLIs ride on 17-inch summer performance tires on 7x17-inch alloy wheels. Optional fitments for the GLI are 17-inch all-season performance tires or 18-inch summer performance radials on 7.5x18-inch alloys ($750).
Options for the GLI include DVD navigation with a 6CD changer in the front armrest ($1,800) and XM or Sirius satellite radio ($375). Package 1 ($1,460) includes a power sunroof, the satellite radio, and a 115-volt power outlet. Package 2 ($3,200) adds leather seating surfaces, heated front sports seats, a leather-wrapped multi-function steering wheel, heated washer nozzles, and all the stuff in Package 1.
Safety features that come standard on all models include front airbags, side-impact airbags for torso protection, and curtain airbags for head protection come standard along with crash-active front headrests and safety belts with emergency locking retractors for all five seating positions. Rear side airbags are optional ($350). Active safety features include anti-lock disc brakes with electronic brake-force distribution (EBD), traction control (ASR), and an electronic differential lock (EDL). Electronic stability control (ESP) is standard on all but the Value Edition ($280) and comes with hydraulic brake assist.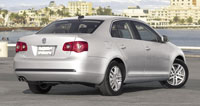 Walkaround
The Volkswagen Jetta was completely redesigned and launched as three major model lines through the 2005-2006 model years. It's larger, dimensionally as well as visually, in every direction. Compared to the previous Jetta, it has a longer wheelbase and wider track. It has also put on a little weight, tipping the scales at a little over 3,200 pounds. However, that extra mass was put to good use, as the greatly improved structural rigidity now puts the Jetta at the top of its class, and there's a larger trunk and more interior room, particularly for rear seat passengers.
The eye is drawn at once to the chrome-framed front grille. Like it or not, get used to it. This is the new face of Volkswagen. Chrome is also used in eyebrows atop the large engine air inlets in the front bumper and, on 2.5 and TDI models, for the side-window surrounds. GLI models are clearly differentiated by a black honeycomb mesh grille with a red surround strip and foglamps integrated into the front bumper.
The most striking design element is the aggressive thrust and slope of the car's snout. Compared to some other recent nose-forward designs, however, the composite headlamps and various inlets and grilles are well integrated into the Jetta's raked rearward flow. A striking vee, created by the slant of the headlamps and sloping hood lines, is carried strongly toward the rear by the steeply raked windshield and character lines running along the flanks. The rear window is carried deeply into the well-defined C-pillar, accentuating the designers' quest for a coupe-like sweep to the rear quarters. Flares at the four wheels blend into well-defined side skirts and, at the rear, into a lower valance panel accentuated by twin chrome-tipped tailpipes.
The car's tail is a significant departure from previous Jetta styling. The whole structure appears longer, but the larger taillight clusters, now divided between the trunk and rear fender, help widen the proportion of the car's hindquarters in relation to its height, giving the car a more substantial, less boxy-looking stern. Also helping to integrate the increased bulk of the trunk into the fenders is the coupe-like sweep of the C-pillar and the extensive rear window, which slants deeply into the trunkline.
The round tail lights and brake lights will likely be singled out as the new Jetta's most derivative statement, giving the car a blander, more Asian look to it than previous models.
In short, we find the new Jetta's look more pleasant than exciting.
How well this new design is accepted by the beholder is, however, an entirely different matter from the execution. And the execution is where Volkswagen excels. The body panels fit tightly and the paint finish is exquisite. If there's little excitement in the Jetta's styling, there's certainly a perceptible aura of rational engineering everywhere you look.
Interior Features
Volkswagen interiors are closely studied by the competition for good reason. Volkswagen designers accomplish more with less, combining expensive-looking materials with simple but attractive styling and excellent ergonomics. The result is inviting cockpits that are pleasant places to spend time behind the wheel.
The leather upholstery in a 2.5 we drove was well fitted and stitched around contours that provide a high degree of support. The Tamo ash wood trim is indeed trim and not the great expanses of lumber that are sometimes used in a lame attempt to class up an interior. To the contrary, the Jetta's wood is tastefully applied to complement the interior's sweeps and angles. Helping to relieve the eye of any monochromatic monotony are such touches as metallic trim around the shift lever, metallic instrument cluster rings; chrome door handles, glovebox lock cylinder and trunk release switch, and the button for the parking brake lever.
Finding a comfortable driving position is aided by an eight-way power adjustable seat with a power lumbar adjustment, an adjustable steering column and a height-adjustable safety belt. The driver's seat can be positioned using controls on the side of the seat cushion or by pressing of the three memory buttons (which also adjusts the outside mirrors) or by the key fob (which can be programmed for each driver).
The GLI interior is a bit dressier than the standard cabin thanks to touches of bright trim and the handsome three-spoke leather-wrapped multi-function steering wheel. The sport seat fabric is a plaid-like material that harkens back to previous interior designs from VW, and it may not be to everyone's taste. The durable-feeling leather is really the way to go for a full upmarket experience.
A short styling aside here: Exposed windshield wipers were a pet peeve of former VW chairman Ferdinand Piech, and so he ordered that all future VWs would have hidden wipers. To aid in this design, a cowling now sits along the base of the windshield and cuts off some of the view over the nose of the car. It's not a safety issue, but former VW owners will notice the difference right away. To Piech's credit, the hidden wipers do indeed lend a more upscale look.
Three-point safety belts with emergency locking retractors are provided for all five passengers, and each position has an adjustable headrest. The front seat belts also have pre-tensioners with load limiters for a more effective reaction, and the front headrests are active, automatically moving up and forward if the occupant's torso is pressed back in the seat, as happens in many kinds of collisions. To help reduce leg injuries, the pedals get away from the driver in the event of a front-end collision. Six airbags are ready to deploy if needed, including side curtains to help provide head protection for the four outboard passengers.
The thick-rimmed, padded three-spoke steering wheel frames a gauge cluster dominated by the two large dials of the tachometer and speedometer, well shaded from ambient light by a curved cowl. In daylight the graphics read white on black, at night changing to white on soothing swimming-pool blue with lighted red pointers. In either case, the data are easy to comprehend at a glance. Within both the tach and speedo are a number of warning lights and advisories about secondary functions, including one thoughtful warning that the fuel filler door was left opened after gassing up. Optional steering wheel buttons can be used to operate a phone, mute the radio, or toggle between the various modes of the sound system.
To the left of the steering wheel is the headlamp switch, which has three positions: When turned off, the daytime running lights are activated. Click the dial once to the right, and automatic headlight control is activated, which measures ambient light and turns on the headlights when needed, such as in a long tunnel or as night approaches. A third click and the headligh
Driving Impressions
Climb in the new Volkswagen Jetta 2.5, turn the key and the driver is greeted by the raspy growl of the new five-cylinder engine. It's definitely an in-your-ear sound that will find favor with those who appreciate mechanical sturm und drang, but it might be a little annoying to drivers who'd rather talk on the phone.
As soon as the Jetta pulls away from the curb, there's a noticeable feel of solidness and a clear sense of high build quality. As there should be. A large part of the investment in the Jetta went toward increasing structural integrity. The stronger structure forms not only a more solid grounding for suspension and drivetrain components, it helps reduce unwanted noise from being transmitted into the cabin.
The other element that was considered most critical in the design of this performance-oriented car was the suspension. This is, without question, the best handling front-wheel-drive car Volkswagen has ever produced yet, somewhat paradoxically, it all starts with the new multi-link setup in the tail of the car.
The physics are complicated, but, simply stated, if the rear end of the car won't properly follow the front, then handling limits are low and the driver has to work harder. Replacing the old solid-beam axle with the new four-link rear suspension (with telescopic gas-filled shock absorbers, coil springs and stabilizer bar) means reduced body roll, better contact between the wheels and the pavement, and improved ride quality. Angling the shock absorbers and combining them with oval helper springs also contribute to a wider trunk opening for easier loading.
Changes to the front suspension also made dramatic improvements to the feel of the Jetta. The MacPherson strut arrangement (with coil springs, telescopic shocks and a newly designed, integrated stabilizer bar to reduce weight) has improved geometry to increase front wheel location and reduce torque steer to unnoticeable levels, even when the throttle is maxed out in a corner. This is an amazingly balanced car, with little or no sense that the front end is doing the work of both pulling and steering the car.
Credit the new Servotronic power steering for the sharp response through the steering wheel. It not only adjusts to speed, providing more assist at low speeds and higher effort on the open road, but, through electronic control of the steering column, it automatically corrects the car's direction when such external forces as crosswinds threaten to move it off track. It's a bit disconcerting at first for the car to do something a driver expects he'll have to do but after a short time becomes very welcome in its ability to reduce driver effort.
Getting the car underway is generally effortless, even in slippery conditions due to the application of various standard traction aids. Every Jetta comes with an electronic differential lock, or EDL, that varies power to either front wheel depending on which one has more traction. It works by applying the brakes very slightly on the wheel that has lost traction, while at the same time it sends more torque to the other wheel. Also standard across the line is anti-slip regulation, or ASR, which reduces engine power to both front wheels if slip is detected.
Both EDL and ASR are part of the electronic stability program, or ESP, which is standard on all models except for Value Editions. ESP incorporates ABS to brake any of the car's four wheels individually and reduce the risk of skidding. It all starts sounding like alphabet soup, but all these systems work together to help the driver maintain control of the car. Studies in Europe have shown how effective electronic stability systems are in helping avoid accidents. They should be considered a standard item on any driver's order list.
The only commotion during take-off, then, is the raspy growl of the new five-cylinder engine, which has been tuned for instant gratification. Throttle tip-in is aggressive, especial
Summary
The all-new Volkswagen Jetta is a delectable dish of European-bred automotive technology, superior materials and tangibly good build quality. This new Jetta is both a comfortable long-range cruiser and a snappy runabout. Choosing to address the American driver's thirst for torque was one of the more pleasing ways that Volkswagen fashioned the standard 2.5-liter models for the stop-and-go derby of urban driving, but it's still how well the Jetta conquers the open road that makes the Volkswagen driving experience distinctive and enjoyable. For those who want to make quicker progress down the road, the turbocharged GLI is a slick performer right out of the box. As a platform for the furious youth who want to go fast, it might be the best since the original GTI.
NewCarTestDrive.com correspondent Greg Brown filed this report from Southern California and Santa Fe, New Mexico.
Model Line Overview
Base Price (MSRP)
$17,900
Model lineup:
Volkswagen Jetta Value Edition ($17,900); Value Edition automatic ($18,975); 2.5 ($20,290); 2.5 automatic ($21,365); TDI ($21,290); TDI automatic ($22,365); GLI ($23,790); GLI automatic ($24,665)
Engines:
150-hp 2.5-liter five-cylinder; 1.9-liter turbodiesel four-cylinder; 2.0-liter turbocharged four-cylinder
Transmissions:
5-speed manual; 6-speed automatic with Tiptronic; 6-speed manual; 6-speed DSG automatic
Safety equipment (Standard):
dual-stage front driver and passenger airbags; front side-impact thorax airbags; front and rear side curtain-style head protection airbags; three-point seat belts at all five seating positions; height-adjustable front seatbelts; safety belt pre-tensioners with load limiters for the front seats; emergency locking retractors for every belt; four-channel ABS; Electronic Differential Lock (EDL); Anti-Slip Regulation (ASR)
Safety equipment (Optional):
Electronic Stability Program (ESP); rear thorax side-impact airbags
Basic warranty:
4 years/50,000 miles
Assembled in:
Puebla, Mexico
Specifications As Tested
Model tested (MSRP):
Volkswagen GLI automatic ($24,665)
Standard equipment:
manual single-zone climate control with pollen and smog filter; tilt and telescopic 3-spoke steering wheel; power windows with one-touch operation and key opening/closing; front sport seats, eight-way manually adjustable for height, reach and recline; adjustable lumbar support for both front seats; sport cloth upholstery; center console with two cup holders, sliding armrest; power outlet; "alloy" interior trim; rear passenger ventilation for heat and A/C; sun visors with illuminated vanity mirrors and sliding function; cruise control; Premium AM/FM sound system with in-dash 6-disc CD changer, MP3 readable, satellite radio compatible, 10 speakers, theft-deterrent warning light; automatic headlamps; 60/40 split folding rear seat with center armrest and pass-through; 17-inch alloy wheels; fully carpeted trunk with tie-down hooks; full-size spare wheel/tire; high intensity gas-discharge bi-Xenon headlights with auto-leveling and washers; front halogen projector foglamps integrated into the bumper; black mesh grille with red surround trim; blue tinted glass
Options as tested:
Package 2 ($3,200) includes leather seating surfaces, top sport seats, heated front seats, Climatronic dual-zone automatic climate control, satellite radio, heated washer nozzles; 7.5x18-inch alloy wheels with 225/40R18H summer tires ($750); rear side airbags ($350)
Destination charge:
615
Gas Guzzler Tax:
N/A
Price as tested (MSRP)
$29,580
Layout:
front-wheel drive
Engine:
2.0-liter turbocharged four-cylinder
Horsepower (hp @ rpm):
200 @ 5500-6000 rpm
Torque (lb.-ft. @ rpm):
207 @ 1800-4700
Transmission:
6-speed DSG with Tiptronic
EPA fuel economy, city/hwy:
25/31 mpg.
Wheelbase:
101.5 in.
Length/width/height:
179.3/69.3/57.5 in.
Track, f/r:
60.7/59.7 in.
Turning circle:
35.8 ft.
Seating capacity:
5
Head/hip/leg room, f:
38.5/54.8/41.2 in.
Head/hip/leg room, m:
N/A
Head/hip/leg room, r:
37.2/53.1/35.4 in.
Cargo volume:
16 cu. ft.
Payload:
1105
Towing capacity:
N/A
Suspension F:
independent, MacPherson strut
Suspension R:
multi-link
Ground clearance:
5.4 in.
Curb weight:
3352 lbs.
Tires:
225/40R18H summer performance
Brakes, f/r:
vented disc/disc with ABS, EBD and Brake Assist in.
Fuel capacity:
14.5 gal.