Overview
The Volkswagen Touareg (TOO-r-egg) is a luxury sport-utility with a rare blend of highway composure, refinement and off-highway capability.
For 2008, the Touareg gets new front and rear lamps and appendages, and while the wrapper looks familiar, there are a couple of thousand new parts within. This represents a major upgrade for 2008, and it's officially dubbed the 2008 Volkswagen Touareg 2.
Like the Infiniti FX and Mercedes-Benz ML, Touareg eschews a third row of seats for generous five-passenger space in compact packaging. Touareg 2 offers a choice of V6 or V8 gas engines and a diesel, as with the Mercedes ML and Jeep Grand Cherokee. Volkswagen's diesel is the the fastest, the most fuel efficient, and the most expensive. All Touareg models use a six-speed automatic transmission and full-time four-wheel drive.
Protected by a rigid structure and full suite of airbags and electronic safety systems, the Touareg cabin is at once inviting, involving, and efficient. There are more thoughtful touches than you'll notice at first glance, yet the learning curve is quick, the controls not daunting, and comfort remains high even after hours on the road, or off it.
Touareg 2 is a genuinely capable four-wheel-drive, and it takes to trails like Letterman to a politco's faux pas. Its combination of clearance angles, gearing, fording depth and suspension travel compares to the Jeep Grand Cherokee, Land Rover LR3, Hummer H2, and Lexus GX470, and none of those offer the massive thrust of Touareg's diesel and the Jeep and Hummer don't have its adjustable air suspension.
Back on the highway the Touareg has a Teutonic feel, with smoothness imparted by precision and not softness. It cruises effortlessly regardless of road condition, and belies its heft on winding roads. A sports car it isn't, but you could make a dynamic argument for an inclement weather Grand Touring vehicle.
If you like the Volkswagen Touareg 2 but need a third row of seats at the expanse of some off-road capability, check out the Audi Q7; it uses a stretched version of the same structure.
Model Lineup
The 2008 Volkswagen Touareg 2 comes in three levels: 3.6 VR6 FSI ($39,320); V8 FSI ($48,320); and V10 TDI Twin Turbo ($68,320).
The 3.6 VR6 comes with a full slate of features, including dual-zone climate control, power moonroof, power windows and locks, heated front seats, power driver's seat, leather shifter and steering wheel with redundant controls, alarm/immobilizer, cruise control, split-folding rear seat, alloy wheels, fog lamps, trip computer, outside and oil temperature displays, aluminum accents, heated power mirrors with synchronized adjustment and right-side reverse tilt, front and rear park assist, rain-sensing wipers and heated washer nozzles, 10-speaker audio system with Sirius Satellite Radio (three-month service included), power liftgate, and six power points, including one 115-volt outlet.
The 4.2 FSI adds a 350-hp V8 engine, leather upholstery and walnut woodwork, bi-xenon curve-following headlights, more chrome trim, 19-inch wheels and more sporting suspension calibration, power passenger seat, driver memory system, power folding auto-dimming outside mirrors, rear seat side sunshades, and sliding center dual-bin armrest.
The V10 TDI comes with the twin-turbo diesel engine, power tilt-and-telescoping heated steering wheel, larger brakes and adjustable air suspension with continuous damping control.
Options include a tow hitch ($500), a rear differential lock ($700), 19-inch wheels and tires ($1200) for the VR6, and the air suspension package ($2750). Option packages start with the Lux ($2900), which brings many of the V8 upgrades (leather, wood trim, power passenger seat, AFS2 bi-xenon headlamps) to the VR6. Lux Plus ($3400) adds four-zone climate control, heated rear seats, Dynaudio sound, and keyless operation. The Technologie package ($3350) adds DVD-based navigation, upgraded 11-speaker sound system with CD changer, rear view camera, expanded instrument panel multifunction display, and auxiliary input.
Safety equipment includes rollover-sensing ESP-plus stability control, ABSPlus brakes with electronic brake-force distribution and brake assist, tire-pressure monitors, Hill Descent Assist, and adjustable seatbelt anchors front and rear. Also standard are front airbags, side-impact airbags, and curtain airbags.
Walkaround
Volkswagen family heritage is clearly evident in the Touareg, from the face of lights and split-frame grille that mirrors Eos and Passat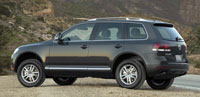 to the large chrome circular logos. For all intents and purposes the body panels remain unchanged, only the trim, lamps and larger rear spoiler atop the hatch have been redone in the interests of fresh appearance and better function for 2008.
The 112-inch wheelbase permits good occupant space and an overall length of less than 16 feet keeps the wheels near the corners. This creates both a muscular stance, with the glass areas rising out of strong shoulders, and maintains the approach and departure angles and clearance necessary for real 4WD use. Unlike virtually every other 4WD SUV and pickup, the Touareg's approach and departure angles are identical, meaning that regardless of which direction you encounter an obstacle, if the leading edge clears it so will the following edge. Large wheelwells do not have fender flares, instead using gracefully curved sheetmetal to house the large wheels and tires.
Touareg is essentially void of superfluous trim. The strip along the lower doors minimizes paint damage, a chrome strip protects the top of the rear bumper, and the signal mirrors transmit intentions to vehicles alongside. Finally, taillights are easy to see and cleanly integrated to avoid being subject to damage on tight trails or crowded market lots.
The entire structure is quite stiff. With a Touareg balanced on just two opposite corner wheels, the hood, hatch, and doors can all be opened and closed with no more than normal effort, an unusual feat. Even the glass section of the hatch, which opens separately and self-latches into the main hatch when it is lifted, is accessible.
While the Touareg 2, Porsche Cayenne, and Audi Q7 share some development background, differences are so significant they can hardly be labeled competitors. Indeed, the Q7, which uses the same gasoline engines and transmission as an FSI Touareg, shares less than 15 percent of its parts with Touareg.
Interior Features
Opening a Touareg door makes a good first impression, as the door itself conveys that feeling of pinpoint-balanced heft and quality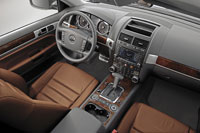 and the cabin only reinforces the notion. Few things here appear little or lightweight, from the big T-handle shifter in a wide console to the fairly large steering wheel suitable for a long-distance cruising yacht.
Materials appear first-rate as does assembly; even after days of trail twisting and pavement pounding we heard no squeaks, rattles or wind whistles. The VR6's V-tex upholstery makes a fair rendition of synthetic leather. Genuine leather comes standard on the V8 and V10 and is available on the VR6; it's called Cricket though it chirps and squeaks only if you're wearing leather as well. Even the lower door panels are done in soft-touch material. Dull hard plastic is very hard to find in this car. Leather wrappers for steering wheel and shifter are standard. With leather upholstery also comes leather door pulls and very comfortable armrests. Silver-tinted trim is standard on VR6 but all the aluminum accents pieces are real aluminum, and again, the VR6 may be fitted with the polished walnut that comes in other models.
For 2008, the seats have been recontoured for better side bolstering although comfort was already very good in the previous version. With a wide range of power adjustment, seat heaters and a big padded headrest, it's easy to sit for hours yet not restrained, so you can put your head out the wheel to see exactly where the near-side rocks and obstacles are or where your toll coin landed.
Rear seats are fixed at a good backrest angle balancing comfort and vision, and outboard riders enjoy big, cushy headrests and adjustable height shoulder belts just as front riders do; pop for the Lux Plus package with left/right climate control and seat heaters for the back, and no one should complain.
Storage units are average in number and include a few useful touches. The bins at dash top center are deeper than average, and will not eject contents at quick starts or on steep climbs. On all but the basic VR6, the center armrest slides fore-and-aft, has two stowage compartments, and the lid is articulated so it doesn't flip back and pinch a center rear rider's knees.
Apart from always-on headlights/daytime running lamps that will bring bugs with you to camp, the Touareg gives the driver full control options. Air suspension, where fitted, and the four-wheel-drive system are switched by rotary dials behind the shifter, with Park Assist defeat, ESP, and seat heaters ahead of it. Climate control can be full automatic, or to any combination of outlet vents you choose. The transmission has two automatic shift modes, plus manual mode if you prefer to time your own. Column stalk controls are typical in layout, including the rear wiper, and fuel door and hatch releases are lift-up buttons near the door map pocket that are impossible to trigger accidentally.
The dominant tachometer and speedometer, and smaller numbered ancillary gauges that include both coolant and oil temperature (a better indicator of how hard the engine is working) all have flat faces with anti-reflective coating. Digital displays show miles/trip to right and time/date to left, with a redundant clock over the mirror where everyone can see it. The navigation screen is surrounded by buttons that correspond to adjacent screen icons to keep keystrokes to a minimum, and clearly more intuitive than another German brand's rotate-clockwise-to-decrease logic. Test drives done at night reveal excellent illumination of all instruments and switchgear.
Big outside mirrors provide generous views both near and far, yet are low enough relative to the seating position the driver can look over them rather than having to peer around them. Wiper and washer coverage is excellent at each end, there's plenty of glass area to avoid claustrophobia or blind spots, xenon headlamps follow the road supplanted by cornering lights and fog lamps for wide-angle lower speeds.
Accessed by full hatch or just the glass upper section, the cargo space features flat sides and floor for easy loading and a chrome skid-guard at the aft edge for sliding heavy or rough items in and out. Volume amounts to 31 cubic feet, not best-in-class but better than many and it's well-configured space: The split rear seat folds, the cushion tilts forward, the backrest down, for 71 cubic feet. But you have to remove the outboard headrests first. Four tie-down points secure the cargo. A partition for larger objects or pets is available. The cover is nice and high with 21 inches of space below it, there are two 12-volt and one 115-volt power points up high, lights are both sides of the opening, and you do not have to lie in the mud or snow to secure a flat tire underneath.
Driving Impressions
Each Volkswagen Touareg model has its own set of distinct driving characteristics defined by engine, suspension and tires, and each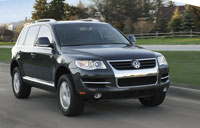 feels of-a-piece solidly built and engineered to a point where it feels all the moving parts are light and balanced, with that rigid platform and luxury features responsible for the weight. Regardless of model one must remember this is a three-ton 4WD able to traverse far more than the typical owner's nerves will permit, and it will not change directions nor stop like a sports car half its weight. VW organizes adventures in Moab to show customers exactly what a Touareg will do. We've attended some of those adventures and came away impressed with its capability.
With short gearing in the six-speed automatic transmission, the VR6 engine's 280 horsepower moves the 5,000-pound Touareg better than you'd expect. Torque is rated at 265 pound-feet from 2500 to 5000 rpm, delivering sufficient midrange power for daily tasks and keeping up if not leading the pack. Towing the maximum rated load over 7,000 pounds or driving at high altitudes will use all it can deliver, which it will do without complaint. The narrow-angle V engine (10.6-degree, as opposed to typical V6 of 60 to 90 degrees) looks and feels more like an inline six-cylinder engine, smooth and stress-free to redline.
The six-speed automatic knows this isn't a big engine and where the power lies, and it quickly shifts to the appropriate gear. Sport mode quickens shift response for more enthusiastic driving styles. Under normal circumstances in Auto mode the 4XMotion four-wheel-drive system (which differs from the 4Motion used in all-wheel-drive VW cars) is transparent to the driver; you select alternate modes seeking specific changes in traction in gearing according to terrain, such as engaging low-range for slow-speed rock crawling or very steep hills. Both uphill starts and severe descents can be helped with electronic systems, as only expert four-wheelers could do any better.
Electronic aids include updated antilock brakes that will form a chock in front of the tires on soft surfaces. This means shorter stopping distances on gravel roads, mud, snow, sand. The electronic stability control system is tied into a rollover sensor, side curtain airbags and steering systems, so they can all work as a team.
For 2008, the Touareg VR6 suspension has been slightly softened and carries the comfort label. Since it rolls on 17-inch wheels and tires designed for all surfaces, the comfort spec is logical, and endows the VR6 with the gentlest ride of the three Touareg models. It responds accurately to driver input, though not as quickly as vehicles like the BMW X5 which haven't the off-road prowess, and the quick steering will execute a U-turn in less space than many mid-sized sedans, an important trait in urban areas and tight off-highway trails. This is also the best package if you frequent poor and potholed roads as the tires will absorb most of the impact, or if you do a lot of winter mountain or icy road travel because the 17-inch tires are snow-chain compatible.
A VR6 may be ordered with the 19-inch wheels and low-profile tires, giving crisper response to turn and brake commands and a moderate increase in maximum cornering grip. As with virtually every other wheeled device, you'll pay a price in ride softness with the 19-inch wheels and notice things like lane divider dots; and there will be a bit more noise as the tire noise of the 17-inch aggressive tread is swapped for a stiffer sidewall and a hair more road noise. None of these issues is severe, and a Touareg remains as quiet inside as any other genuine 4WD. Drivers who prefer something softer and have no interest in off-road capability might be better served by a Lexus RX350, a less adventurous vehicle.
The full air suspension is optional on the VR6 and V8 and standard on the V10 diesel. This system replaces the steel coil spring at each corner with an air spring, and adds Continuous Damping Control (CDC), which puts a computer in charge of the shock absorbers which in turn control the air springs. Many luxury marques, including Land Rover, Mercedes-Benz, BMW, and Audi employ similar systems.
Three damping settings are offered on CDC: Comfort, Sport, and Auto. They do exactly as you'd think, giving a soft ride on Comfort, a firmer more responsive ride on Sport, or leave it on Auto and let the system immediately match condition to need. And since the system adjusts far faster than you can turn the switch, Auto is ideal for virtually any driving.
The other primary advantage of the air suspension is adjustable height, a 5.5-inch difference in six settings, four of which the driver controls. The suspension automatically lowers the Touareg one inch at 87 mph for better stability and aerodynamics, and another 0.4-inch when you reach 118 mph. The Standard mode sets the ground clearance at 8.7 inches, 0.4 more than the standard suspension. The Load setting kneels the car as low as possible (6.3 inches clearance), good for shorter or less-ambulatory passengers, heavy cargo lifting, and parking garages with low ceilings. The Off-Road setting, good to 43 mph, adds an inch of clearance (about 9.7 inches), and X'tra level raises the Touareg as high as it will go, to 11.8 inches clearance. X'tra is rated for 12 mph, though in reality you'd use it only at 2-3 mph or less since it limits any suspension travel and makes the Touareg bob like a low-rider. Naturally, both higher modes also increase the water fording depth as well as approach, departure and breakover angles critical in off-road travel where a degree or an inch can often make the difference.
A VR6 with 17-inch wheels, and locking rear differential and air suspension options is arguably the best trail Touareg configuration. It's a good bang for the buck in that regard as the only luxury utilities that come close in off-road performance cost more.
The 4.2 FSI V8 model is the sporting Touareg, with a sophisticated 350-hp, five-valve-per-cylinder V8 engine shared with Audi luxury flagships and the basis for their RS and R8 sports car engines. This jewel makes the Touareg noticeably quicker. Looking at Volkswagen's claimed 0-60 mph in 7.6 seconds indicates it isn't any quicker than the previous 310-hp Touareg, but we think VW is being conservative. The 4.2 FSI isn't a fast car but it's nearly as quick as a supercharged Range Rover Sport and you won't find it lacking for power. Since gearing is the same as that of the VR6, the V8 leaves a standing start with a surge if you're irresponsible with the gas pedal, occasionally sliding the sunroof shade back part way. The V8 gives up two miles per gallon in EPA-rated fuel economy to the VR6.
Sticky Pirelli Scorpion Zero tires were wrapped around the handsome 19-inch wheels on our versions, and while you shouldn't expect 60,000 miles out of a set, the grip is tenacious and gives warning when you're about to exceed the limits. This setup makes the Touareg more German, if you will, rounding a bend surprisingly well for such a heavy car. In an apparent contradiction, it feels lighter as soon as you turn the wheel, perhaps like a running back on toe point in ballet shoes.
Added standard features account for a large part of the V8's price hike over the VR6, and air suspension is offered. Frost-locked buyers could probably secure a set of 17-inch wheels through the dealer or aftermarket sources if snow chains are routine necessity or if a second set of wheels mounted up with snow tires is desired.
Fully loaded, the alpha-dog Touareg V10 TDI Twin Turbo nears twice the price of the entry-level model (and is not offered in all states). It comes standard with air suspension, the 19-inch wheels, and larger brakes which may limit the option of buying a set of smaller winter wheels for tire chains.
Although the TDI weighs 500 pounds more than the V8, it is the quickest of all Touaregs because of its stout engine; the 4.9-liter V10 diesel with two turbochargers dishes up 310 hp and 553 lb-ft of torque at just 2000 rpm. This is essentially the same output as recent heavy-duty pickup 6.0-6.5 liter diesels so the light-in-comparison Touareg has considerable grunt.
The pickup reference provides clues that torque is where it's at in trucks, as it gets you in motion and keeps the load moving; up to 45-50 mph, horsepower is almost irrelevant. After a fraction of a second to wind up the turbos at a dead stop, the TDI Touareg gathers momentum with alacrity and keeps pulling hard, laughing off high-altitude thin air in the process. With more cylinders, lower revs, updated fuel injection and twin turbos to mask some noise, most occupants would never know it's a diesel and it was the first of its kind in the U.S. to employ a particulate filter for emissions reduction.
Diesels are also known for economy, and despite being the quickest and heaviest Touareg, the TDI is also the most fuel efficient, earning 2008 EPA ratings of 15/20 mpg. A pair of Touareg diesels participated in the Baja 500 in 2007 and were the only vehicles to complete the race without a fuel stop.
Summary
The 2008 Volkswagen Touareg 2 mixes trail-worthy ability, excellent road manners, and a feature-laden five-seat cabin into a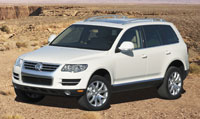 compact package to find favor with urban warriors, outdoor adventurers, suburban sybarites and everyone else who'd like to be one. The array of engines and suspensions permit any buyer personality to design a Touareg they like, the better to appreciate everything you won't notice in a short test-drive.
NewCarTestDrive.com correspondent G.R. Whale test drove Touareg models in Germany, Los Angeles, and Moab, Utah.
Copyright © 1994-2007 New Car Test Drive, Inc.