Infiniti is definitely not settling for less these days. As if they have a personal vendetta against the competition, the Japanese automaker has ascertained that with each new model, the bar must be raised within the scopes of innovation, design and performance. Consider the G37 Coupe and Sedan and M Sedan -- all high on Automotive Rhythms' depth charts. Now they have regenerated the first edition FX into an all-new technological "robot" on wheels. It practically drives itself.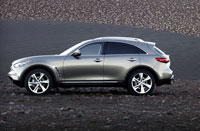 When the FX entered the automotive draft in 2003, it was more than just a crossover or stylish SUV. Like a young collegiate ball player, it was blessed with athletic skills and shifty mannerisms. Not only a deft mover and shaker, but with its space-age styling the FX was something you would more envision those X Files agents Mulder and Scully pulling up in to an alien crime scene investigation opposed to CSI's Horatio and his modern day crime themes. The slick, pod-like body even came with 20" wheels -- big for crossovers of that size and big for 2003. For 2009, the FX receives some of the same forward thinking from the Infiniti product planning team while inheriting a massive amount of new driver comfort and safety features. It still retains the elongated hood, has a longer wheelbase (1.4 inches) and a wider front track. Functional side air vents add a taste of class and are utilized for exhausting air from under the hood. And like a wounded alien, Infiniti's "Scratch Shield" self-annealing paint allows the clear coat to heal itself from scratches over a period of days.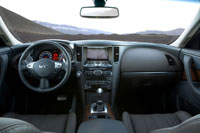 For our evaluation, we headed to San Diego for that true Southern Cal driving experience. The hairpin turns through mountain passes were perfect for defining the FX's sporty nature. And yes, it does drive like a sports sedan. Yet, I wouldn't go as far as to say it drives like a sports car, which is usually a coupe. The law of physics won't condone such comparisons. However, o body roll was evident, steering was accurate and acceleration was great. I drove two of three models in the FX lineup: the FX35 RWD, FX35 AWD and the FX50 AWD. To test the top of the line, I went with the 5.0-liter V8 which gives you 390-horsepower and 369 pound-feet of torque. Now in real life scenarios the 3.5-liter V6 and its 303 horsepower and 262 pound-feet of torque would be more fuel efficient in a time where folks are forgoing ancillary commodities and putting that money into gas expense accounts. Though, Infiniti says luxury buyers of the FX are not worried about fuel prices because they don't have to. The FX50 gets 14city/20 highway while the FX35 RWD does 16city/23highway and 16city/21highway for the FX35 AWD. The FX's new 7-speed automatic transmission with available magnesium paddle shifters will also help save on fuel. I like its manual mode because it holds each gear until redline. This allows you to drive the crossover like a sports sedan. Rim sizes range from 18" to 21" and are all aluminum-alloy.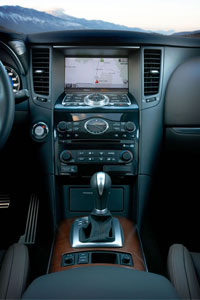 Jump inside your FX Starship and that's where the vehicle takes control while entertaining you with several music and communication modes. To begin, Infiniti has partnered with Apple's iPod which has a very sophisticated user interface and 30-pin connection. It charges your iPod while being controlled via the Infiniti touch screen 8" LCD, housed in the robotic, vertical dash. The only system better that we've tested is from BMW. The navigation system features are probably the most sophisticated we've seen to date. The unit's details and 3D graphics make it almost impossible to stray away from your course. Especially when exiting a highway, as it shows the colored exit path and the exit number or letter. In addition, the LCD is reserved for the RearView Monitor allowing drivers to see exactly what's to their rear. For other music needs you also get XM Satellite Radio (XM NavTraffic available), a 9.3 gigabyte "Music Box" hard drive for downloading CDs and a Compact Flash insert, all tied to a Bose audio system. For back seat passengers, an available 9" flip-down screen and DVD player is available. Hands free Bluetooth phone connectivity is included in the Premium Package.
Once you've selected your entertainment needs, you're all set for auto pilot. Put the vehicle in "Intelligent Cruise Control" mode when driving between 0-90 mph; "Lane Departure Prevention" will give a warning when drifting occurs and help keep the vehicle in its lane; "Distance Control Assist" continually monitors what's ahead and assists with throttle response and applies brakes when needed in heavy traffic; and "Intelligent Brake Assist" warns of an imminent collision and applies brakes to reduce impact. When you arrive and are ready to park, let the "Around View Monitor" system give you a full view of your surroundings. "Rear Active Steer" will aid with positioning the vehicle perfectly as the rear wheels steer slightly for extra maneuverability.
On sale the end of June, expect the FX to start around $41K. Many options and packages are available for each model. The FX50 can be configured with a Sports Package, Technology Package, DVD Mobile Entertainment Package and 21" wheels while the FX35 can be equipped with the Premium Package, Navigation Package, Technology Package, DVD Mobile Entertainment Package, and Deluxe Touring Package.
Copyright 2006 Automotive Rhythms Communications, LLC. All rights reserved.