The world is changing so constantly on the technology front that keeping up is becoming a struggle. As soon as you upgrade your laptop or purchase an iPod, it seems that a new version is soon available or the price of your model dives deeper than dolphins. It's so frustrating; especially when you're a techie like myself and always want the best of the best. The same has been happening within the auto industry. Engines are getting smaller without sacrificing power, and performance is increasing without sacrificing technology. Enter the Japanese -- the best at giving you more for less -- and you will be pleasantly surprised at some of their offerings. One of which is very incomprehensible for many to understand. It's the 2009 Nissan GT-R which is faster than a Corvette Z06, Audi R8, BMW M6, Porsche Carrera GT, Dodge Viper, Ford GT and everything else your inquisitive mind can conjure up!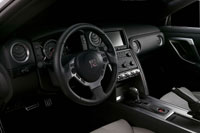 Let's talk numbers. Accelerating from zero to sixty mph in a mere 3.5 seconds is astronomical. Especially from Nissan! However, the GT-R is no average Joe. It's Japan's supercar which first hit the scene in 1969 as a trim level of the Skyline sedan. Then in 1971, the GT-R coupe was introduced. It stuck around for only three years. Dubbed the R32, it made a comeback in 1989 as part of the Skyline clan. Today's all-new GT-R (not developed from a previous platform) has been mechanically engineered with a 480-horsepower, twin turbo, 3.8-liter, hand-built V6 which produces 430 pound-feet of torque between 3200 and 5200 rpm. Additionally, Nissan went with a dual clutch 6-speed transmission and a rear wheel bias AWD system. Up to 50% of the vehicle's torque can be shifted to the front wheels when needed. The GT-R's top speed is 193 mph while it halts from sixty to zero in less than 110 feet. And though the GT-R is rather heavy for its category (3836 pound curb weight), it still blows away competition like windmills. Some speculate that the V6 is pumping out more horses than advertised.
To experience these numbers directly, we headed to Lake Tahoe, Nevada for some high altitude action on the track. What an experience! The GT-R is like war. Easy getting in and hard getting out. This vehicle is not just fast, it's demon fast. Flash Gordon fast. Speedy Gonzalez fast. Cheetah fast. Speed Racer fast. Faster than a speeding bullet fast! Tapping the accelerator and reaching 120 mph as if it was 60 mph was incredible. The GT-R takes off with agility and screams with a techno rhythm like jets as the two turbo-chargers begin pumping air. Three driver modes (Comfort, Sport and Race) can be chosen from the aviator style dash. Standard wheels are 20" forged aluminum (9.5" front and 10.5" rear) outfitted with either Dunlop or Bridgestone tires. The "starfish" décor is topped with a smoked finish. Brembo brakes get the job done with massive stopping power. Constructed with two-piece cross-drilled discs, floating rotors and 6-piston front, 4-piston rear calipers, these brakes are clamp masters. Floating rotors is a race inspired technology which dissipates heat faster due to its braking surface resistance and thermal deformation. However, I am not a fan of the mustard colored calipers which Brembo says is a Nissan specific application. Red would have been just fine.
Style-wise, the GT-R is very identifiable as a performance vehicle but it's not absolutely gorgeous and is not your typical supercar prototype. I see a mixture of the Altima and Z with added flares, wings, big wheels, and sharp creases. The big wing is needed for downforce of course. The traditional four ring tail lamps have been retained and a durable chip resistant paint keeps the GT-R so fresh and so clean.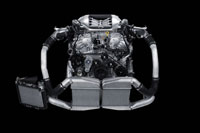 Inside, you feel like a pilot in the cockpit of a Boeing 747. The touch screen navigation is standard and the "Multi-Function Display" doubles as an information center with 11 different screens for measuring 17 performance parameters such as braking, acceleration, throttle position, lateral "G" forces, etc. However, all of this information is very distracting while driving. So make sure you analyze the numbers when the vehicle is in park. The thickly padded, manual tilt/telescoping steering wheel is also an information center with 11 control functions for vehicle operations. Huge "butterfly wing" paddle shifters are positively located on the steering column and not the wheel so they remain upright for controlled shifting. Race inspired bucket seats play the part but were not wide enough for athletic types or wide bodies. And, the GT-R's tiny back seats are large enough for only luggage.
If you don't want to listen to the remarkable tunes of your V6 then an 11 speaker Bose audio system will do you just right. Two subs are positioned in the rear center armrest area instead of the trunk.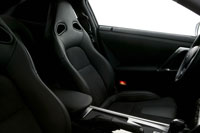 Nissan will keep the production numbers rather limited for the GT-R. With a life cycle of five years, 1500 units will be produced annually. Going on sale this summer the vehicle will be priced at $69,850 for a standard GT-R and $71,900 for the GT-R Premium. That makes it up to four times cheaper than supercars in the performance arena while still holding the pole position.
Copyright 2006 Automotive Rhythms Communications, LLC. All rights reserved.