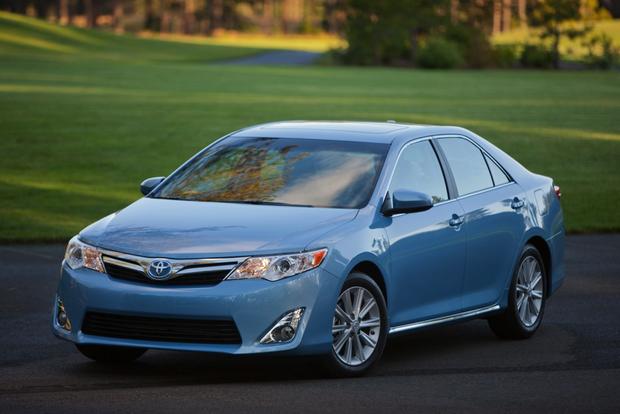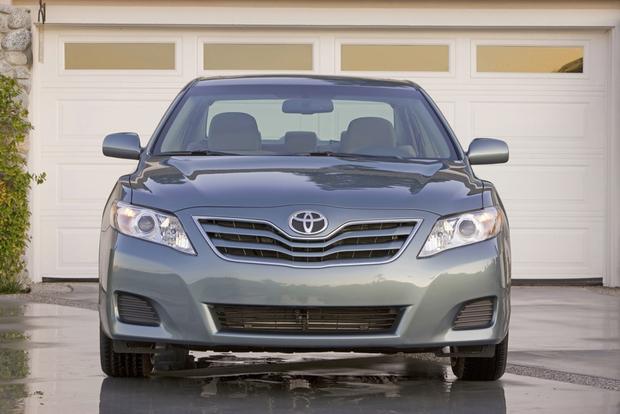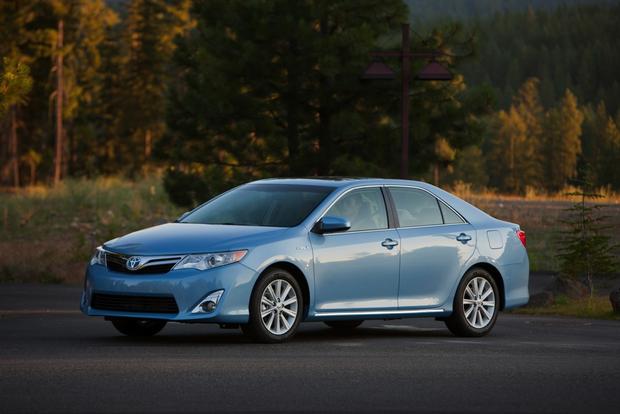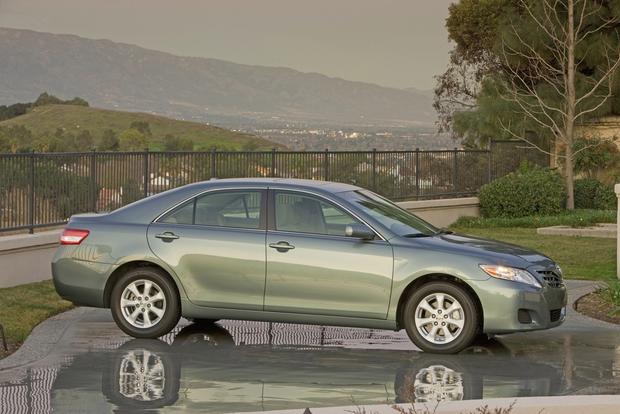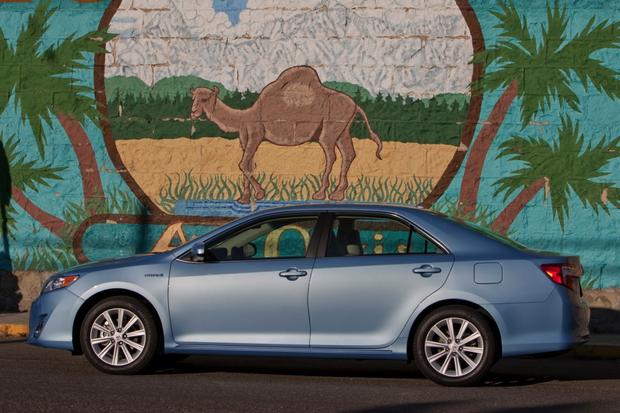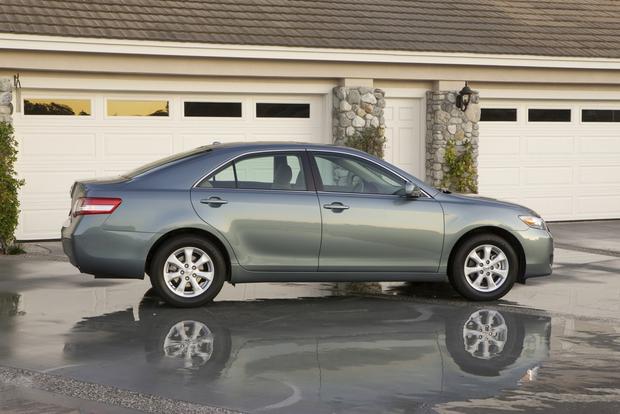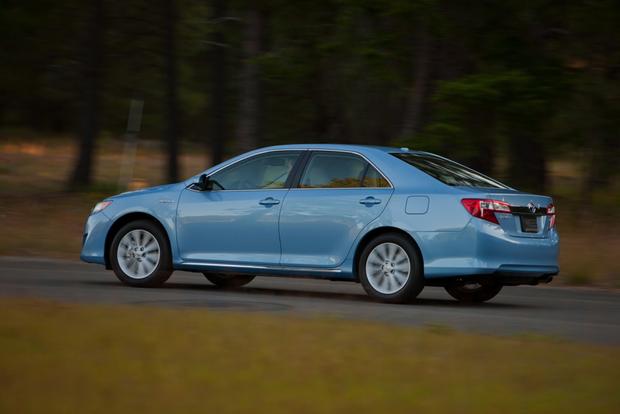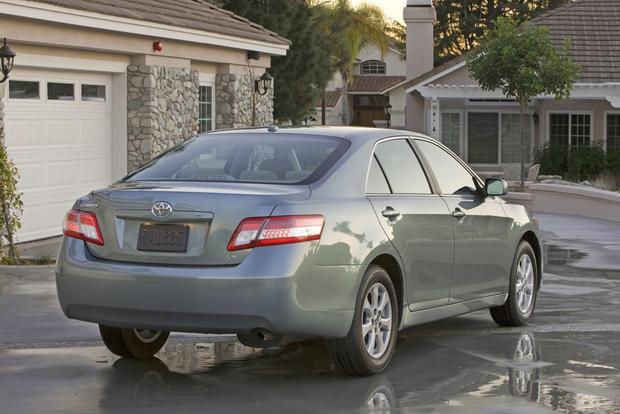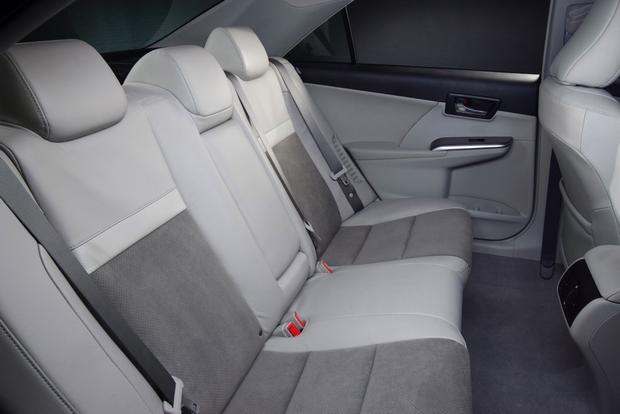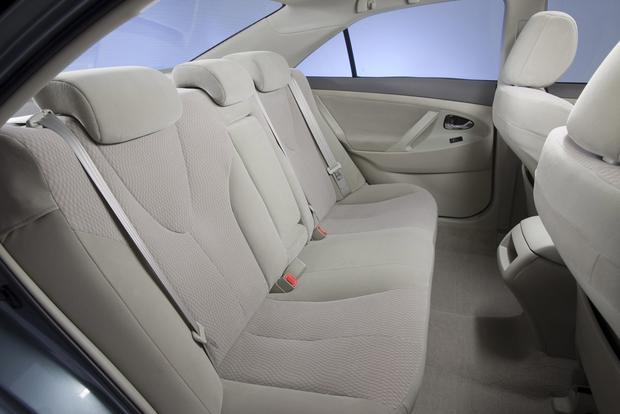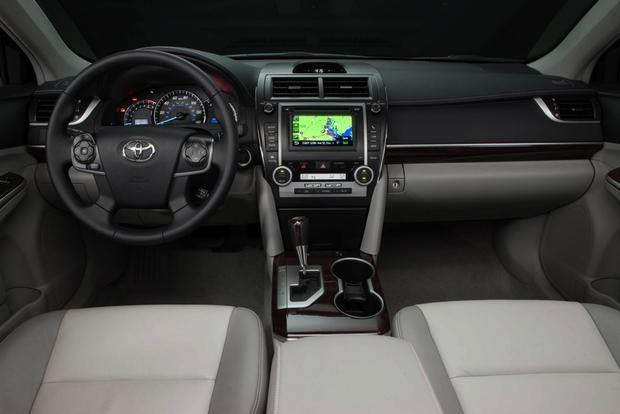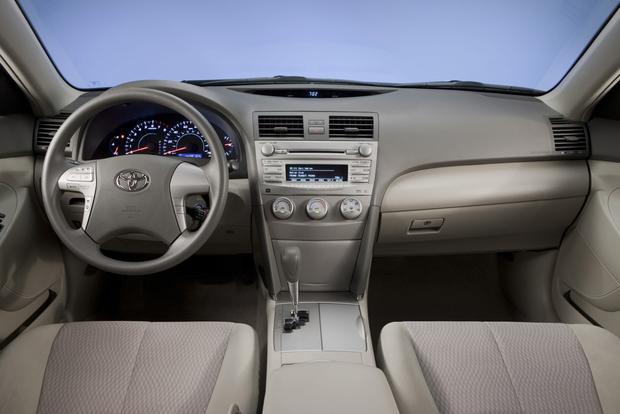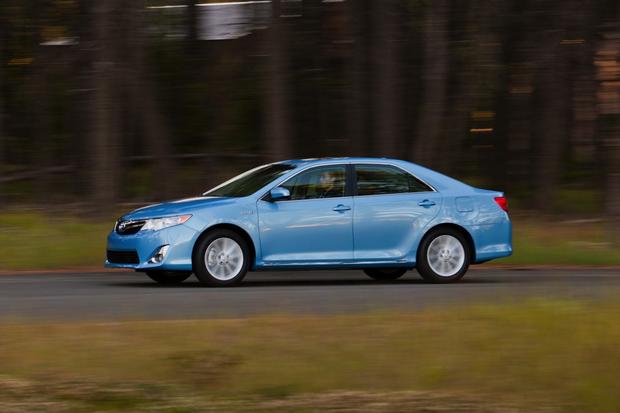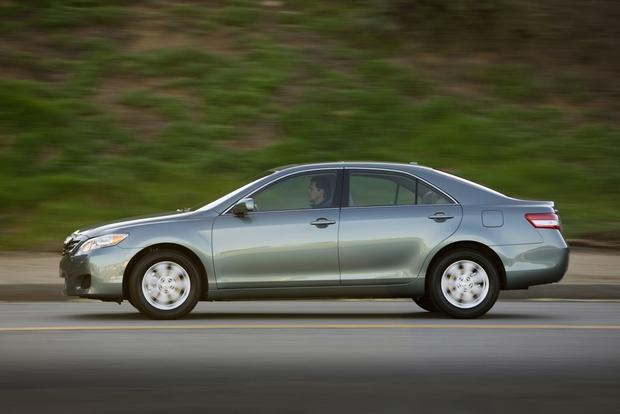 Introduction

The Toyota Camry is one of the best-selling models in America--a midsize family sedan with a deserved reputation for durability. This year, the 2012 Toyota Camry was completely redesigned for the first time since 2007, adding more interior space, greater fuel economy and more advanced technology than before. Should you buy a new 2012 Camry or a well-maintained used Camry? Let's find out.
Fuel Economy
Like the previous generation model, the new Camry offers a standard 4-cylinder engine, a more powerful V6 engine and a fuel-efficient hybrid powertrain. This year, Toyota revises all three of the new Camry's powertrains to give greater fuel economy. This is particularly true of the redesigned 2012 Camry Hybrid.
Last year, the Camry offered a standard 2.5-liter 4-cylinder engine that produced 169 horsepower in all trim levels except the sporty SE, which offered a 179-hp rating. The Environmental Protection Agency (EPA) fuel economy rating for combined driving was 26 miles per gallon.
The new 2012 Camry also comes standard with a 2.5-liter 4-cylinder engine. It's more powerful than last year with 178 hp, and it's more fuel efficient than before, delivering an EPA-rated 28 mpg in combined driving. Plus, the new Camry's 4-cylinder engine is available as a Partial Zero Emissions Vehicle (PZEV) in certain regions of the country.
In 2011, the Camry could be equipped with a 268-hp, 3.5-liter V6 engine good for 23 mpg in combined driving. For 2012, that same V6 is available, but in the new Camry it provides 25 mpg.
The biggest fuel economy difference, however, pertains to the Camry Hybrid. In 2011, the Camry Hybrid featured a Hybrid Synergy Drive powertrain employing a 2.4-liter, Atkinson-cycle 4-cylinder engine paired to an electric assist motor powered by a Ni-MH battery pack. Total system output measured 187 hp, and the EPA said the Camry Hybrid would get 33 mpg in combined driving.
This year, the 2012 Camry Hybrid features a new 2.5-liter Atkinson-cycle 4-cylinder, an electric assist motor and a Ni-MH battery pack. The new Hybrid Synergy Drive system generates 200 hp, and the EPA rates it at 41 mpg in combined driving (40 mpg in XLE trim).
If fuel economy is an important consideration in deciding between a new Camry and an old Camry, the new model is more fuel efficient (especially the Camry Hybrid model).
Safety

The new 2012 Toyota Camry includes standard rear-seat side-impact airbags and a knee airbag for the front-seat passenger for a total of ten airbags, compared to seven in the previous model. A Smart-Stop brake override feature is also new, making it impossible for the car to accelerate with the brake pedal depressed, and the front seats incorporate Whiplash-Injury-Lessening (WIL) design.
New safety-related options for the 2012 Camry include Safety Connect service, which can automatically put a live operator in touch with the car's occupants if the airbags deploy, and send rescue personnel to the scene of the accident even if nobody inside the car can respond. A new blind spot monitoring system is also available for the redesigned Camry. The SE and XLE models can be equipped with a reversing camera.
The previous generation Camry didn't do as well as the redesigned 2012 Camry in crash tests. The old Camry's rear-impact injury prevention score in Insurance Institute for Highway Safety (IIHS) tests rated Marginal, and the National Highway Traffic Safety Administration (NHTSA) gave the Camry a dismal 2-star rating for front passenger protection in a frontal-impact crash. Moreover, until Toyota made changes during the 2011 model year, the old Camry's front passenger side-impact NHTSA rating was just 2 stars. Later release versions improved that rating to 4 stars, but the side-impact pole test result remained at a disappointing 2 stars.
By contrast, the redesigned 2012 Camry received the highest possible overall NHTSA crash-test rating of 5 stars, as well as a top safety pick from the IIHS. If safety is important to you, the new Camry performs better than the old one in this regard.
Reliability

Historically, the previous generation Toyota Camry proved dependable in all of its permutations. The redesigned 2012 Camry should continue this trend.
We compared Toyota's Certified Pre-Owned (CPO) program warranty to the company's new car warranty. Each certified pre-owned Camry receives a 160-point inspection, a CARFAX vehicle history report, one year or 12,000 miles of free roadside assistance, and one year or 12,000 miles of comprehensive warranty coverage for the entire vehicle. Toyota also extends the original powertrain warranty to seven years or 100,000 miles from the vehicle's original in-service date.
New 2012 Camry models have a 5-year/60,000-mile powertrain warranty. A comprehensive warranty covers the entire vehicle for three years or 36,000 miles, and Toyota provides two years or 25,000 miles of free scheduled maintenance and roadside assistance.
Value

Prices for certified pre-owned 2007-2011 Toyota Camry models can range from $12,500 to $26,000, depending on trim level, equipment and mileage. Compare that price range to the 2012 Camry model lineup, which starts at $22,815 for the Camry L and tops out at $34,580 for a Camry XLE Hybrid with every factory option.
Normally, when financing a used car, interest rates are higher. Through Toyota's Certified Pre-Owned program, a used Camry can sometimes be financed at the same rate as a new car.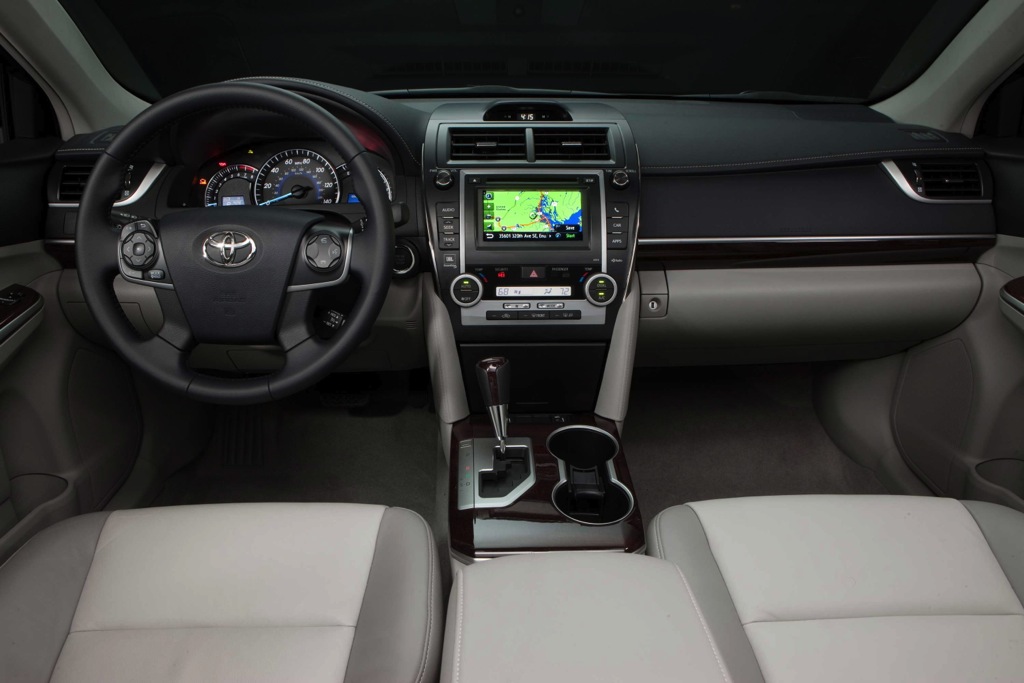 Technology

When a car is completely redesigned, new technologies typically accompany the vehicle to market, and that's certainly the case for the 2012 Camry.
For 2012, the new Camry features standard Bluetooth connectivity, a USB port, an iPod connection and Smart Stop technology that eliminates the possibility that the car will accelerate with the brake pedal depressed. Additionally, the Camry Hybrid gets a new EV Drive Mode, which allows for pure electric operation for short distances at speeds under 25 mph.
New features introduced for 2012 include Safety Connect telematics service with Automatic Crash Notification, the Blind Spot Monitoring System, Display Audio System featuring Bluetooth music streaming and Entune multimedia smart phone connectivity with text message playback and automated text message response.
Existing features are also upgraded for 2012. The navigation system features a hard drive in place of DVD discs, and the premium JBL audio system features HD Radio, iTunes tagging ability and GreenEdge speaker technology.
Unless you really wanted the previous-generation Camry's Plasmacluster air ionization system, the new redesigned 2012 Camry is superior when it comes to modern technology.
AutoTrader Recommends:

There's no question that you could save thousands of dollars by choosing a certified pre-owned Camry over a brand-new model, especially since new car finance rates apply for qualified buyers. However, the redesigned 2012 Camry offers better fuel economy and better safety protection, as well as more modern technology and free scheduled maintenance for the first two years of ownership. Therefore, we recommend the new Camry.