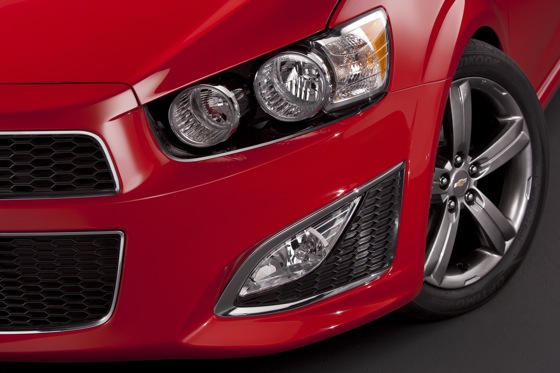 What if the car you want to hot-rod already has a turbocharged engine? You could leave well enough alone, at least according to Chevrolet.
While the 138-horsepower turbocharged 1.4-liter engine is the same as other Sonics, Chevy did modify the transmission to give the sporty new Sonic RS quicker acceleration. It's likely that switching from fuel-saving to go-faster gears will cost the RS a couple of miles per gallon on the EPA rating compared to other Sonics.
Along with the expected appearance tweaks, Chevy also aimed to improve the RS's driving dynamics by upgrading the suspension and brakes. That means a lower ride and a Sonic that's able to change direction more crisply.
The lower ride-height contributes to a meaner look, accented by a unique front bumper, which reaches down closer to the road, and 17-inch aluminum wheels that are specific to the RS. The RS is available in Victory Red, Summit White, Cyber Gray Metallic and Black Granite Metallic.
The exterior is otherwise tastefully restrained, without any of the over-the-top stripes, scoops or other performance-associated add-ons that can clutter a car's styling. We're not sure if the tweaked Sonic is actually much quicker, but it certainly sounds quicker thanks to a tuned exhaust that gives it a more noticeable exhaust growl.
While the outside appearance is understated enough to risk the RS being overlooked as an ordinary Sonic, the inside is clearly upgraded with comfortable leather seats that have thick side padding to help hold the driver and front seat passenger in place during spirited driving. There are also aluminum pedals that look lifted from a race car, and a thick-rimmed steering wheel that would not be out of place in a more expensive model.
In fact, that's exactly where it's headed, as Chevy says the RS's steering wheel will soon appear in other sporty models including the Camaro. In addition to its thick, leather-wrapped rim, the steering wheel has a flat bottom, so it's D-shaped rather than circular. This is common in race-cars where drivers have to wriggle behind the seat in a cramped cockpit jammed with all sorts of racing and safety equipment. However, the flat-bottomed steering wheel in the Sonic only as a serves as a visual homage to that heritage, since there is plenty of space behind the wheel.
The Sonic RS also includes a 7-inch Chevrolet MyLink display with support for Pandora and Stitcher apps on Bluetooth-connected smart phones, as well as the ability to show navigation directions provided by a smartphone app.
You'll even be able to watch movies from your phone on the screen, as long as the Sonic RS is stopped. Which could make for a really long pit stop.
No word yet on pricing or the availability date.