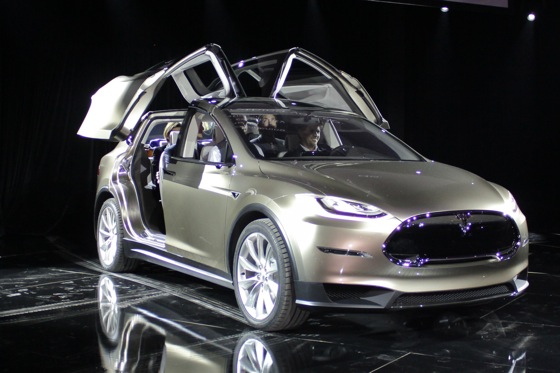 Third vehicle from start-up electric car company Tesla
Many innovate features in a cool "not SUV, not minivan" all-electric vehicle


Tesla may be a relatively unknown car maker, but after an inside glimpse into the future of Tesla's all-electric model lineup at the unveiling event for its third vehicle, the Model X, it's hard to imagine the company going away any time soon.
With the Tesla Roadster already on the road and beloved by hundreds of thousands of fans, and the new, less expensive Model S performance luxury sedan hitting the market in July, Tesla has already staked a claim in the car world. And with the unveiling of Model X at the company's design studios in Los Angeles, Tesla is clearly gathering a full head of steam.
"If you don't make compelling electric cars-not cars that are almost as good or even as good as gasoline cars, but cars that are better-then it's not going to happen," said Elon Musk, Tesla's CEO and millionaire founder of other notable companies such as PayPal and SpaceX. "That is Tesla's goal, to create the most compelling cars in the world, bar none."
In that light, as Tesla sees it the Model X is not a minivan and it's not an SUV, but it combines the functionality of both and looks good doing it. On top of that, the company says it will deliver blistering performance, with a predicted 0-60 mph jaunt of 4.4 seconds. Full of innovative features, such as dual electric motor all-wheel drive, a trunk and a "frunk" (trunk in the front) that take advantage of the lack of an engine/emissions equipment to deliver unprecedented cargo space, and "falcon wing" rear doors-essentially gullwing doors with a hip name-the Model X presents a very compelling package.
"With the Model X there were problems we were trying to solve," said Musk. "Minivans have lots of room but not much style; SUVs are big on the outside but they tend to be small on the inside. Minivans and SUVs have tried for years to overcome these problems, and haven't yet succeeded. But what if you could have a car that has more functionality than a minivan, more style than an SUV and more performance than a sports car? That's the Model X."
At the event Tesla representatives couldn't yet say exactly how far the all-electric Model X will be able to go on one charge, but said that it will have both 60 and 85 kilowatt-hour battery options allowing for at least a couple hundred miles of range between full charges. The company also said pricing will be competitive with premium SUVs, meaning around $60,000.
More details will become available closer to the vehicle's launch at the end of 2013.
What it means to you: Tesla continues its push to make electric cars more desirable than gas cars with the debut of the Model X.