Car News
2014 Kia Sorento SX: Long-Distance Driving Games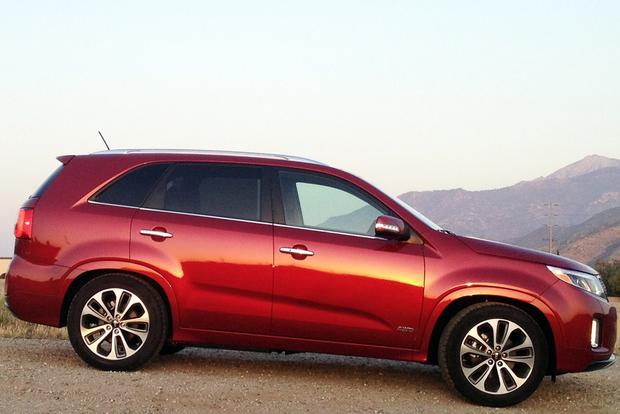 After trundling about town in our long-term 2014 Kia Sorento and testing its cargo capacity with a cross-city move, it was finally time to cut loose with a good ol' fashioned road trip. And because we find it far more fun to travel by car than by plane or train, my family managed to squeeze two long-distance excursions in the Kia within one month.
The cities of San Diego and Palm Springs are both a couple hours outside of Los Angeles, and worthwhile destinations for Angelenos seeking a change in scenery without crossing state borders. And so, with the cargo area packed with luggage and the rear seat occupied by our toddler, we hit the open road with the goal of exploring the Sorento's comfort and accommodations over the long haul.
Back-Seat Driving
As previously mentioned, our Sorento SX long-term tester comes equipped with a lengthy list of creature comforts, including heated and ventilated seats, a panoramic sunroof, and satellite radio bundled into the multimedia system. But after several hours in the driver's seat, I deemed it prudent to let my wife do the driving while I "tested" the rear-seat accommodations. After all, what better way to comprehend the passenger experience than by becoming one?
Sitting across from my 20-month-old son's car seat, I was impressed by the accommodations. Not only do rear passengers receive a good amount of airflow from the rear air-conditioning feature (which comes standard on SX and Limited models), they also get integrated sun shades and reclining seats.
After working my son toward distraction-induced nap time, it was finally time for me to turn the Sorento into a mobile office. The back seat proved a surprisingly accommodating environment for wordsmithing, as its recline levels offered enough space to comfortably perch my laptop on its intended destination: my lap. Also helpful was the built-in 115-volt power inverter, which kept my laptop battery charged as we rolled down the road.
Back to the Driver's Seat: Cruising in Autopilot
Switching back to the driver's seat solidified a few of my opinions of the 2014 Kia Sorento. First and foremost, its improved ride makes it easy to spend long periods of time driving in it, and though it's generally quiet at highway speeds, small amounts of wind and tire noise do eventually make their way into the cabin at higher velocities.
While switching to "Eco" mode results in annoyingly soft throttle response during city driving, the feature becomes tolerable at highway speeds, as long as aggressive passing isn't in your plan. While the cruise-control feature is welcome -- and necessary -- during my road trips, I found the steering-wheel-controlled "Accelerate" function to be somewhat abrupt: On more than one occasion, my wife commented about the car's jerky downshifting and acceleration when I used the function, even though the 6-speed automatic transmission is capable of smooth shifts during normal operation. Driving in traffic also made me pine for an adaptive cruise-control function, which is not available on the otherwise lavishly equipped SX model (or any other Sorento, for that matter).
On the Road, At the Pump
As we discovered on our travels, it's possible to eke out fairly respectable fuel-economy figures from the Sorento, considering its nearly 2-ton curb weight and the SX model's larger 3.3-liter V6. Highway cruising achieved an average of 24.5 miles per gallon, which is right on target with the Sorento SX's Environmental Protection Agency-estimated 24 mpg figure. Coupled with its 17.4-gallon fuel capacity, that equates to an estimated cruising range of 426 miles -- which is long enough to outlast my bladder capacity, and then some. The direct-injected V6 doesn't require premium fuel, offering a small victory against overall running costs.
Bottom Line: A Willing Road Warrior
The Sorento SX's healthy standard-equipment list makes it more accommodating during city drives, but those features become especially appreciated when it comes to extended seat time in this Korean-built crossover. Thanks to a thoughtfully designed rear-seat area and a pleasant panoramic sunroof, fatigued drivers will find it a welcome place to recharge while their partners take over piloting duties.
What's next for our long-term Sorento?
For starters, lots of city driving, further testing of its healthy feature list, and the inevitable dealer visit for routine maintenance.
Stay tuned for more.