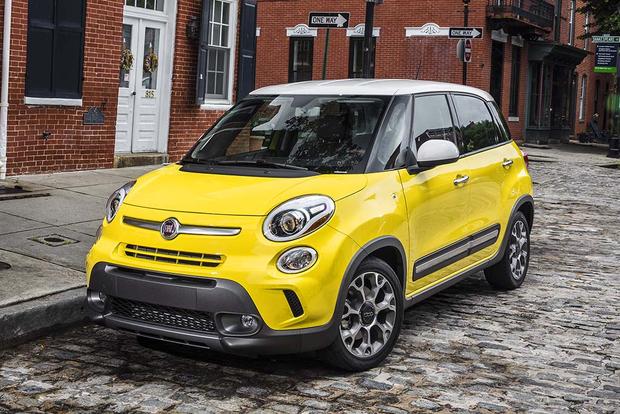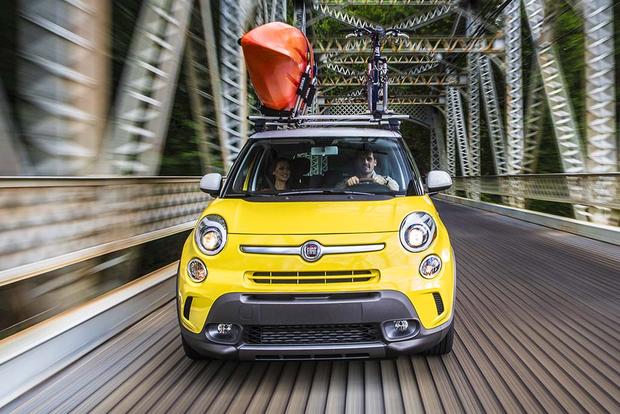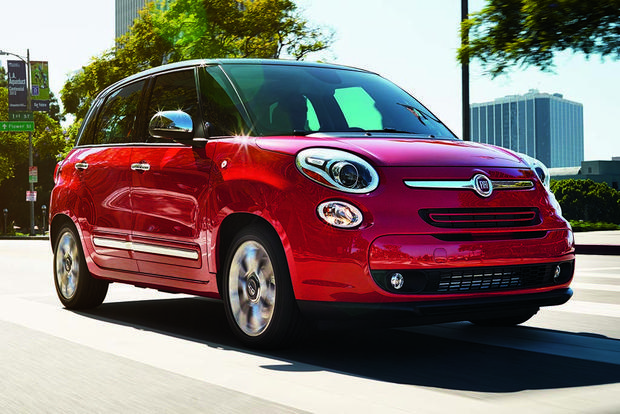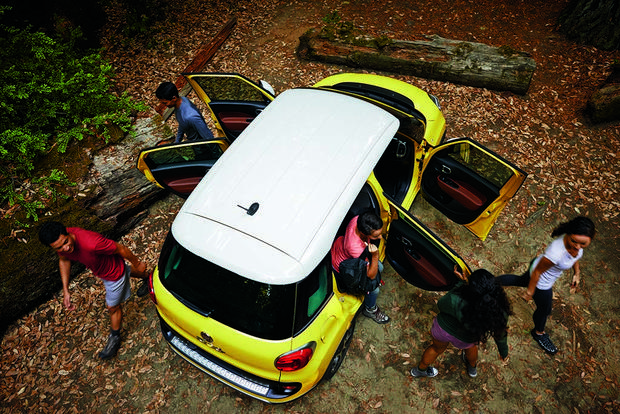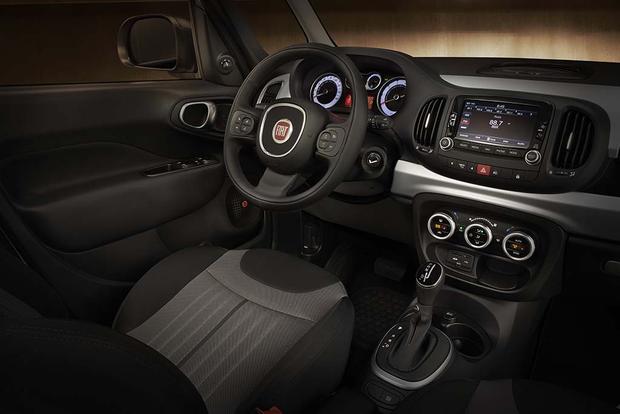 The FIAT lineup is expanding, and the 2016 FIAT 500L is one of two new models that's leading the charge, helping to bring the brand to varying segments in order to find different buyers. While the new 500X is a subcompact SUV, the 500L is instead something of a tall-roofed large hatchback -- a market segment that's unusual in the United States but popular in Europe.
Although FIAT had high expectations for the 500L, early sales were slow, but we're not sure the small hatchback deserves the lack of success it's seen so far. Yes, performance is undeniably slow-witted and the styling is a bit odd, but the large, airy cabin is a huge benefit for taller drivers or shoppers who want to haul around larger items. Regardless of your take, one thing's for sure: The 500L certainly splits opinions.
What's New for 2016?
After an abbreviated 2015 model year that saw the 500L gain a new transmission and a new trim level, the hatchback is unchanged for 2016.
What We Like
Large interior; exceptional visibility; decent acceleration; competitive pricing when compared to rivals
What We Don't
Poor resale value; handling doesn't match the smaller 500; interior materials far from high-grade
How Much?
$20,200-$25,500
Fuel Economy
The 2016 FIAT 500L offers just one engine: a 1.4-liter turbocharged 4-cylinder that makes 160 horsepower and 184 lb-ft of torque. A 6-speed manual transmission is standard, while drivers can choose between a slow-witted 6-speed automated manual transmission in the 500L Pop and a traditional 6-speed automatic in other trim levels.
With the manual transmission, the 500L delivers Environmental Protection Agency fuel economy ratings of up to 25 miles per gallon in the city and 33 mpg on the highway. The automated manual delivers 24 mpg city/33 mpg hwy, while the traditional 6-speed automatic boasts 22 mpg city/30 mpg hwy.
Standard Features & Options
The FIAT 500L is offered in five versions: Pop, Easy, Trekking, Urbana and Lounge. Similar unusual trim-level names are also found on the standard FIAT 500.
On the base-level Pop ($20,200), FIAT includes 16-inch steel wheels with hubcaps, a CD player with USB and iPod integration, keyless entry, a 5-in touchscreen with Chrysler's Uconnect infotainment system, air conditioning, power accessories, Bluetooth and split-folding rear seats.
Drivers who step up to the Easy ($21,600) add alloy wheels and several upgraded trim pieces, such as a leather-wrapped steering wheel, a leather-wrapped shift knob and revised seat fabric. The Easy also includes a front center console, tinted windows and a driver's-seat armrest.
Next up is the Trekking ($22,400), which adds 2-tone cloth seats, larger alloy wheels, fog lights and upgraded front and rear body panels.
Above that is the Urbana ($24,000), which adds a Beats audio system, matte-black alloy wheels, a black roof, black trim and a subwoofer.
Topping the line is the 500L Lounge, which starts at $25,500. That model includes leather upholstery, heated front seats, a backup camera, parking sensors, chrome trim, dual-zone automatic climate control and a power driver's seat. It loses some of the Trekking's unique body cladding and the Urbana's black trim details.
The 500L adds option packages in collections named simply Collection 1, Collection 2, Collection 3, etc. Collections mainly include standard features from higher trim levels, such as heated seats or dual-zone automatic climate control, but can also add a larger touchscreen, a power driver's seat and more.
Safety
The FIAT 500L has not yet been rated for crash safety by the National Highway Traffic Safety Administration. It has, however, been crash-tested by the nonprofit Insurance Institute for Highway Safety, where it received strong marks save for a troubling Poor score in the firm's challenging small front-overlap test.
As for safety features, the 500L is a bit behind the times. While it includes necessities such as side-curtain airbags, anti-lock brakes and traction control, its only safety options are parking sensors and a backup camera. It misses out on virtually all of today's modern features, lacking options including forward-collision warning, rear cross-traffic alert, lane departure warning or a blind spot monitoring system.
Behind the Wheel
It's important to get one point out of the way quickly: The 500L doesn't drive like its baby brother. Shoppers used to the tiny 500 may find the 500L a bit sluggish through the corners compared to the zippy subcompact. And at around 2.5 feet longer than a 500, the 500L can't be parked in tight spaces or expertly driven through tiny, cramped city centers.
Still, the 500L has more than a few virtues. One is power. While the regular 500 feels sluggish from a stop, the 500L uses the engine from the 500 Turbo. The standard 160 hp is more than adequate in most situations, with FIAT claiming 0-to-60 times of around 9 seconds.
We're also impressed with the 500L's interior. It looks big on paper with ample legroom and headroom in all directions. But in practice, it's somehow even bigger. The 500L may owe this to its impressively large windows, which provide excellent visibility in every possible direction. They give the cabin a light, airy feel that makes it seem like a vehicle twice its size.
Speaking of the 500L's cabin, some of the trims could be a little more upscale. Considering a well-equipped model can get well north of $25,000, the controls can seem cartoonish at times -- a trait that works a lot better on the less-expensive 500 subcompact. We also highly recommend skipping the Pop's automated manual transmission, which feels highly sluggish compared to dual-clutch units in other models.
Other Cars to Consider
2016 Honda Fit -- While the Fit boasts five doors and a surprisingly large interior, it isn't as big as the 500L; consider it a 500L Lite. It does, however, offer strong gas mileage in a nimble, easy-to-maneuver package.
2016 Kia Soul -- It's not the chic new FIAT brand, but the Kia Soul is tremendously popular for a reason. The hatchback combines practicality, equipment and style into one well-priced package.
2016 Scion iM -- The recently released Scion iM offers hatchback practicality, excellent fuel economy and reasonable pricing. Its only demerit compared to the 500L is a lower, less commanding driving position.
Used MINI Countryman -- Although MINI bills the Countryman as a crossover, it's roughly the same size as a 500L. Power is a little light for the base model, though the Countryman S can outrun a 500L. The only catch: The MINI brand name comes at a premium, so you may have to consider a used model.
Autotrader's Advice
If we were writing the check, we'd get the 500L Lounge. Even in the hatchback's top trim level, prices are still reasonable, especially with sharp discounts currently offered by FIAT. And the Lounge comes surprisingly well-equipped, touting a lot of comfort features that enhance the driving (or riding) experience.