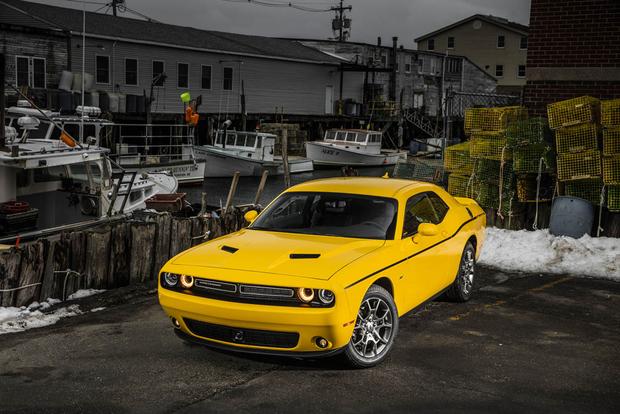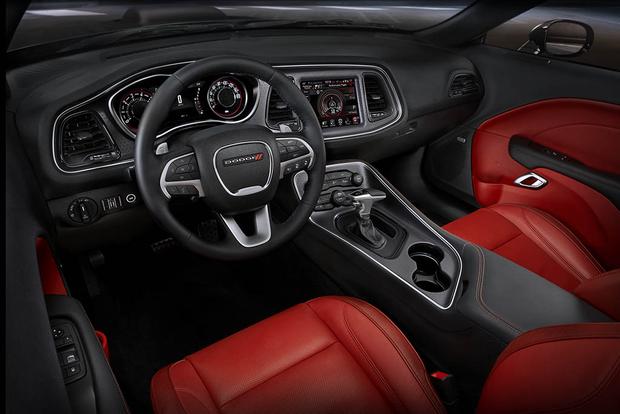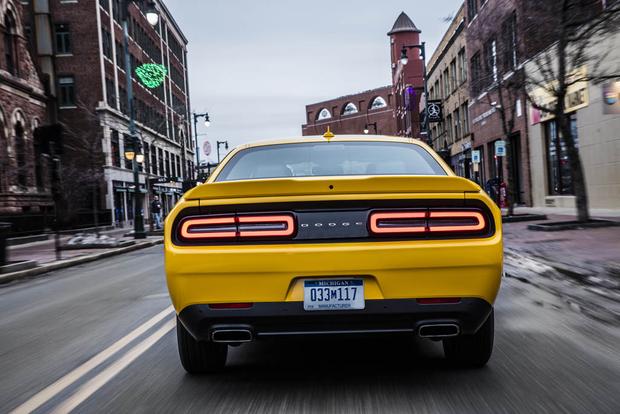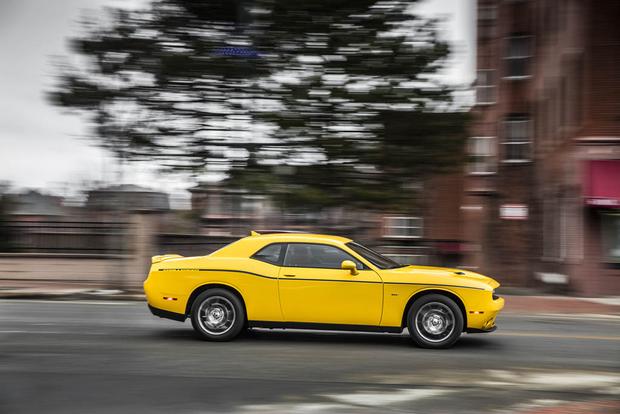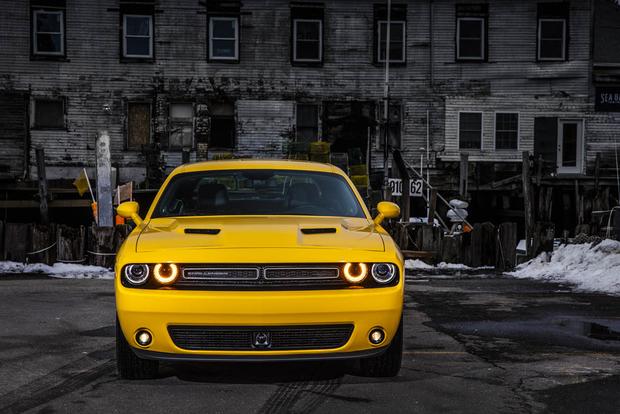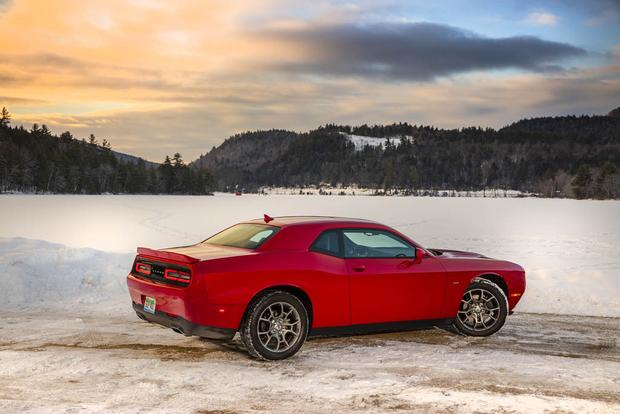 Take one glance at the mean-looking 2017 Dodge Challenger, and you might assume it's rough, impractical and generally uncouth. In truth, it's a superb highway cruiser with seats for five people and a huge trunk for their stuff. Unless you find the epic rumble of a HEMI V8 uncouth, your lasting memory of the Challenger will likely involve its all-around civility.
We like the Challenger a lot, but there are a few things to be cautious about. For one, while other reborn muscle cars have become quite adept at cornering, the heavy Challenger is best in a straight line, even one of the more performance-oriented models that improve handling with steering and suspension upgrades. It's also a bit bland inside and there's no convertible available.
Nothing on that list dampens our enthusiasm, however, because our overall feeling about the Challenger is that Dodge has essentially built a powerful, enjoyable coupe in the form of a muscle car. What's not to love about that?
What's New for 2017?
Even more Challenger variants debut for 2017. There's the new all-wheel-drive GT version along with a pair of T/A trim levels, which add bits and pieces from the Shaker and Hellcat models to the R/T and Scat Pack trim levels. All V8-powered Challengers also get an upgraded active exhaust system, while the UConnect 8.4 touchscreen gains standard Apple CarPlay and Android Auto connectivity.
What We Like
Glorious V8 engines; luxurious highway ride; spacious back seat for a coupe; huge trunk; unique looks; an unmatched array of models and variations
What We Don't
Feels as big to drive as it looks; no convertible model; dull interior; hard to see behind you or side-to-side
How Much?
$27,000-$62,500
Fuel Economy
The Challenger SXT is powered by a 3.6-liter V6 that generates 305 horsepower and 268 lb-ft of torque. An 8-speed automatic transmission and rear-wheel drive are standard, but new for 2017, the Challenger GT features all-wheel drive. Rear-drive V6-powered Challenger models return 19 miles per gallon in the city, 30 mpg on the highway and 23 mpg combined. The GT gets 18 mpg city/27 mpg hwy and 21 mpg combined.
Next up is the R/T model, which sports a 5.7-liter V8 good for 372 hp and 400 lb-ft of torque. Like all V8 Challengers, it is rear-wheel-drive-only and comes standard with a six-speed manual transmission. An 8-speed automatic is optional. Fuel economy is 16 mpg city/25 mpg hwy and 19 mpg combined with the automatic, while the manual essentially reduces efficiency by 1 mpg.
The Scat Pack and 392 trims pack a 6.4-liter V8 good for 485 hp and 475 lb-ft of torque. Fuel economy with the automatic is 15 mpg city/25 mpg hwy and 18 mpg combined. The manual lowers efficiency by 1 mpg.
And then there's the Hellcat, which boasts a mighty supercharged 6.2-liter V8 producing a mammoth 707 hp and 650 lb-ft of torque. Fuel economy, should you somehow manage to drive economically with 707 hp at your foot's disposal, is 13 mpg city/22 mpg hwy and 16 mpg combined with the automatic. The manual is essentially the same.
Standard Features & Options
The 2017 Dodge Challenger comes in four main trim levels: SXT, GT, R/T, SRT 392 and SRT Hellcat. You'll also see additional model names like Plus, Shaker, T/A and Scat Pack, but those are effectively variations of the main trims.
The base SXT ($27,200) includes 18-inch alloy wheels, keyless entry and ignition, a leather-wrapped wheel, a 6-way power driver seat, dual-zone climate control, Bluetooth, a 5-in UConnect touchscreen and a 6-speaker audio system. The SXT Plus ($30,200) adds items like 20-in wheels, performance brakes, a rearview camera, rear parking sensors, leather upholstery, heated and ventilated front seats, a power-adjustable heated steering wheel, Alpine speakers, two USB ports and the 8.4-in UConnect touchscreen with Apple CarPlay and Android Auto. The Super Track Pak adds sport-tuned suspension and steering to the SXT trims.
The GT ($33,600) is effectively an SXT Plus with all-wheel drive, sport-tuned steering and 19-in wheels.
The R/T ($32,900) is effectively a base SXT with a V8 engine, a limited-slip differential, 20-in wheels and an active performance exhaust. The Super Track Pak is optional. The T/A ($37,390) version adds a cold-air intake, a special hood, the Super Track Pak, black wheels and special gloss black trim. The R/T Shaker ($36,900) adds a special "Shaker" hood with a large cold air induction scoop extending through the hood plus the Super Track Pak and special two-tone leather seats. The R/T Scat Pack ($39,000) adds the 6.4-liter V8, plus performance brakes, a sportier-tuned suspension, an upgraded exhaust and the Super Track Pack. The R/T Plus ($35,900) and R/T Plus Shaker ($39,900) add the same extras as the SXT Plus.
Next up is the 392 Hemi Scat Pack Shaker ($43,800), which essentially adds the Shaker hood and intake to the R/T Scat Pack. The T/A 392 doesn't have the Shaker, but does have better brakes plus the regular T/A's cold air intake, special hood and black design elements. The SRT 392 ($50,200) is essentially an R/T Scat Pack with adaptive suspension dampers, an 18-speaker Harman Kardon sound system and the R/T Plus' various extra items.
And finally, the SRT Hellcat ($64,200) features the mother of all Challenger engines, its own high-performance exhaust, a further upgraded suspension, adaptive suspension dampers, special hydraulic sport steering, xenon headlights and special design elements.
Most of the various non-performance options of upper models are available as extras on lower ones. Available on most trim levels is also the Driver Convenience Group, which adds xenon headlights, rear parking sensors, blind-spot and rear cross-traffic warning system, remote ignition and power-folding mirrors. The Technology Group adds automatic wipers and high beams as well as adaptive cruise control with forward collision warning (automatic only).
Safety
The Challenger comes with standard stability control, 4-wheel anti-lock disc brakes and six airbags. A rearview camera, forward-collision warning, a blind-spot warning system and rear cross-traffic alert systems are optional.
In National Highway Traffic Safety Administration (NHTSA) crash-testing, the Challenger earned a 5-star overall rating, plus 5-star frontal and side ratings. The nonprofit Insurance Institute for Highway Safety gave the Challenger the best possible rating of Good in the moderate overlap and side crash tests, but a second-best Acceptable in the roof strength test and a second-worst Marginal in the small overlap front test.
Behind the Wheel
The Challenger may look mean, but it's surprisingly docile behind the wheel. Steering effort is light, ride quality is smooth and road noise is subdued by performance-car standards. However, there's no getting around the Challenger's considerable mass, which imparts a commanding feel on the highway but becomes quite evident on tight roads. Although sportier Challengers manage to turn with precision, every version inevitably feels big and heavy when driven like sports cars.
Alas, the Challenger's cockpit is otherwise as dull as the exterior is delightful. Sure, it's substantially more interesting than the original design, but it's still a bit of a letdown compared to a Mustang or Camaro. On the other hand, compared to those competitors, the Challenger's cabin is enormous. Rear occupants will be treated to perhaps the most spacious back seat in any mass-market coupe, whereas they'd be lucky to fit at all in the Ford and Chevy. The trunk is enormous, too, at 16.2 cu ft., which compares to full-size sedans. This means you don't have to sacrifice as much practicality to have some fun.
Other Cars to Consider
2017 Chevrolet Camaro -- Among the three American muscle coupes, the Camaro is the sharpest to drive, boasting handling and performance credentials that rival the best sports cars. At the same time, practical drawbacks limit its viability as a daily driver.
2017 Ford Mustang -- The Mustang splits the difference between the Camaro and Challenger. It's more agile than the Challenger, but more practical than the Camaro. It's also available as a convertible.
2017 Dodge Charger -- Basically the same car as the Challenger underneath, the Charger adds two more doors and a healthy dollop of space. It's also equally bargain-priced. There are even SRT and Hellcat versions for shoppers who don't want to give up the Challenger's muscle.
Used Cadillac CTS-V -- If you want the Challenger's brute power but prefer a nicer cabin or more equipment, consider a Cadillac CTS-V. Prices are high, however, so you may have to check out a used model.
Autotrader's Advice
The great thing about the Challenger is its insane number of possible variations -- you can really get it however which way you desire. The downside, of course, is figuring out what you desire. As such, we would at least make sure to try as many of them as possible, especially since you might find that you're perfectly happy with one of the less powerful engines. Sure, we all want a Hellcat, but you'll actually be shocked at how powerful and fun even the base V6 can be.