Tired of looking at compact cars with harsh rides and poor interior build quality? How about we take a step back in time to the days of land yachts. I'm talking about those cars with crazy-long wheelbases and body length that floats down the road. These cars focused on extreme comfort and build quality, not fuel economy or track performance. After a long day at work, these cars would bring your blood pressure down and ease your back pain well before you even made it home to your barcalounger. Here are three perfect examples I found on Autotrader right now.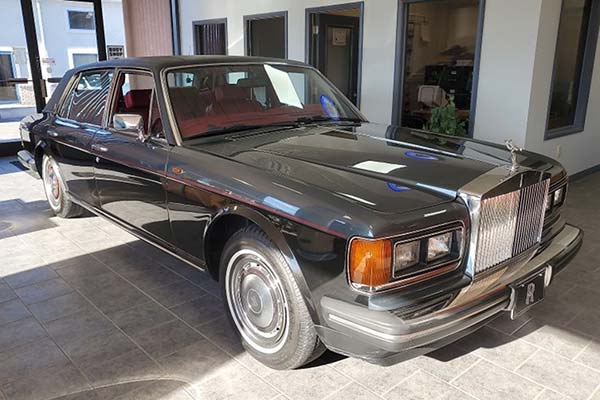 1992 Rolls-Royce Silver Spur II
I know you're thinking Rolls-Royces are $100,000 (or more) cars, but my response to that is, that time has passed. As you can see in this Autotrader listing, after a few years on the road, the price is far less than expected. Remember that 2019 Toyota you were just looking at for $30,000? For nearly the same money, you can cruise to work in a luxurious Rolls-Royce.
Yes, they cost more to maintain, but this is a car you keep for life. Rolls-Royces are considered an heirloom car, something to be passed down through the generations, simply because this car is truly THAT special. They have an unmatched quality of ride, every bolt and panel was hand-installed and don't forget the status of owning one of these beauties. Your ride home through traffic will now be highly anticipated. In fact, I wager your commute will take even more time than usual simply because you don't want to get out of the car. More seat time, please! Truly a car to behold. Find a Rolls-Royce Silver Spur for sale
1991 Cadillac Brougham
No, this is not a Rolls-Royce, but the price reflects this fact. Parts and repairs are also much less expensive on this car — surprisingly cheap, in fact. This was the top-of-the-line Cadillac in its day. It rides extremely well and possibly better than the aforementioned Rolls-Royce. This Autotrader listing shows us a beautiful example with low miles — possibly lower than the economy car you were just looking at and probably in the same price range as well.
These cars have usually been maintained, not run through the gauntlet of the speedtrack, and treated like garage princesses. This, my friends, is a leather couch on four wheels. It will melt the stress away with each drive. In fact, you will be looking for reasons to drive it. You may even find it to be more comfortable than your seating selections in your home. I have driven several of these and I am always impressed with the comfortable seats and smooth ride. You will find yourself mumbling out loud, "Oh my, this is so nice. THIS is a car." Don't say I didn't warn you. Find a Cadillac Brougham for sale
1983 Lincoln Continental
Now this is a car that would have the YouTuber Tyler of "Hoovies Garage" bemoaning, "Oh, mama, yes, yes, where have you been all my life?," because he, too, has an affinity for these large sailing vessels on four wheels. The miles are higher on this Autotrader example, but the price is much lower and in very nice condition. This is yet another car you would be proud to have in your driveway. You may find yourself waking up in the morning with a new determination to start your day as soon as possible, not because anything special is happening, but because this Lincoln awaits your next voyage. Behind the wheel, this elegant beast with a V8 will gently waft you to work, the store or your next road trip. These soft leather seats will always be giving you a big hug. This is the kind of car that time flies by, five years will pass and you find that you still drive this car every day and are loving it. Another bonus is they too have reasonable maintenance and repairs bills that will not warrant a second mortgage. Find a Lincoln Continental for sale
So if you are in the market for another car, give land yachts a chance. The list above fits any price range and guarantees happiness. If you can look past the fuel costs, these cars might actually improve your overall well-being with less aches and pains, giving you many comfortable miles of high sea adventures! Ahoy, matey!
MORE FROM OVERSTEER
5 of the Coolest Old-School SUVs on Autotrader
There Are A Lot Of High-Mile Porsche Cayennes on Autotrader
Autotrader Find: 2007 Ford Mustang Shelby GT500 with 6 Miles