Roadster fans may point to the 1960s as the heyday of 2-seat droptops, but the late 1990s were nearly as good. That's when BMW, Mercedes-Benz, Porsche and Audi filled showrooms with reasonably affordable sporty 2-seaters.
Things have changed a lot over the past two decades, as buyers have generally shied away from convertibles and prices have skyrocketed for the few roadsters left. However, the hot cars of the late '90s are still popular today, and prices for these modern-day classics are showing signs of rising.
Here's a look at what made these four German roadsters so popular when new that dealers typically had lengthy waiting lists.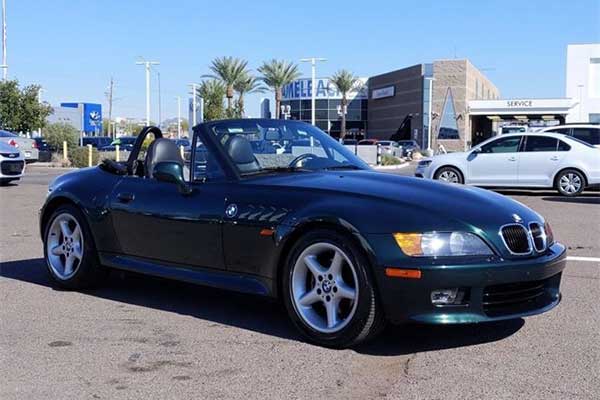 BMW Z3
The BMW Z3 was the first of the four on the scene when it made a splash in 1995's "Goldeneye," the first James Bond flick to feature Pierce Brosnan. The Atlanta Blue Z3 made a brief appearance but it bolstered interest, even though the first Z3s were powered by a dainty 1.9-liter inline four. It wasn't until a 2.8-liter straight six made an appearance later that the Z3's svelte looks were matched by good performance.
The Z3 was the simplest and purest interpretation of the classic British and Italian roadsters. Its interior was simple, with a dual-cowl dash and a low beltline. Today, Z3 prices run the gamut, but a usable 6-cylinder with a stick and reasonable miles runs less than $10,000. This dark green 3-pedal version ticks a lot of the right boxes for just $7,995 at a dealer near Cleveland. Find a BMW Z3 for sale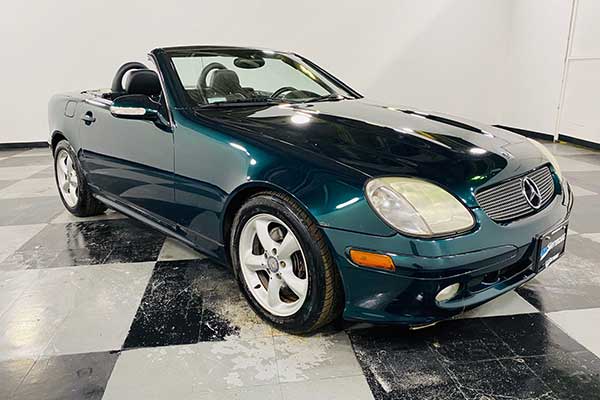 Mercedes-Benz SLK
Mercedes-Benz took a different approach than BMW did, which is to be expected, as the three-pointed star placed a far bigger emphasis on luxury than sportiness in the late 1990s. The SLK was essentially a scaled-down SL, albeit with a trick folding metal hardtop that was the most successful application of that roof type to date. Initially, the SLK could only be had with a supercharged inline four and an automatic transmission, though a V6 engine and a 6-speed manual were added later.
Initial SLKs were available in a slew of bright colors, and positively garish hues such as gold and orange over orange were eventually offered. Given its comparative boulevardier intentions, the SLK is just fine with the automatic. This green 2003 SLK 320 in Jersey City has an old-world feel on the inside with a burlwood trim, and it benefits from the more powerful V6. It's just $5,500. Find a Mercedes-Benz SLK-Class for sale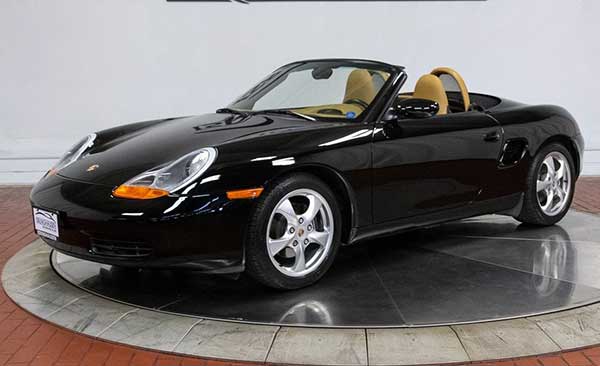 Porsche Boxster
Porsche made little mention of the gangly 914 when it introduced the Boxster and instead drew on the 550 Spyder racers from decades past. Compared to the BMW Z3 and Mercedes SLK, the Boxster was far better balanced — and, predictably, a lot more expensive. A buyer would have needed $41,000 to take home a Boxster — nearly $10,000 more than a base Z3.
The Boxster was worth it, though early cars suffered from an internal flaw that would grenade the otherwise sweet flat six engine, so shop carefully if you're in the market. A cheap Porsche is not cheap for very long. That said, Boxster values seem to be on the rise, and clean cars — like this 2001 Boxster at a Porsche dealer in Springfield, Illinois — are getting hard to find. Find a Porsche Boxster for sale
Audi TT
Form over function was the stunning Audi TT's unofficial mantra. The bubbly coupe was based on a relatively humble Volkswagen Golf chassis, but it boasted beefy turbo power and some of the slickest styling to hit the road. A roadster version arrived not long after the hardtop, and it rectified one major issue thanks to its open roof: Outward visibility was no longer atrocious.
Hefty service costs have sent many TTs to the junkyard, but clean, low-mile roadsters exist. For $11,000, this 2001 TT in Redlands, California, comes in a quintessential dark gray contrasted with a saddle leather interior. It's certainly one of the nicest left. Find an Audi TT for sale
MORE FROM OVERSTEER
Video | I Bought the Cheapest Lamborghini Murcielago Roadster in the World
5 Great Used Toyota TRD Pro Trucks and SUVs for Sale on Autotrader
Autotrader Find: Rare 1989 Dodge Dakota Sport Convertible