Unless your driveway looks like a mountain bike trail or you live where igloos are a necessity, you probably don't need a high-clearance SUV to tackle winter's worst.
Many buyers who settle for boring crossovers and SUVs with a high center of gravity, lousy fuel economy and few driving thrills would be better served with a mid- or full-size sedan that sends power to all four corners. These five examples all have all-wheel drive and good examples of each can be found for less than $30,000.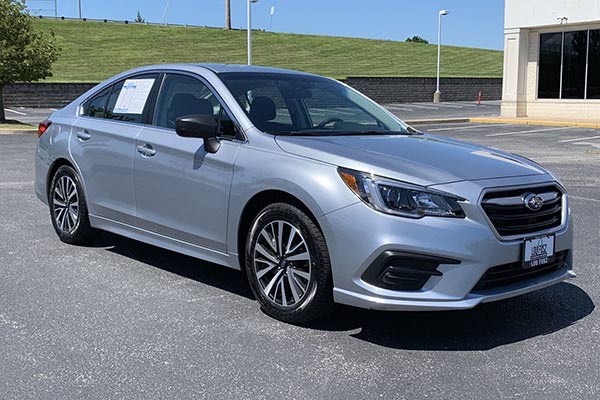 Subaru Legacy
Subaru's AWD vehicles are known for their sterling resale value and yet the Legacy midsize sedan exists in a dwindling segment. That makes it a win for buyers, as it depreciates more rapidly than other Subaru models, even if it's hardly a value-tanker like some other cars on this list.
The Legacy was just redesigned for the 2020 model year, which makes used examples of the last model (offered between 2015 and 2019) an even better value. A well-equipped 2016 Legacy Limited with the 3.6-liter flat-six and reasonable mileage costs about $20,000, though it may be worth seeking out a 2018 for its newly standard Apple CarPlay and Android Auto capabilities. Find a Subaru Legacy on Autotrader
Audi A6
The Audi A6 flies under the radar compared to the automaker's flashier A7 hatchback, even though the midsize sedan outsells its five-door sibling. A new model hit dealers for the 2019 model year, again making the last generation a terrific used buy. The last-generation design hit the road for 2012 but Audi did a great job keeping the car up to date with the latest tech.
Certified pre-owned examples are easy to find under $30,000 — as of this writing, there are more than 100 on Autotrader, some as new as the 2018 model year. Skip the base 2.0-liter turbo-4 for the supercharged V6 in the curiously named A6 3.0T, and you'll find a 333-horsepower, AWD rocketship loaded with leather upholstery, woodgrain trim, Bose speakers, navigation with Google satellite overlay and more, not to mention a comprehensive two-year warranty. Find an Audi A6 on Autotrader
Kia Stinger
The Stinger made a big splash when Kia introduced its sporty five-door a couple of years ago. With its longitudinal engine layout and chassis shared with parent company Hyundai's Genesis range, the Stinger boasts ride and handling attributes more in line with big-buck German sedans. AWD is optional on every version, from the 2-liter turbo-4 to the 365-hp 3.3-liter V6. Just look for the big "AWD" badge on the rear.
The big Stinger is spacious and well-equipped. You'll find leather-covered, power-adjustable seats on every trim, while high-spec models have Harman/Kardon speakers, adaptive cruise control and even Brembo brakes. The pick of the litter for car enthusiasts is probably the GT1 that includes the V6 as well as an adaptive suspension, adaptive cruise control and automatic emergency braking. Find a Kia Stinger on Autotrader
Chrysler 300
The big Chrysler sedan is easy to forget, even though it made a massive splash when the first Bentley-lite version made headlines nearly 15 years ago. The latest model is showing its age but few 4-doors offer as much metal for the money as the 300. Few sedans are as adept at chewing up highway miles as the 300 and the taut chassis shared with the Dodge Challenger gives this big four-door decent twisty-road ability, too.
The base 3.6-liter V6 is fine, but what you really want is the optional 5.7-liter V8. Yeah, that thing's got a Hemi, even if the current V8 honors in name only the hemispherical combustion chamber that gave the 1950s original its nickname. AWD 300s are easy to find and they look sharpest with the S trim package that tones down the chrome. Find a Chrysler 300 on Autotrader

MORE FROM OVERSTEER:
Autotrader Find: 2006 Nissan 350Z Roadster Track Car
The Jeep Gladiator Is Adventure Wedding-Approved
Video | Here's Everything That's Broken on the Cheapest Fiat 500 Abarth