I have finally attended my first Radwood show! For those who may be unfamiliar, it's a car show dedicated to the cars of the 80s and 90s that attracts folks from my generation, whose parents owned these cars. A story about that will be available soon, and you can also follow my Instagram — which is linked at the bottom of the article — to see some of the highlights! However, what I'm here to talk about today are cars currently for sale on Autotrader that would rightfully garner attention at your local Radwood event.
The Porsche 911 is probably not a car you would expect to appear on this list, but in fact, several were at the event. However, this is clearly not your average 911. This one is a full replica of the Rothmans rally car, complete with a rally light bar, extra ground clearance and off-road tires. Unfortunately, the ad does not include any interior pictures, but the restoration seems to have been very well done, as the car is exceptionally clean on the outside and even in the engine bay. You, too, could be the toast of Radwood — all you need is a place to park a Rally 911 and $124,942. Clearly, this is a bargain! If you buy it, let me know. I want to do a video on it! Find a Porsche 911 for sale
Just like the Porsche above, a normal version of the Cadillac Fleetwood might get some attention, but it likely wouldn't be unique enough to stand out. This one from 1993, however, is far from normal. The conversion to an ambulance was not completed, so the inside is still ready for you to make it into whatever you want. The possibilities are endless. How much is it worth to have a Fleetwood in a full Ghostbusters livery? In Radwood terms: all the money. According to Orange County Auto Wholesale: $15,998. Who ya gonna call? Find a Cadillac Fleetwood for sale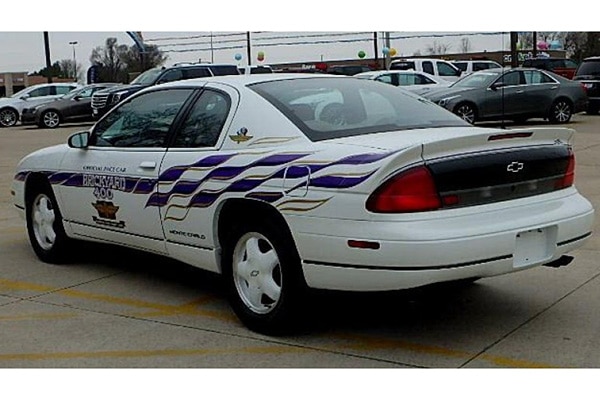 To be honest, if it was me, I would rather have a first generation Lumina than the second generation car. However, this Monte Carlo, which is essentially a 2-door Lumina, is a Brickyard 400 pace car edition — one of 400 made. I wonder where the inspiration for that number came from! Even more interesting is that this one was barely driven, as the odometer only shows a touch over 800 miles. It has changed hands a few times since it was new, but the ad states that it spent some time on display at the Chevrolet Hall of Fame museum! Neat. All this tubular awesomeness could be yours for only $15,885! Find a Chevrolet Monte Carlo for sale
This 1984 Jeep Scrambler was recently fully restored and looks the part. It's pretty much perfect inside, outside and underneath. It may come with the period-correct stripes, but you'll have to provide your own rock to park it on. If you had your heart set on a 2-door Gladiator and are disappointed that it'll only be a 4-door truck, this could be your car! It may not have all the newest safety features — or any safety features at all — but it has a ton of charm, and that's just as good, right? This one could be yours for $36,900, which seems like a bargain given the price they're asking for the Gladiators! Find a Jeep Scrambler for sale
Ah, yes, I saved the best for last! I mean, the Delorean may be a little bit of an obvious choice, but bear with me. It would hardly be surprising to see a DMC-12 show up at a Radwood show — it's an iconic '80s car in a highly quotable '80s movie. The real question isn't whether there will be a Delorean present, it's how many. I would assume that the majority of Radwood events have a whole section reserved to account for the number of these stainless steel beasts that would show up. So, how do you set yourself apart in the sea of Back to the Future replicas? You show up in a RED one. Find a DeLorean DMC-12 for sale
These would be my first five picks of Radwood royalty currently available on Autotrader. Obviously, if you have a Mclaren F1, Ferrari F50, Mercedes CLK GTR, Jaguar XJ220, Nissan R390, Aston Martin Lagonda, or any of the cars made by Vector, you would win all of Radwood. But for those on a slightly tighter budget, the cars above are sure to bring home some trophies too!
By day, Bill Leedy spends his time selling used cars to folks throughout Vermont and the Adirondacks. By night, he attempts to fight crime and write things about cars — he does one of those things better than the other. He can also be found on YouTube, Facebook and Instagram under the name Green Mountain Car Guy.
MORE FROM OVERSTEER:
Video | The Volvo S60 Polestar Is a Swedish Sport Sedan
Video | The C5 Chevy Corvette Z06 Is the Ultimate $25,000 Sports Car
Autotrader Find: 1999 Aston Martin V8 Vantage For $650,000