Sitting in traffic, you're probably surrounded by many of the same cars. For most Americans, the car in front is probably a Ford F150. The one behind might be a Toyota Highlander. On one side sits a Nissan Rogue. On the other, a Ram 1500. Swap those out for Subarus if you live in the Northwest or the Rockies, a silver Lexus if you're in Texas or California, and a bunch of Italian supercars with exceptionally long Carfax reports should you find yourself in Miami.
What you won't see are these five cars — plus a couple of extra rebadges for good measure. They all came from relatively mainstream manufacturers, but none sold in big volumes, even though they had the potential to do so. Each had a reason for being, and each has a reason to be remembered. Here's a look at five cars that were brand new just a decade and a half ago and have all but disappeared from the automotive landscape.
Suzuki Aerio
Cartoonish, high-riding subcompacts were curiously popular in the late 1990s and early 2000s. Toyota (Echo), Nissan (Versa), and even Suzuki all got in on the game. The Aerio burst onto the scene with a thud in 2002 in both sedan and five-door hatchback forms. A 2005 update that went sufficiently unnoticed granted the car standard side airbags and clear-lense taillamps that period internet forum commenters called every iteration of the word "Altezza" — named for the Japanese-market version of the Lexus IS that shared nothing more than its clear tail lights with the Aerio.
What made the Aerio stand out was that it was available with all-wheel drive. Suzuki restricted the option to high-trim versions, but even then, it only cost $1,000 to send power to the rear wheels in addition to the front ones. You couldn't buy a stick-shifted Aerio with all-wheel drive, though, which rendered it forever uninteresting to enthusiasts. I found more than a dozen on Autotrader. Find a Suzuki Aerio for sale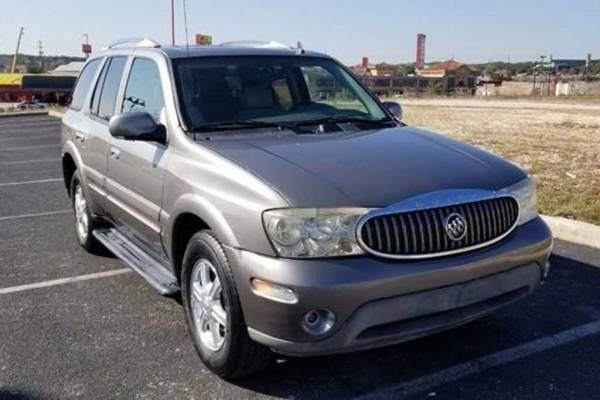 Buick Rainier
In the early 2000s, General Motors offered to nearly every one of its divisions — even distant relatives Saab and Isuzu — a version of its truck-based SUVs. Differentiation between the Chevy TrailBlazer at the bottom end and the Saab 9-7x at the top was mostly limited to bumpers and suspension tuning. The Rainier was costly when new ($36,000 to start at its launch), and you had to pay extra for side airbags, a sunroof and heated seats. The Rainier was a tough sell against the similarly priced Lexus RX and the Jeep Grand Cherokee, and it vanished during the 2007 model year.
If you can find one, it's a decent budget buy, especially with the optional 5.3-liter V8, and especially since it was one of the first Buicks to benefit from the automaker's unusually extensive sound deadening efforts. There are nearly 60 Rainiers on Autotrader, with most clustered around $7,000. Find a Buick Rainier for sale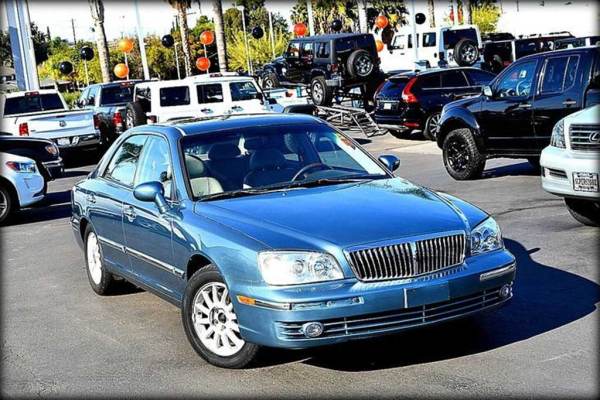 Hyundai XG
It was viewed as an audacious move for Hyundai to move upmarket with its XG in 2001. With its alphanumeric name, the XG clearly targeted luxury car buyers on a budget. The original XG300 iteration was powered by a 192-horsepower V6 paired with a then-impressive 5-speed automatic transmission when Lexus and Infiniti were still using 4-speeds. The XG started at around $24,000, which undercut the similarly sized Infiniti I30 by $6,000 or so. An XG350 with an upsized V6 followed not long after.
Not too many buyers were convinced, but the XG set the stage for Hyundai's dramatic move upmarket. Now, Hyundai even has a flagship sister brand called Genesis that sells genuinely competitive luxury sedans, with an SUV to come. Nearly three dozen XGs are on Autotrader, including a few low-mile ones. Find a Hyundai XG300 for sale or Find a Hyundai XG350 for sale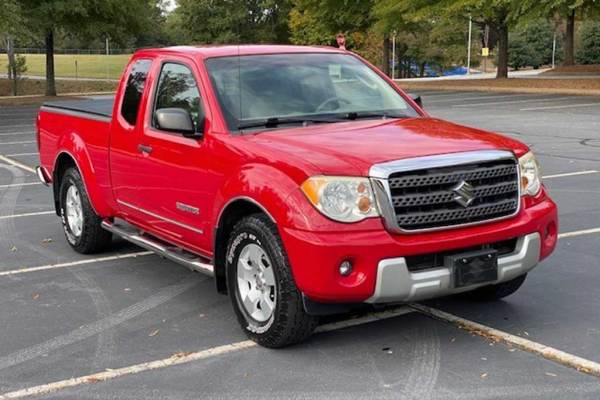 1990s/2000s Rebadged Pickups
The pickup truck market exploded in the late 1990s, and Isuzu, Mazda, and Suzuki were eager to get in on the game. Each had a convoluted deal with a larger, more established truckmaker. Mazda's deal with Ford was by far the most elaborate, and it resulted in more than 15 years of rebadged Ford Rangers sold as the B-Series Pickup. B-Series trucks aren't that unusual, but let's move on to some genuinely rare trucks.
The Isuzu i-Series trucks were based on the Chevy Colorado, and they were part of an Isuzu lineup that was full of trucks and SUVs produced by other automakers. Suzuki, in its last, dying breath, got Nissan to slap a stylized S on the grille of its Tennessee-built Frontier and call it the Suzuki Equator. Those Suzukis, in particular, are good buys on Autotrader since they are based on the still-built Frontier and suffered from Suzuki's catastrophic resale values. Find a Mazda B Series for sale or Find a Suzuki Equator for sale or Find an Isuzu Truck for sale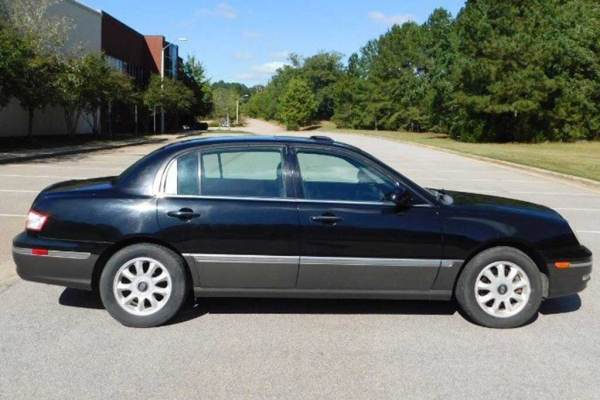 Kia Amanti
If a luxurious Hyundai was a shock in the early 2000s, imagine what happened a couple of years later when Kia unveiled the conservative Amanti that was based on the XG. With its quad round headlights and upright grille, the Amanti was an awkward copy of the Mercedes-Benz E-Class and the Jaguar S-Type. For Kia, it was a moonshot, especially since the automaker had only recently begun offering leather upholstery as an option.
The Amanti lasted for just a few years until it was superseded by the far more impressive Cadenza for 2010. Surprisingly, there are more Amantis on Autotrader than there are XG350s. You probably won't convince anyone you've bought a Benz or a Jag, but with most going for less than $4,000, at least they're cheap. Find a Kia Amanti for sale
MORE FROM OVERSTEER:
The Early Jeep Cherokee Will Become a Major Collectible
Remember When Mercedes-Benz Had Cute Little Antennas To Help You Park?
Video | The Pagani Zonda Is an Insane $6 Million Supercar