Every year car manufacturers, makers of aftermarket parts and experimental speed shops gather in Las Vegas for the Specialty Equipment Market Association's annual show, better known simply as SEMA. Every year brings new crazy builds that most of us would never dream of, and the 2017 show was no exception. Here are five of the coolest builds and concepts at SEMA 2017.
Ringbrothers 1972 AMC Javelin AMX "Defiant!"
That exclamation point isn't just there because I'm excited about this car, but because that punctuation is part of the name that the Wisconsin-based shop Ringbrothers has given this AMC Javelin restomod. In collaboration with Prestone, this wild version of the underappreciated AMC muscle car is packing a supercharged 6.2-liter SRT Hellcat V8 engine. Not content with just 707 horsepower, Ringbrothers ditched the stock supercharger for a 4.5-liter Whipple supercharger, giving the car enough boost to achieve 1,080 hp. Find an AMC for sale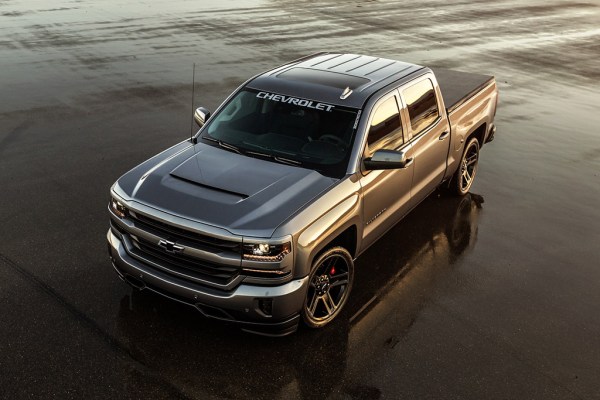 Chevrolet Silverado Performance Concept
Remember the Chevy Silverado SS of the 2000's during Chevy's phase of SS'ing-all-the-things? It was actually a pretty cool performance variant of Chey's full-size pickup, and we haven't seen anything quite like it since it was discontinued in 2006. While they won't call it an SS, Chevy brought what they call a Silverado Performance concept to SEMA with a supercharged 5.3-liter V8 under the hood, making about 455 hp. According to Chevy, it's equipped with the same supercharger found in the Corvette Z06 and Camaro ZL1. In addition to the supercharger, this Silverado Performance concept gets Brembo brakes, 22-inch wheels and a tasteful, yet intimidating black and gray appearance package. Find a Chevrolet Silverado for sale
Robert Downey Jr.'s 1970 Ford Mustang Boss 302
We know that Tony Stark has fantastic taste in cars, and it turns out the man who plays him does too. Robert Downey Jr.'s 1970 Ford Mustang Boss 302 modified by SpeedKore Performance Group graced the show floor at SEMA. This Mustang shows tasteful restraint inside and out without making too big of a deal out of its Ford Performance Aluminator 5.0-liter V8 engine with a Stage 2 Ford Performance/Roush supercharger. Sadly, the horsepower rating of this Boss 302 is undisclosed. This Mustang restomod is sleek and sophisticated while still being a muscular head-turner. Find a Ford Mustang for sale
Gunther Werks 400R
If you've ever wondered what an air-cooled Porsche 911 GT3 RS would look like, Gunther Werks has your answer. It's based on the 993 generation of the Porsche 911, which is a fan favorite for being the swan song of the air-cooled 911. Gunther Werks set out to create a car that never was, with what they call the 400R (400 hp, "R" for rear-wheel drive). They start with a Porsche 993, strip it down, take out the engine and rebuild it using carbon fiber for the body to add strength and lightness. The example they brought to SEMA only weighs 2,670 lbs. Gunther Werks upgrades just about everything about the air-cooled engine with all-new heads, upgraded internals and even the removal of accessory pumps, which are replaced with electric units to control the air conditioning and power steering to free up some extra hp from the engine. Only 25 of these bespoke sports cars are being built, so don't expect to see any pop up on Autotrader anytime soon. Find a Porsche 911 for sale
American Racing Headers Toyota PriuSRT8
While our man Tyler Hoover is on a quest to make his Toyota Prius cool, the heroes at American Racing Headers are way ahead of him. They dropped an SRT Hellcat V8 with 4-digit hp into a 2005 Prius, which they call the "PriuSRT8," and brought it to SEMA. This fire-breathing engine is lashed to a Tremec Magnum 6-speed manual transmission, sending power to a Ford 9-in rear end. It all sits on a custom tube frame chassis, and somehow everything fits in the compact body of the Prius. While this would have made a fine sleeper, they couldn't help themselves from painting the car in olive green and adding some decidedly 'Murican graphics depicting American flags, bald eagles and exhaust pipes. The fact that this Prius is powered by the same engine (even with the same Whipple supercharger) as the AMC muscle car at the top of this list is a great example of the beauty of SEMA. Find a Toyota Prius for sale
From American muscle to Eurosport to outrageous engine swaps, SEMA has something for everyone.