These days, incredible automotive performance has become highly accessible. While fast cars used to be reserved for the super-ultra-rich, many modern automakers have started unlocking incredible performance numbers with fairly pedestrian vehicles — rivaling exotic brands like Ferrari and Lamborghini in the process. If you're interested in Ferrari performance without spending Ferrari money, here are five cars that deliver it. The only drawback: None of these cars quite have the cachet of Ferrari, so you'll need to get used to explaining why your car is cool, even though it doesn't have a prancing horse on the hood.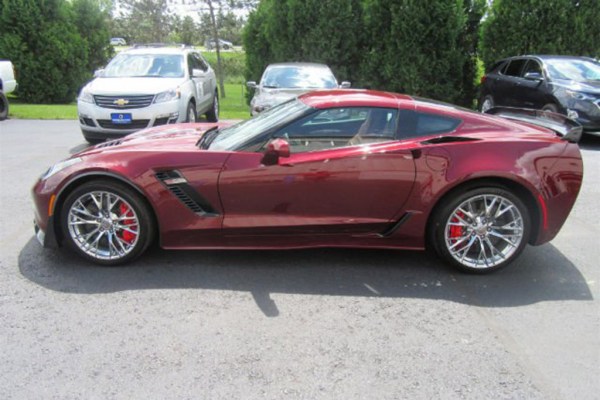 2016 Chevy Corvette Z06 Coupe – $103,000
The latest Chevy Corvette Z06 is one of the most amazing modern performance cars, boasting 650 horsepower and 650 lb-ft of torque, along with a 0-to-60 time of something like three seconds. It's faster around the Nurburgring than the Ferrari 488, and — best of all — it's far cheaper. While a new Z06 starts at a bargain-priced $81,000, most are equipped with option packages that can take that figure to $120,000 — and then there's the inevitable markup for a highly demanded car. This 2016 Z06 coupe has traveled just 285 miles, and it's listed for $103,000 by Handy Chevrolet in St. Albans, Vermont. Find a 2016 Chevrolet Corvette for sale
2009 Dodge Viper ACR – $79,950
The Dodge Viper ACR is one of the most competent track cars ever — if you know how to control it. This 2009 Viper ACR isn't quite on the level of the latest model, but it's also a lot cheaper: While modern Viper ACR models can sell for $150,000 or more, this one is offered at only $79,950 by Street Toyota in Amarillo, Texas. It's traveled just 10,700 miles since it was new in 2009, and its giant wing and huge stripes suggest it's ready for track use — likely because it is, as it boasts 600 hp and 560 lb-ft of torque, along with a 0-to-60 time of just 3.6 seconds. Find a 2009 Dodge Viper for sale
2017 Mercedes-AMG GT – $93,994
The Mercedes-AMG GT is one of the most underrated cars I've driven, as it offers tremendous performance and incredibly precise handling for much less than most exotic cars. No, it may not have the name cachet of a Porsche 911, but it offers better performance than like-priced 911 models — especially on the used market. This 2017 AMG GT has traveled just 6,700 miles from new, and it's currently listed by Mercedes-Benz of Buckhead in Atlanta for $93,994. Find a 2017 Mercedes-AMG GT for sale
The Nissan GT-R is one of the most impressive performance cars of our time, offering not just Ferrari performance but super Ferrari performance with a 0-to-60 time of under 3 seconds or so, and race track lap times to match the very best cars from Europe — many with sticker prices three or four times as high. This 2010 GT-R is offered by Valley Imports in Fargo, North Dakota, for just $57,998, which is about the going rate for a GT-R of this year — and it's an amazing steal for that price when you consider its incredible performance. Find a 2010 Nissan GT-R for sale
The Shelby GT350R is one of the most impressive modern muscle cars, as it's a vehicle that takes a relatively normal starting point (the Mustang) and turns it into one of the best performance cars on the market. It laps the Nurburgring just four seconds slower than a Ferrari 458, and it has the sound — and the acceleration — to match its excellent handling. While the original MSRP was somewhere in the sixties, used GT350Rs are still averaging nearly $90,000 on Autotrader; this one is at Rancho Santa Fe Autos near Los Angeles with just 1,150 miles for $89,888. Find a 2016 Ford Mustang for sale
Doug DeMuro is an automotive journalist who has written for many online and magazine publications. He once owned a Nissan Cube and a Ferrari 360 Modena. At the same time.
MORE FROM OVERSTEER:
How Do You Service an Exotic Car That's Never Driven?
Autotrader Find: Bright Pink 2003 Hummer H2 With Gullwing Doors
Here's Why Everyone Loves the Honda S2000