It seemed like automakers were throwing darts at a wall to figure out what buyers wanted from SUVs in the 1990s long before the idea of a car-like crossover entered the mainstream. Some of the most interesting entries came not from Detroit or Europe, but from Japan, where automakers were building rugged, reliable SUVs. It was trucks like the Toyota Land Cruiser that inspired Americans to discard dull sedans and wagons and seek out adventurous SUVs that made them look like they were about to go on an expedition — and not one to Safeway.
The Japanese-branded efforts at the time were diverse and hampered both by a volatile yen and hefty import duties on SUVs shipped across the Pacific Ocean. Pricier models from Mitsubishi and Isuzu instead split the difference between suburb-friendly Ford Explorers and tiny Range Rovers, while the pint-size Suzuki Sidekick aimed to offer a cut-rate alternative to the Jeep Wrangler. Sales were never high for these characterful 'utes, though they have generally held up well.
Some forgotten Japanese SUVs make spectacular used buys, if you can find them. Here's a look at five worth seeking out.
1992-2000 Mitsubishi Montero
With its upright lines, sporadic control placement, exceptionally high roof line, and third-row seats that tuck up against the cargo area when they're not in use, the Mitsubishi Montero was like a Japanese clone of the Land Rover Discovery, except the original Disco copied a lot of Mitsubishi's first Montero. Well, the Montero was certainly better built. Several iterations of V6 engines could be found underhood, usually teamed with a 4-speed automatic transmission (though a 5-speed manual was offered) and a trick transfer case with a full-time mode suitable for use on any kind of pavement.
Among the Montero's various whizz-bang features (depending on the model year) were a big rig-like suspension seat for the driver, a cluster of "multi-meter" gauges, including an altimeter, adjustable suspension damping, a rear differential lock and a massive sunroof. The pick of the litter here is a 1998-2000 model with the beefier integrated fender flares and the standard 3.5-liter, 200-horsepower V6. Find a Mitsubishi Montero on Autotrader
1992-2002 Isuzu Trooper
Isuzu targeted the Range Rover when it reworked its boxy Trooper for a second generation. Like with the Montero, a V6 sends power to all four wheels through manual or automatic transmissions, the upright body affords good interior space and the optional moonroof could serve as a missile-launching door. Compared to the Montero, the Trooper had a more logical dash design, and engineers didn't try to cram additional passengers into the cargo area. On the flip side, the Trooper's 4WD system wasn't as sophisticated early on, and its feature set wasn't as adventurous.
For 1998, Isuzu swapped in a 215-hp 3.5-liter V6 and made a full-time 4WD system optional, meaning later examples are more desirable. Toward the end of the model's run, Isuzu offered a rear-wheel-drive model in an effort to lure buyers into what was becoming a dated design. Troopers are relatively common used, and the most desirable model might be a 2001 Limited with the Anniversary package (celebrating 85 years of Isuzu, no joke!) that includes a Nakamichi stereo, wood trim, and even a barometer. Find an Isuzu Trooper on Autotrader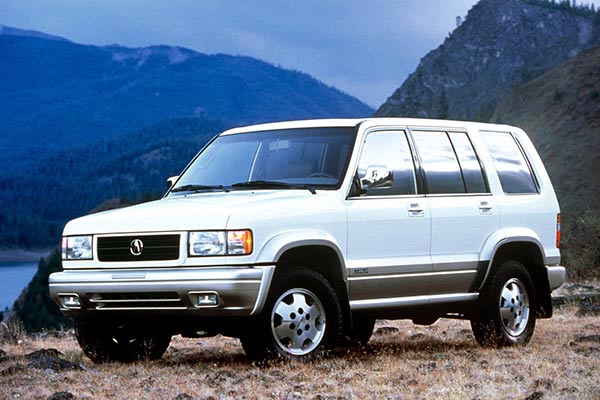 1996-1999 Acura SLX
See Trooper above — add Acura badge. Acura's parent, Honda, and Isuzu made for curious partners in the 1990s. Honda got its own version of the Isuzu Rodeo (the Honda Passport, which was incidentally built by Subaru in Indiana) and Isuzu got its first minivan (a Honda Odyssey called the Isuzu Oasis that was briefly and curiously popular as a New York taxicab). The SLX was a stop-gap for four years as Acura readied its first homegrown SUV, the MDX.
The last two years of the SLX are the best of the bunch since they featured the twin-cam 3.5-liter V6 rather than the earlier 190-hp 3.2-liter V6 as well as standard full-time four-wheel drive. Earlier SLXs could be had with leather, but the vast majority were sold with the optional Premium Package, which added hides, woodgrain trim, heated and power-adjustable front seats, and an overhead console. There's virtually no price difference now between the SLX and the Trooper, but in 1998 the Acura retailed for about $36,750, while a loaded Trooper was around $34,000. Find an Acura SLX on Autotrader
2000-2004 Nissan Xterra
Nissan saw the remarkable staying power of the boxy Jeep Cherokee and figured it could get in on the cheap, rugged SUV game with its 2000 Xterra. The truck was based on the Frontier pickup and used a Land-Rover-Discovery-type body with a roofline that arched upward for stadium-style rear seating. The chunky roof rack on all but the cheapest Xterras offered the utility of a removable bin and beefy tie-down points, plus it looked cool. Nissan's Tennessee assembly plant made Xterras domestic trucks, which meant they weren't subject to hefty import duties. Base prices started at around $18,000, though adding the optional 3.3-liter V6, 4WD, and power features upped that to around $23,000.
For 2002, Nissan grafted on a new front end and made a 210-hp supercharged V6 optional. The Xterra is far from refined, with its leaf-sprung rear suspension, sparse sound deadening, and modest power, but it makes for a plucky off-roader. In 2002, Nissan unveiled a new Enthusiast Package that added a limited-slip rear differential, manual locking front hubs and stronger tow points — and those are the ones to have. Find a Nissan Xterra on Autotrader
1989-1998 Suzuki Sidekick
The little Sidekick, available as either a convertible (so basically Doug DeMuro's new G500, but without leather) or a hardtop, was a plucky, extremely basic little SUV that was a luxury car compared to the Samurai it eventually replaced. The Sidekick launched with an 80-hp 1.6-liter inline four, and the lineup grew with the 120-hp Sidekick Sport for 1995. Imagine adding an engine with 50 percent more power than the original today and still having a vehicle that struggles to keep up with traffic.
They may not have been quick, but the Sidekicks had a reputation for durability, and they're remarkably plentiful today. The Sidekick (and its Geo/Chevrolet Tracker sibling, pictured) remains a popular "toad," a vehicle towed behind an RV. Its small size, low price, and 2-speed transfer case with a proper neutral mode make it a cinch to tow. Sticking with a later Sidekick Sport is a better idea, as the engine works well enough with either the 5-speed manual or the 4-speed automatic, though there's nothing wrong with the decidedly rad bright colors more commonly found on the Geo version. Find a Suzuki Sidekick on Autotrader
MORE FROM OVERSTEER:
Here Are 5 Amazing Older Exotic Cars For Sale on Autotrader
Autotrader Find: 1987 Toyota Supra With 26,000 Miles
Did You Know the Karma Revero Uses the Chevy Cobalt SS Engine?