Toyotas are known for their reliability, and when you're venturing out into the wilderness, reliability is key. Needless to say, if you're looking for a great overland vehicle, a number of Toyota products are likely on your shopping list. While the company offers over 10 different trucks and SUVs that make for great adventure rigs (especially when you count Lexus), here we've outlined five of our favorites that we think are a good overall value. They aren't all necessarily cheap, but they'll all come with a low cost of ownership and excellent dependability.
2008 Toyota Land Cruiser – $27,500
As the years go by, the 200 Series Toyota Land Cruiser, which came out for 2008, has gotten less and less expensive, and the earliest examples are now on par with the price of the average new vehicle. The modern-day Land Cruiser packs a strong 5.7-liter V8 under its hood, the same engine found in the Tundra, Sequoia and LX 570. A solid rear axle, a trick suspension disconnect system known as KDSS and a true low-range gearbox will get you through just about anything, while features like Crawl Control, Multi-Terrain Select and Off-Road Turn Assist add to the fun. This is one of the cheaper 200 Series Land Cruisers listed on Autotrader and is located in Boca Grande, Florida with just under 100,000 miles on the clock.
Pro Tip: Be sure to include the mechanically-identical Lexus LX in your search for any used Land Cruiser, as LX actually depreciates a little faster than the less common Land Cruiser. Find a Toyota Land Cruiser for sale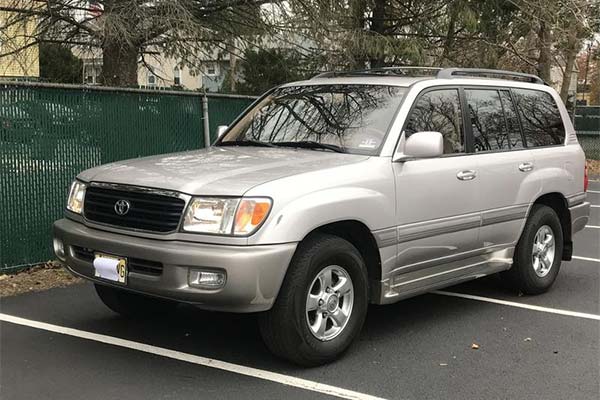 2001 Toyota Land Cruiser – $11,995
While the 200 Series is the most modern Land Cruiser, the model that preceded it, the 100 Series, is currently the best value in Land Cruisers. 1998 and 1999 models were offered with an optional rear locking differential, which should appeal to anyone with off-road aspirations. While there are a few pre-built options currently listed like this one, we'd be tempted by this super-low-mileage example. It's a 2001, so it doesn't have a rear locker, but a Land Cruiser with less than 88,000 miles for under $12,000 is a great deal. Find a Toyota Land Cruiser for sale
2007 Lexus GX 470 – $8,950
The Lexus GX is sold in other parts of the world as the Toyota Land Cruiser Prado and you should know by now that if it has Land Cruiser in the name, then it has to be good. The GX470, the first-gen GX, is mechanically similar to the fourth-generation Toyota 4Runner and packs a strong, reliable 4.7-liter V8 engine under its hood. It's got a solid rear axle and full-time 4-wheel drive. A year ago, the GX was arguably the best-kept secret in Overlanding, but the cat's largely out of the bag now and GX prices are on the rise. Still, there are excellent deals to be found like this one, located in Ohio with 146,000 miles on the odometer. Just pop off the running boards and add some all-terrains and you'll be on your way. Find a Lexus GX 470 for sale
2010 Toyota FJ Cruiser – $28,595
A capable, retro-inspired SUV based on the same platform as the 4Runner, the FJ Cruiser was ahead of its time, with Toyota opting to discontinue it after the 2014 model year here in the US. As a result, FJ Cruisers have held their value extremely well, and you'll even find 10-year-old examples like the one here listed for around 75% of their original purchase price. This one, a capable "Trail Teams" edition, already comes with oversized all-terrain tires and a space-maximizing platform-style roofrack, which are arguably the most bang-for-your-buck overlanding modifications you can do. It's located in Los Angeles with 78,000 miles on the clock. Find a Toyota FJ Cruiser for sale
2006 Toyota 4Runner – $12,977
While the fifth-gen 4Runner is the most modern (if you can call any 4Runner "modern"), the fourth-gen model is the real value right now. Engine options consist of a 4.0-liter V6 or a 4.7-liter V8 (the same engine offered in a variety of Toyota trucks from this era). The V8 is obviously stronger, but it's also thirstier, and the V6 is going to be good enough for most buyers. Find a 2009 model with the Trail Edition package and you'll get a locking rear diff, a switch to disable the Active Traction Control system and Bilstein dampers. While it's hard to determine whether any of the fourth-gen 4Runners listed on Autotrader have the Trail Edition package, this 2006 model at least has 4WD and a super-clean interior. It's located in Prestonburg, KY with 113,000 miles. Find a Toyota 4Runner for sale
MORE FROM OVERSTEER:
Manual Jaguar F-TYPE Models Carry a Substantial Premium Over Their Automatic Brethren
The Plymouth Voyager XG Concept Was a 4-Seat Diesel Minivan With a Manual Transmission
Autotrader Find: Teal 1995 Geo Tracker With Teal Wheels