Once upon a time, nearly every car dealership in the country had a convertible parked in their showroom ready for its next owner to get a ferocious sunburn enjoy that wind-in-your-face experience so eagerly promoted by commercials and brochures.
Now, you'll only find a handful of ragtop choices, and most are quite costly. With spring in the air, here's a look at five inexpensive convertibles from automakers that no longer build droptops — and even one that will someday get you an invite to the Orphan Car Show in Ypsilanti, Michigan. Yes, both the show and the town (it's pronounced IP-si-lan-tee) exist.
1. Chrysler Crossfire
Chrysler in the mid-2000s had a lineup full of droptops, including the PT Cruiser and the Sebring. But it's the Crossfire that was the most fun of the bunch, thanks in part to its German heritage as a result of the awkward DaimlerChrysler years. The Crossfire rode on the same platform as the Mercedes-Benz SLK, and it used that droptop's engines but not its folding metal hardtop. Instead, the Crossfire got a simpler cloth roof, and it could be had at a much lower price point.
Convertible versions were offered with either the 215-horsepower V6 or the 330-hp supercharged V6 that was hand-built by an AMG engineer in Germany. Chrysler sold its version as the SRT6, though really this roadster speaks with a distinct German accent. Crossfires of any sort are zippy if not exactly frisky, and the base V6 was even somewhat common with a 6-speed manual transmission. Here's a black one with reasonable miles and a clutch pedal for less than $11,000 at a Lexus dealer in Phoenix. Find a Chrysler Crossfire for sale
2. Infiniti G37
Infiniti briefly dabbled in droptops (well, technically for the second time in case anyone remembers the M20) with a folding metal hardtop version of its G37. First offered for 2009, the G37 was gone just a few years later. The highlight of the lineup was definitely the IPL, or Infiniti Performance Line, an especially short-lived sub-brand that Infiniti had hoped would rival BMW's M and Mercedes-Benz's AMG. Whoops.
The G37 IPL convertible was only offered for 2013, and just a handful are likely to have been built. Still, standard versions of the G37 offered the same good V6 performance and they're a little more common (if still certainly rare). Here's a nice light blue one with an ivory leather interior for $21,000 at a used car dealer near Nashville. Find an Infiniti G37 for sale
3. Saab 9-3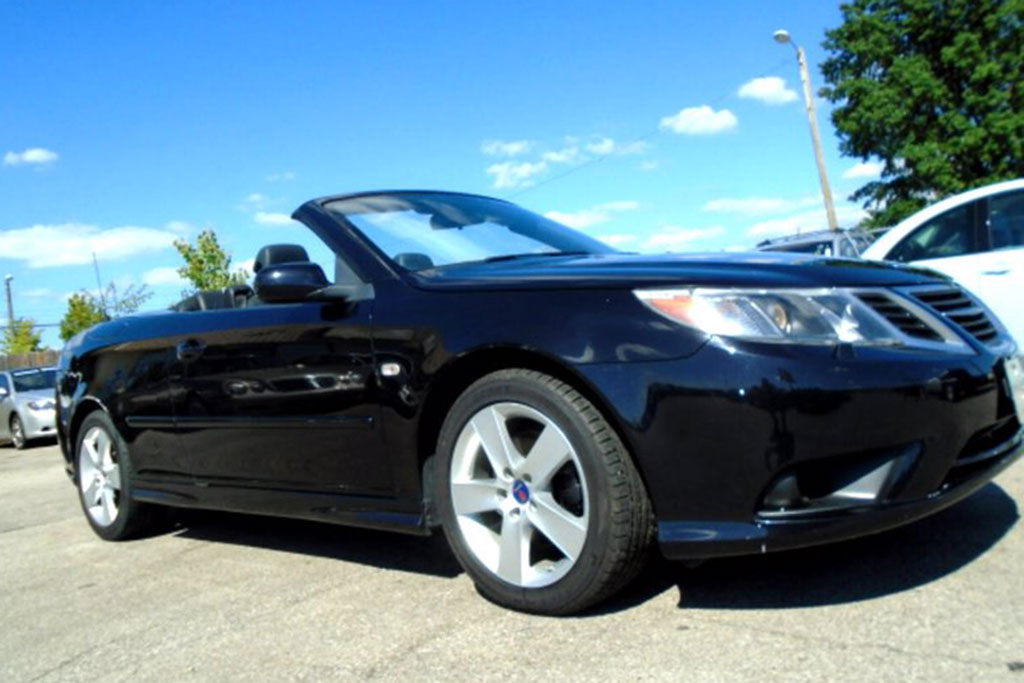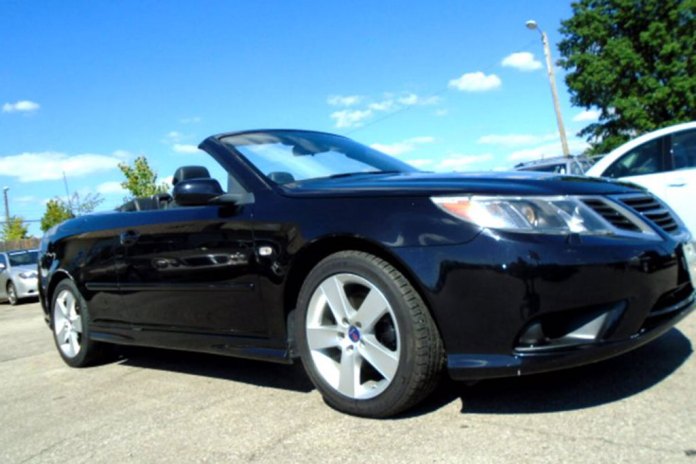 Saab has been gone for a decade now, and while we've mostly gotten over the brand's demise, just looking at pictures of the 9-3 convertible make us misty-eyed for the Swedish automaker. Saab got into the convertible game in the mid-1980s at the suggestion of the brand's U.S.-market head, and sales took off from there. The most common examples are from the final years when the 9-3 had admittedly lost some of its Scandinavian charm.
Still, these late 9-3 convertibles are plentiful, inexpensive, and loaded with luxury features — not to mention as much as 250 turbocharged hp. By the final generation of the 9-3, Saab figured out how to make its droptops feel sufficiently rigid, and they were loaded with lots of safety features that make them good choices even today. Here's a nice silver one with an oh-so-2000s button-heavy dash for just $6,500 at a used car dealer in Chicago. Find a Saab 9-3 for sale
4. Volkswagen Eos
It's hard to believe that VW is without a convertible, but the last open-top Beetles rolled off the line a few years ago. Between Beetle reboots, VW briefly offered a model with a steel and glass hardtop and turbocharged power for a reasonable price point. The Eos had a lot in common with the contemporary Golf, and that meant it could be had with a GTI-grade 6-speed manual transmission.
Eos survival rate has not been especially good — this was not a great era for VW quality — but they're out there. This white over gray one even boasts the exceptionally rare manual gearbox, and it's done less than 71,000 miles. For under $8,000 at a used car dealer in western Maryland, it may be the best bang for the buck on this list. Find a Volkswagen Eos for sale
5. Volvo C70
Volvo offered two generations of the C70, both of which have different appeal. Early models were subtly stylish but a little stolid thanks to much of their design shared with the S70 sedan and V70 wagon. The second-generation model actually had more in common with the S40/V50 line, but it was a lot more fun. Pub trivia fact: The C70 shared a platform with the Ford Focus RS.
While gen-one C70s could be had as coupes, the second version that hit dealers in 2006 came only with a folding metal hardtop. Turbocharged power was standard, and a 6-speed manual transmission was even available. These C70s have actually held their value well (maybe Volvo should build an electric convertible now?), though it's possible to find a nice one like this late-production 2013 with its facelifted front end for around $16,000. Find a Volvo C70 for sale