General Motors closed the doors on Saturn, its "different kind of car company," in 2010 as part of its emergence from bankruptcy, meaning the last cars from the short-lived division were built a decade ago.
Luckily, GM made a lot of Saturns, and low-mile examples are not hard to come by on Autotrader, meaning you still have a chance to drive a car from the automaker, which prospered and vanished with similar intensity.
Saturn was, indeed, a different kind of car company, at least initially. Envisioned as a homegrown rival to Honda and Toyota, which were chewing away at Detroit's small-car efforts in the late 1980s, Saturn popped onto the scene in late 1990 with no-negotiation cars with made from plastic and sold through dealers with few outward cues to the brand's GM rivals. Saturn was, indeed, unlike any car company before it, though Detroit had toyed with fixed-price cars in certain primarily West Coast markets by the time Saturn arrived.
The company's lineup initially consisted of coupes, sedans and wagons that shared twin-cam 4-cylinder power, front-wheel-drive underpinnings and interiors largely devoid of GM bits. For a company that was rapidly losing market share by building Chevrolets, Pontiacs, Oldsmobiles and Buicks that were virtually indistinguishable from one another, the fact that Saturn was more like a new automaker than a new division was groundbreaking.
Initially, Saturn got off to a great start, with good, if not glowing, reviews from automotive publications and enough demand that the Spring Hill, Tennessee, assembly plant GM built for the automaker was building every car it could to send to dealers with long waiting lists. However, though GM was meticulous in planning Saturn, the company was far too content to shuffle the automaker's profits to other divisions. Saturn, as a result, had basically the same car lineup in 1998 that it had in 1991. Saturn largely sat out the first SUV boom, and it didn't get its own SUV until 2002.
By the end, the Saturn range was exactly the opposite of what it was in the beginning. It was a lineup of rebadged GM sedans, SUVs and minivans with little to distinguish them from Pontiacs and GMCs. Even Doug DeMuro couldn't save the brand, though he did his best to peddle the cars from a dealership in 2008.
The silver lining? Those last Saturns were arguably the best rebadges in GM's lineup. The Outlook was a right-priced crossover, while the Aura was a Chevy Malibu that spent an extra week or two at finishing school. Even the quirky Saturn Astra was a largely unfiltered Opel.
Here's a look at five ways to enjoy the Saturn experience today.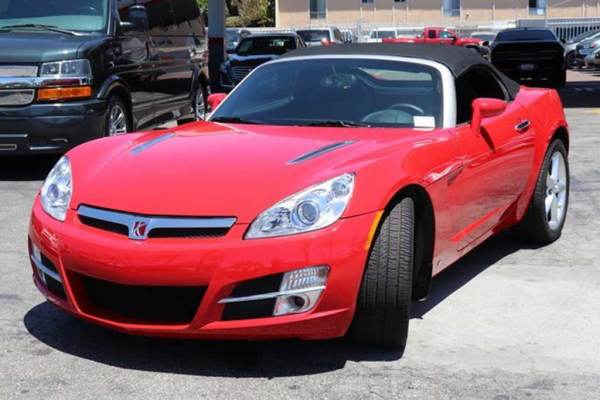 Low-mile Saturn Sky roadsters aren't hard to come by, and there are several on Autotrader with less than 10,000 miles. Convertibles tend to be seasonal cars, especially in really hot and really cold places, though somehow this bright red final-year example accumulated only 5,000 miles in mild Southern California. Find a Saturn Sky for sale
By 2001, Saturn finally had a second model in its lineup, but that didn't stop the original owner of this SC2 coupe from reliving the original 1991 Saturn. The S-Series was cosmetically updated twice in its dozen-year run, but its 1.9-liter inline four — a dual-overhead cam version in this SC2 — was largely the same. Still, good luck finding a nicer one with less than the 20,000 miles on this example (though this one's awfully close). Find a Saturn S-Series coupe for sale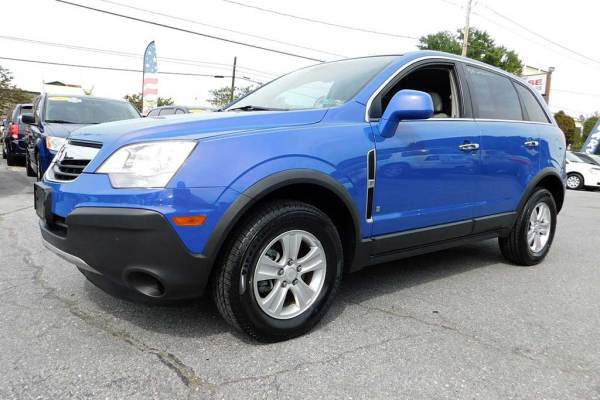 For a brief moment, it appeared as though Saturn would serve as the American outlet for GM's global cars. The second-generation Vue arrived for 2008 and shared its underpinnings with the Opel Antara sold in Europe and versions offered globally. Euro-market cues, such as turn signals with little rubber boots, are easy enough to find if you know what you're looking for. This one in Columbia, Pennsylvania, is an excellent blue and has been driven just 27,000 miles. Find a Saturn Vue for sale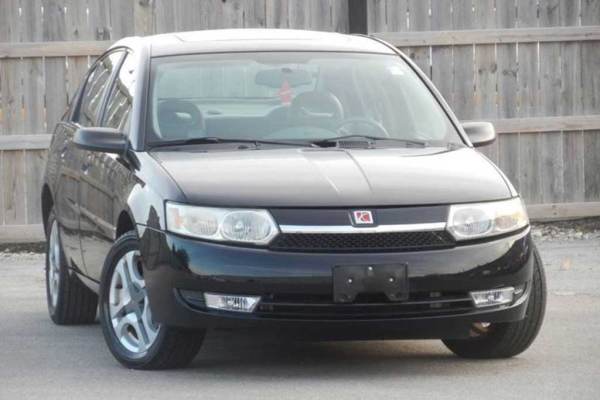 The Ion was in many ways the low mark for Saturn, though the sporty Red Line version with turbo power was interesting, if far from refined. This automatic sedan is the polar opposite, but it has less than 29,000 miles and retains such desirable features as a central instrument cluster, a bumper car steering wheel, interchangeable roof pillars (why, oh why?) and 4-spoke alloy wheels. It's just $5,000, and it looks new, at least. Find a Saturn Ion for sale
From bad to good. The Saturn Outlook was the middle child of GM's rather impressive 3-row crossover lineup, which eventually spanned Chevrolet, GMC and Buick showrooms. This Outlook has just 34,000 miles and was probably the best value in the lineup. This high-specification XR model with leather seats probably listed for about $33,000 when new, and it's now offered for a third of that price. Find a Saturn Outlook for sale
MORE FROM OVERSTEER
Video | Here's Why the E-Class Wagon Is the Best Car in the Mercedes Lineup
5 Cars Under $500 For Sale on Autotrader
Autotrader Find: 1988 Mazda 323 GTX Located in New Mexico