Naming a car, or really any consumer product, generally takes a lot of work from a lot of people. The name of a car needs to resonate. It needs to be memorable. It needs to convey to the target audience what the car is and what it can bring to their life, whether it's convenience, performance, capability, or all of the above.
However, sometimes a name in one part of the world just doesn't work in other parts of the world for one reason or another. Here are five global cars with very different names from their U.S. counterparts.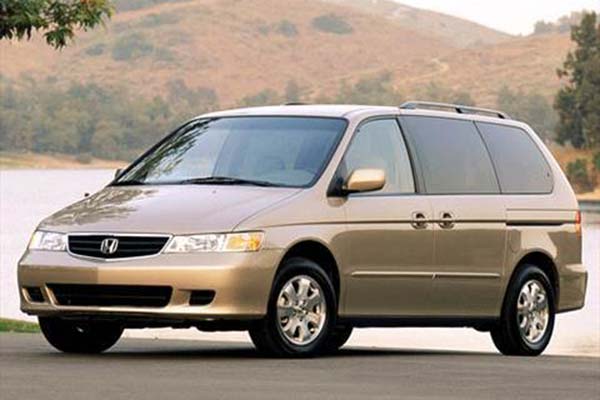 Honda LaGreat
The second-generation Honda Odyssey was called the Honda LaGreat in Japan. You see, the first-gen Honda Odyssey that we had in the states was smaller than a regular minivan and it continued on that path in its home market of Japan. Honda decided to market the second-gen American Odyssey in Japan as a larger alternative to their own Odyssey, and they called it the LaGreat, which presumably means "the Great." Unfortunately, it was a bit of a flop in Japan for being too big and not fuel efficient enough for Japanese tastes and it was the last Honda minivan that was sold in both the U.S. and Japan. Find a Honda Odyssey for sale
Nissan Qashqai
This one you may have heard of, since our neighbors to the north in Canada use this very weird name. The Nissan Qashqai is what the rest of the world calls the Rogue Sport. Apparently, Nissan decided to call it the Rogue Sport in the U.S. simply because the Rogue is already a popular model here and the name "Rogue" has a positive name association with Nissan's American clientele. Qashqai is the name of a conglomeration of people who live in mountainous Southwestern Iran, and the word can also be translated to mean "a horse with a white forehead." How either of those meanings makes for a good name for a subcompact crossover, I have no idea. Find a Nissan Rogue Sport for sale
Kia Carnival
The Kia Sedona minivan is called the Kia Carnival in most markets — and in some places, it's Grand Carnival and the Carnival Royale. Frankly, I think Carnival is a better name for a minivan than a city in Arizona. It's a carnival! Doesn't that sound like a fun vehicle to be in? It's so fun, it's like its own carnival ride. Maybe it comes with carnival games inside like ring toss in some markets. Instead of the fun Kia Carnival, we get the Kia Sedona, a van named after a town most famous for its sandstone formations. Find a Kia Sedona for sale
Peugeot Manager
I'm not sure why I find this one so amusing, but the Ram ProMaster is marketed as the Peugeot Manager in Mexico. Maybe because it sounds like a demotion to go from being a ProMaster to just being a Manager. The ProMaster itself is a rebadged FIAT Ducato, and the Ducato has had all kinds of funny names depending on where it's sold — like the Peugeot Boxer, the Citroën Jumper, and, surprisingly, it was even sold as the Alfa Romeo AR6. Doesn't the Alfa Romeo AR6 sound like something a lot cooler than a cargo van? Find a Ram ProMaster for sale
Toyota Rukus
What we knew as the second-generation Scion xB was called the Toyota Rukus in Australia, misspelling and all. There are two reasons why it probably wasn't called the Rukus in the States: one, it didn't follow the Scion nomenclature, and two, Honda would probably take issue with it since they sell a scooter here called the Ruckus. What makes this name funny is that a Scion xB seems like a vehicle that's very unlikely to create a ruckus of any kind. It was just a small, boxy hatchback that wasn't very fast, nor did it exude danger or commotion in any way. It's a pretty tame vehicle to have a name as crazy as Rukus. Find a Scion xB for sale
Which ones did I miss? What are some of your favorite weirdly named cars in foreign markets?
MORE FROM OVERSTEER:
Video | The 2019 Ram 2500 Heavy Duty Is an Ultra-Tough $85,000 Truck
Video | The Mini Countryman Is an Underrated Small SUV
Autotrader Find: 1983 Chevy Pickup Hummer Replica