Top Cars
8 of the Safest New Cars Under $30,000






You don't need to spend a fortune to get a new car with an excellent safety record. We've proven that in our latest list, which features eight of today's safest new cars available for under $30,000. Best of all, our list focuses not only on crash-test results but also on cars that offer the latest safety gadgets -- and that means you'll be protected from even getting into an accident in the first place.
Chrysler 200
If you've driven mediocre earlier models, it may be hard to believe it, but the newly redesigned 2015 Chrysler 200 is one of our favorite midsize sedans. Although it's loaded with a variety of features, the 200's best options are safety gadgets, which run the gamut from lane-departure warning and lane-keep assist to an impressive automated parallel-parking system. In crash testing, the 200 earned the coveted Top Safety Pick+ distinction from the Insurance Institute for Highway Safety (IIHS). While some 200 models may stretch the budget, base versions start around $22,500 with shipping, so a well-equipped 200 should be easily available for under $30,000.
Ford Fusion
When it comes to safety, we're highly impressed with every aspect of the Ford Fusion. For one, its crash-test ratings are stellar: The National Highway Traffic Safety Administration (NHTSA) gave it a perfect five stars overall, while IIHS awarded the Fusion its Top Safety Pick+ score. Additionally, its option list is lined with excellent features, including adaptive cruise control and rear cross-traffic alert, which helps you to safely back out of parking spaces. We especially like the Fusion's advanced safety items, such as Ford's MyKey technology -- a novel feature designed to allow parents to set limits for younger drivers. While not every feature is available for under $30,000, the Fusion's starting price of $23,500 with shipping means that you'll be able to add a lot of safety equipment before you max out your budget.
Honda Civic
The Honda Civic is one of a few small cars to earn a Top Safety Pick+ distinction from IIHS -- and it clearly deserves it. One reason is the available forward-collision prevention system, which is a highly unusual feature for a compact car like the Civic. We're also impressed with the Civic's performance in actual crash tests, where it earned strong marks from IIHS and a perfect 5-star overall score from NHTSA. Best of all, the Civic boasts a highly affordable base price of just $19,200 with shipping, so virtually every model is available within our $30,000 budget.
Mazda3
If you want to talk compact-car safety, few vehicles are more worthy of mention than the latest Mazda3. Equipment is one big reason, since no other compact car offers the wide range of features available in the Mazda3 -- everything from adaptive cruise control to automatic high-beam control. In fact, the Mazda3's options list reads more like it comes from a luxury car than a compact sedan or hatchback. It isn't just features, however, that sets apart the Mazda3 from its competition: We're also impressed with its 5-star overall NHTSA crash-test rating and an excellent Top Safety Pick+ score from IIHS -- impressive distinctions for a car that starts around $17,900 with shipping.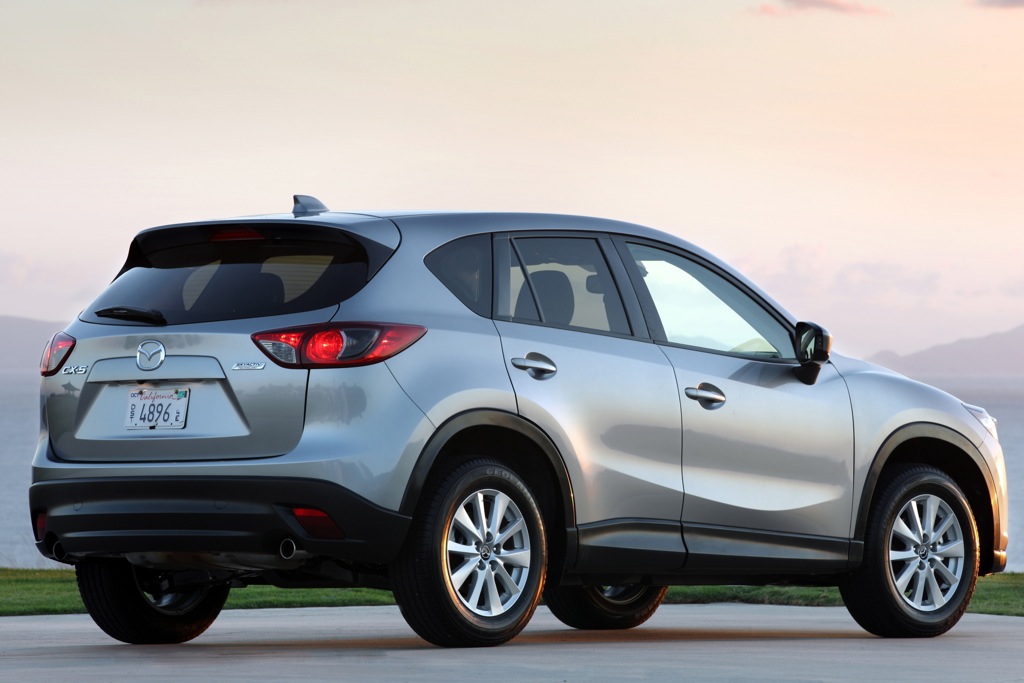 Mazda CX-5
Like the smaller Mazda3, the CX-5 crossover offers a lot of features that you wouldn't expect to find in a vehicle of this size -- or at its reasonable price point, which starts around $22,500 with shipping. Examples of available high-tech safety gadgets include a backup camera, automatic headlights, a blind spot monitoring system and adaptive bi-xenon headlights -- an especially rare feature in the compact-crossover world. Like the Mazda3, the CX-5 isn't all about gadgets: It earned a Top Safety Pick+ rating from IIHS and a perfect 5-star overall rating from NHTSA.
Nissan Rogue
The newly redesigned Nissan Rogue is practical, well equipped and surprisingly roomy given its available third-row seat. The Rogue is also highly safe considering that the small crossover earned a strong crash-test rating from NHTSA and a Top Safety Pick+ designation from IIHS. Still, we're most impressed with the Rogue's safety equipment: In addition to the usual array of gadgets, it offers LED headlights, a lane-departure warning system, a moving-object detection system, and an amazing 360-degree camera that makes parking a breeze. Of course, those items don't come standard on the base Rogue, which starts around $23,700 with shipping, but you should be able to add most of them and stay under our $30,000 budget.

Toyota Prius
You probably know the Prius as a practical, fuel-saving hybrid hatchback, but did you also know that it's surprisingly budget-friendly (prices start around $25,000) and highly safe? So says IIHS -- which gave the car a Top Safety Pick+ rating in its crash tests -- and NHTSA, which gave the car a strong 4-star overall rating. The Prius features a long list of standard safety equipment, an available backup camera, and even an optional forward-collision warning system that helps alert drivers to a potential collision with another object.

Volkswagen Golf
We think that the Volkswagen Golf is too often overlooked by shoppers interested in a budget-friendly new vehicle that also happens to be one of today's safest new cars. The budget part is easy, as the Golf starts around $19,000 with shipping in 2-door form or around $21,500 if you opt for a 4-door. That leaves you with a lot of room in the budget for options, and the Golf has plenty -- including important safety features such as forward-collision alert, parking sensors and bi-xenon headlights. It's not all features and value, though: The Golf also boasts excellent crash-test ratings, including a coveted Top Safety Pick+ score from IIHS.