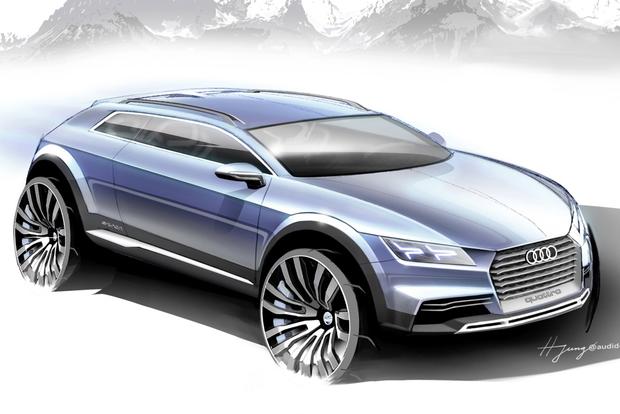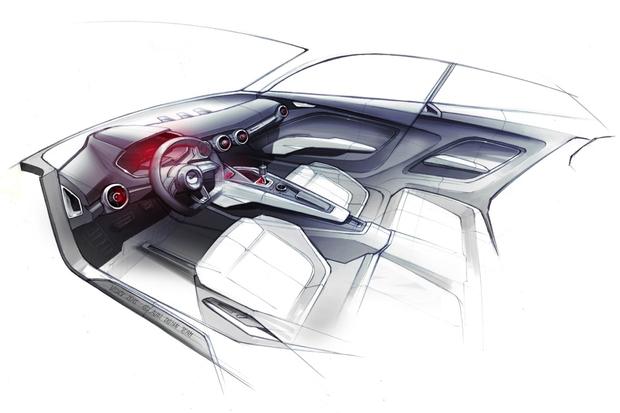 New Audi crossover concept previewed ahead of Detroit
Sketches show a crossover mixed with a sports car
Concept will likely use fully electric or plug-in hybrid powertrain
Audi has officially released three sketches of an all-new concept car scheduled for release at the upcoming Detroit Auto Show. The sketches show a futuristic vehicle that boasts several Audi design cues and looks like a cross between a sport utility vehicle and a sports car.
On the outside, the concept combines SUV traits -- roof racks, raised ground clearance, 2-tone paint and Quattro logos that suggest all-wheel drive -- with sports-car features such as a 2-door bodystyle, aggressive headlights, large alloy wheels, and short front and rear overhangs for improved handling.
Audi also included a sketch of the concept car's interior. It looks a lot like the brand's high-end R8 sports car, which boasts a mid-engine design and exotic-car performance. The similarities come from the unique gear lever, a flat-bottomed steering wheel, heavily bolstered sport seats and a stylish dashboard.
Unfortunately, Audi hasn't announced what's under the hood of its crossover concept. Our only clue is an "e-tron" logo directly in front of the rear wheel. That suggests the concept will be an electric vehicle or a plug-in hybrid, like many of Audi's recent concept cars.
So does Audi's unusual crossover concept stand a chance of seeing production? It's hard to say, but we find it difficult to believe there's much of a market for a plug-in hybrid 2-door SUV mixed with a sports car. Still, Audi might see this vehicle as a successor to the famed 1980s Quattro sports car, which earned huge success in rally racing. That car still has a large following and many devoted fans, which means a modern-day successor could prove popular.
Keep checking back for updates on the new Audi crossover concept, as we'll have more details when the Detroit Auto Show rolls around in a few weeks.
What it means to you: We're not sure if Audi's latest crossover concept previews an upcoming model, but based on the sketches, we're certainly excited to find out.