The auto market's gloom continued last month, although August brought slightly higher overall sales than July. In total, 1.25 million cars and trucks left dealerships in August, a 10 percent increase over the previous month but down 15 percent from August 2007. Car sales were buoyed somewhat by heavy incentives, including fire-sale prices at GM dealerships as "Employee Discount for Everyone" returned after a three-year hiatus. In general, the deals were best on the least fuel-efficient vehicles—although some automakers also put cash on the hood of their hybrid models, including the Nissan Altima Hybrid and GMC Yukon Hybrid.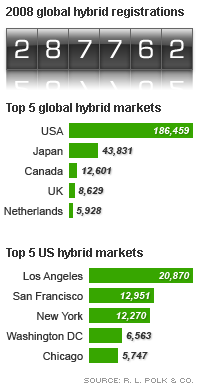 Caption: Source: R.L. Polk and HybridCars.com
While great deals on conventional vehicles pushed sales up, hybrid sales fell. In August, 26,045 hybrids were sold, accounting for just above 2 percent of all new vehicles. A $0.25/gallon drop in average gas prices during the month may have been a factor, but the main issue continued to be availability of the most popular hybrid models. With inventories of the Prius and Camry Hybrid largely exhausted, Toyota has been unable to respond to heightened consumer demand for high-efficiency vehicles. As a result, sales of both models still remain below last year's levels, and thin inventories seem likely to continue for the next several months.
Undersupply, lackluster growth, and discouraged buyers will be the themes of the hybrid market this fall. New models, including the Chevrolet Silverado Hybrid and Ford Fusion Hybrid, will enter the market, but sales of these models will be modest in the near term. Things will really get interesting next spring when new models from Honda and Toyota come on the scene. Honda offered a preview last week of its new hybrid vehicle, a second-generation Honda Insight that will offer Prius-like styling and fuel economy at a lower cost. The Insight's launch is planned for April 2009, roughly the same time that Toyota plans to put its next-generation Prius in dealerships. Both vehicles are planned as high-volume models, each selling more than 100,000 units annually in the United States. Both are also the first of several new hybrid model launches for the two automakers. If high gas prices and consumer interest in fuel economy persist, the new Insight and next-generation Prius will lead a wave of growth for hybrid vehicles in the United States. In the meantime, we can only watch today's lackluster hybrid sales and wonder what the market might have looked like if those two models had been available for this year's gas price spikes.
U.S. hybrid sales for August 2008 by manufacturer and model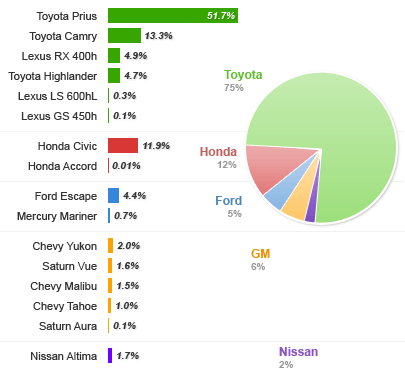 Caption: Source: R.L. Polk and HybridCars.com
The Hybrid Market Dashboard is produced by R.L. Polk and HybridCars.com.
Copyright ©2008 HybridCars.com