One of the biggest criticisms of the 200 Series Toyota Land Cruiser is that it's never been offered in any lower-cost base-model variants here in the United States. But here's the thing – this isn't exactly true, and today's Autotrader Find is proof.
First, a little background on the 200 Series Toyota Land Cruiser. It went into production for the 2008 model year and will end production after the current 2021 model year, meaning it'll have gone 14 model years without a full redesign. For every year that it's been on sale in the US, the 200 has used Toyota's tried-and-true 5.7-liter V8 engine making 381 horsepower and 401 lb-ft of torque. These were pretty strong figures back in 2008, and they remain somewhat competitive even today, though the engine's 14 mpg combined figure is anything but. There are three different 'sub-generations' of the 200 Series. The original run technically lasted from 2008 through 2012, though there was no 2012 model year Land Cruiser sold in the US. For 2013, the 200 Series Land Cruiser received its first update, which came in the form of a revised front bumper, a slightly different grille, LED daytime running lights, new taillights, door trim, and different wheels. Inside saw the addition of a new infotainment system, perforated leather with ventilated front seats, a heated steering wheel, a crude 360-degree camera system, off-road turn assist, and a few other things. The big update though came for 2016, when the Land Cruiser received new styling front and rear along with an entirely new dashboard, center console, and steering wheel, plus fixed second-row entertainment screens. An eight-speed automatic transmission replaced the old six-speed, and new, larger brakes were fitted as well. You could argue that the 2016+ Land Cruiser has in fact been offered with options, as Toyota made the second row screens optional for 2017, likely due to customers hating them, but this isn't what I'm talking about here. Nor is the five-passenger Heritage Edition trim introduced for 2020.
What I'm referencing when I say that there was in fact kind of a base model 200 Series Land Cruiser sold in the US is the 2008-2011 model, and its technically-optional 'Upgrade Package', rear spoiler, and navigation system. While yes, the vast majority of 08-11 Land Cruisers came to the US fully-loaded (I'd put it at about 95%), a handful were sold here without the Upgrade Package. And the thing about the Upgrade Package is, it included things that today are more of a burden than they are an asset, namely a low-resolution second-row DVD player, and a center console refrigerator that eats away at storage space. Navigation was technically part of this package as well, but it was also available as a standalone option, and I've only seen evidence of one 200 Series sold in the US without navigation. The same goes for the rear spoiler.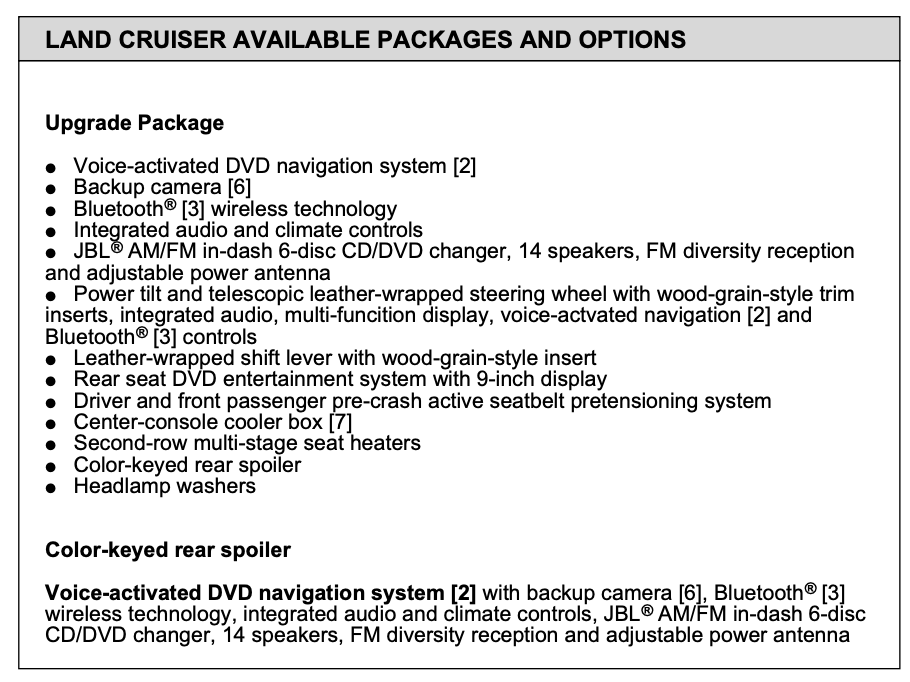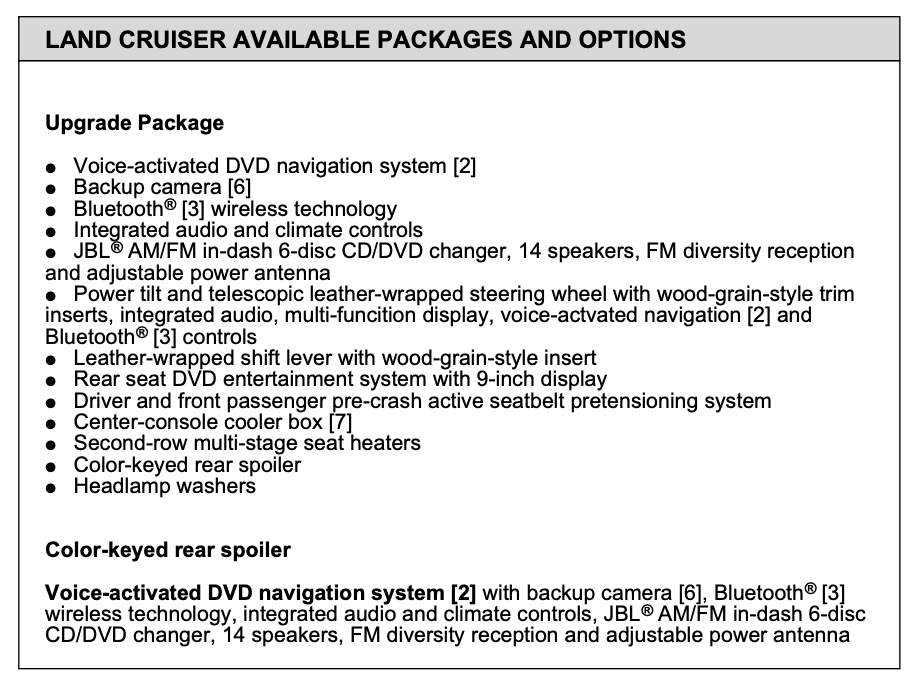 The Land Cruiser for sale here comes without the Upgrade Package, but unfortunately still has the rear spoiler and the obsolete navigation system, meaning that it's only somewhat of a unicorn. Adding to its desirability though is the fact that it's also a rare Amazon Green example. This is known to be the least common color for the 200 Series, and it was only offered from 2008 through 2015. If I had to guess, I'd say that no more than one out of 250 US-market Land Cruisers were built in Amazon Green over this period. According to some forum members, the fact that this one has a beige interior rather than gray makes it even rarer.
This non-Upgrade Package Amazon Green LC200 comes with just 119,620 miles on the odometer, which is also pretty low for a 14-year-old Land Cruiser. The mileage, Amazon Green exterior, and lack of the Upgrade Package all combine to make it pretty unique – preserve it the right way (meaning, resist the urge to ruin it with frivolous Overlanding modifications), and this rare Land Cruiser will remain especially desirable for years to come. Find it at an independent dealer in Concord, NC with an asking price of $39,995. Find a Toyota Land Cruiser for sale
Chris O'Neill grew up in the rust belt and now lives in Salt Lake City, Utah. He worked in the auto industry for a while, helping Germans design cars for Americans. Now he lives for adventuring in his 2008 Toyota Land Cruiser. Find him on YouTube and on Instagram.