A car's paint job says a lot about the vehicle. It can display what the manufacturer wants the world to think of their creation. The right car paint job can make the car really come to life — while the wrong one can send potential customers running to the competition. Let's take a look back at a handful of the best and worst special edition car colors over the years.
The Best
2008 Mazda Miata Special Edition: Icy Blue
It's a pleasant surprise when you see two that you'd never think to put together combined to a pleasing result. This NC, probably the least beloved generation of the Miata, came with a paint job that reminds me of the Ice Blue color Nintendo used on the Game Boy Pocket in the 1990s (which makes sense, considering the Miata is the Game Boy Pocket of cars). The interior had available saddle brown leather upholstery — a bold move when a nice neutral gray would have been a safer choice. The color combo shouldn't work, but it definitely does. Find a used Mazda MX-5 Miata for sale
Image credit: Heep/Wikimedia Commons
Bullitt Ford Mustangs: Dark Highland Green
The SN-95 and S-197 generations of the Mustang both had Bullitt Editions available in Dark Highland Green. This color is obviously intended to commemorate the iconic Mustang GT of the same color that Steve McQueen drove in the 1968 film "Bullitt" — and it works. Presumably, Ford was hoping this car would make its owners feel as cool as Steve McQueen. That's a coolness money can't buy, but these Bullitt Mustangs might get you close. Find a Ford Mustang for sale
Image credit: Doctorindy/Wikimedia Commons
1998 Chevrolet Corvette Pace Car Replica: Radar Blue
This is the purplest car I've ever seen in my life, and the official name of the color is "Radar Blue." This thing could easily go in the "worst" portion of this list, but as I've written before, I just have too big of a soft spot for this hyperbolic testament to the '90s. Find a 1998 Chevrolet Corvette for sale
Nissan Juke Special Edition: Midnight Purple IV
If Midnight Purples I through III left you wanting, Nissan heard your cries and answered with another sequel, Midnight Purple IV. Available only in Japan and limited to 300 units, these Jukes had a dynamic, multicolor paint job that changed based on the lighting and viewing angle. This is commonly known as a "chameleon" paint job, and it's usually an expensive aftermarket modification. Given the Juke's unusual design and odd angles, it just … works. Find a Nissan Juke for sale
The Worst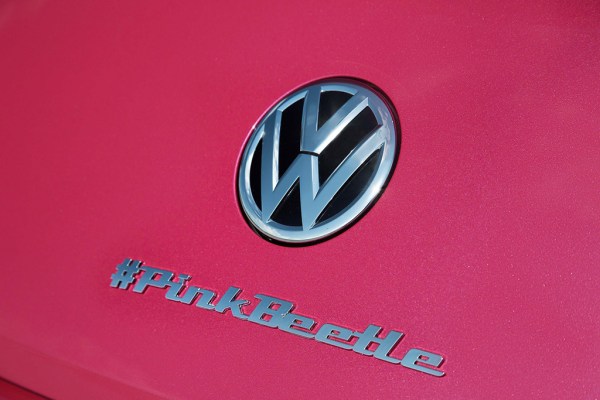 Volkswagen Beetle #PinkBeetle: Fresh Fuchsia Metallic
Yes, there is a real trim of the current Volkswagen Beetle called "#PinkBeetle". It's because the youths just love those hashtag things, and they want them in every aspect of their lives. Take it from me, I'm a Millennial! The car is undeniably cute, and the vibrant Fresh Fuschia Metallic paint itself, which changes with different lighting, isn't very offensive, but the idea of an entire trim based on the color is kind of tacky — and it's the addition of the hashtag that puts it on this list. Find a Volkswagen Beetle for sale
Mercury Villager Nautica Special Edition: Navy and White
The Nautica Villager was dressed like an upper-middle-class dad at a Jimmy Buffet concert in the '90s. It was the top trim for the Villager, and it was "luxurious" in the J.C. Penney sense of the word. It's wearing a blue polo, white shorts with a gold belt, and even white shoes (painted white wheels) to ensure everyone who sees it knows that the driver is, in fact, a parent. On the inside, you were treated with either gray or two-tone blue-and-white leather seats. The cherry on top was complimentary custom Nautica carrying bags from the dealer. It's no wonder minivans have gotten such a negative stigma. The worst part is that the Villager, which was a rebadged Nissan Quest, was actually a good minivan. You just wouldn't know it by looking at this one. Find a Mercury Villager for sale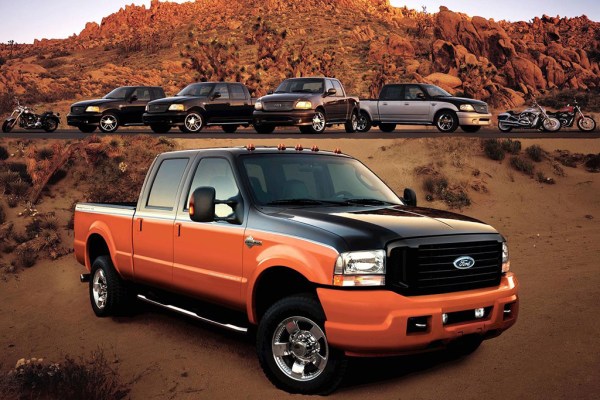 Ford F-Series Harley-Davidson Editions: Various Colors
Nothing says going against the grain and playing by your own rules quite like the best-selling vehicle in America. The Ford F-Series is a great truck, but it just might be the single most ubiquitous vehicle on the road — which I think makes it an odd choice for a rebellious Harley-Davidson Edition. These Harley trucks touched three different generations of the F-Series between 2000 and 2012. Some had subtle monochromatic paint schemes, while others had bold two-tone exteriors or graphics that would make sense on a motorcycle but not a pickup truck. The one pictured below — a huge truck that was half painted in orange — was the worst offender
.
Volkswagen Golf Harlequin: Tornado Red, Ginster Yellow, Pistachio Green and Chagall Blue
Instead of just having one boring old color, the 1996 Volkswagen Golf Harlequin looks like it's had its body panels swapped out with several cars that were different colors — because that's exactly what it is. Available only in 1996, this hodgepodge was a mix of red, yellow, green and blue panels. Volkswagen took completed cars in their Puebla, Mexico, factory and switched the panels around according to a prescribed formula to ensure the same colors wouldn't be touching. The result looks ridiculous, which I suppose is what they were going for. Only 264 were built, and you can find a registry of them here. Find a used Volkswagen Golf for sale
Which ones did I miss? What's your favorite or least favorite special edition car color?
MORE FROM OVERSTEER:
The Cadillac ELR Was a Truly Terrible Value
These Are the Most Unusual Electric Vehicles Currently For Sale on Autotrader
The 1999 Mitsubishi 3000GT VR4 Was My First Real Dream Car