Long the recipient of undue scorn, the station wagon remains one of the best kept secrets in the automotive world. Wagons offer all the comfort and efficiency of a sedan while adding in the cargo volume, and in some cases the off-road capability, of a crossover. For that reason, we think the humble station wagon is probably a perfect choice for a lot of car buyers who don't even have one on their radar. Here we've put together a list that highlights eight of our favorite used wagons under $20,000 for 2020, most of which are around 5 or 6 years old.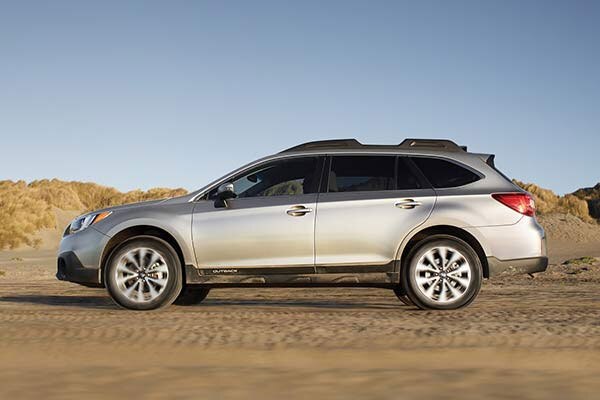 2015 Subaru Outback
In an era where many wagon models are starting to go away, the Subaru Outback is more popular than ever. Offering a great mix between sedan efficiency and SUV practicality, the Outback comes standard with all-wheel drive and offers modern safety tech and other clever features — even in examples that are now a few years old.
When new, the Outback is typically priced between $30,000 and $40,000, but it's possible to find gently used Outback's with the vehicle's fifth-generation body style for around $20,000, and you've currently got more than 1,000 options from the 2015 through 2018 model years to choose from on Autotrader. Altogether, the Outback offers decent fuel economy and a spacious cabin, not to mention clever features like deployable roof rack crossbars that can be stowed in the vehicle's standard roof rails when not in use. While the Outback isn't the capable off-roader that Subaru invites you to think it is, it does make for an excellent all-around family vehicle, and it should be high on the list of anyone browsing for used wagons under $20,000. Find a Subaru Outback for sale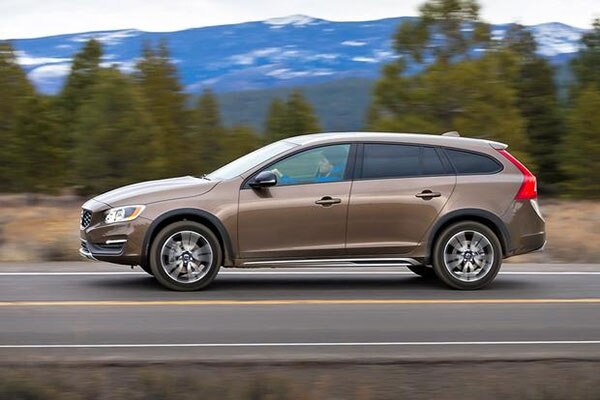 2015 Volvo V60
The words 'Volvo' and 'station wagon' go together like 'John Deere' and 'tractor' or 'Craftsman' and 'wrench.' Volvo has been building station wagons for decades and is responsible for growing the wagon market in the US during the 1980s and 1990s. The Swedish automaker has built its brand on safety, sensibility and luxury, and its V60 and V60 Cross Country models offer all three.
Based on the compact S60 sedan, the V60 and V60 Cross Country come powered by a turbocharged 4-cylinder engine that puts out 240 horsepower and 258 lb-ft of torque mated to an 8-speed automatic that sends power to the front wheels in the V60, or to all four in the V60 Cross Country. Right now on Autotrader, there are around 110 2015-2018 V60 models listed for around $20,000 or less. Find a Volvo V60 for sale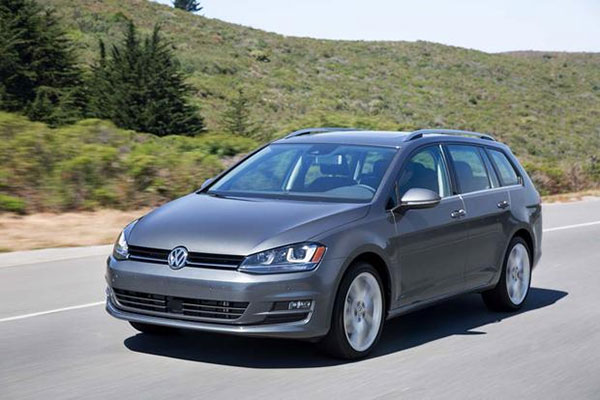 2015 Volkswagen Golf Sportwagen
A stretched version of Volkswagen's excellent Golf hatchback, the Sportwagen combines a sophisticated design and a great interior with long-roof practicality. Under the hood is a 1.8-liter turbocharged 4-cylinder engine that puts out 170 horsepower, paired with either a 6-speed automatic or a 5-speed manual transmission. Front-wheel drive is standard, and Volkswagen's 4Motion AWD system is optional.
A Sportwagen from the 2015 through 2018 model years should also come with a great infotainment system that offers both Android Auto and Apple CarPlay, along with a few active safety features to help it feel modern for years to come. Right now on Autotrader, there are currently around 600 Golf Sportwagens listed that would work for a buyer with a budget of around $20,000. Find a Volkswagen Golf Sportwagen for sale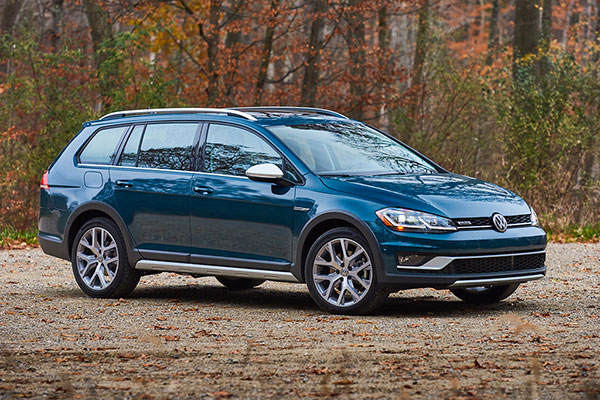 2017 Volkswagen Golf Alltrack
Introduced for the 2017 model year and sold through 2019, the Alltrack is to the Golf what the Subaru Outback is to the Legacy sedan. In other words, to make the Alltrack, VW takes a Golf Sportwagen, gives it standard AWD, raises the suspension a smidge, and adds some body cladding and roof rails. Like the Outback, the result is a slightly more capable wagon that has the same visual cues as an SUV.
The Alltrack offers the same available features and technologies as the Sportwagen, but with the addition of added ground clearance — though at 6.65 inches in total, don't expect to tackle much more than the occasional forest road or snowy parking lot. Either way, the Alltrack is a little smaller than Subaru's Outback, but it offers a nicer interior and better driving dynamics. That said, there is a tradeoff, as VW's cost of ownership is generally higher than Subaru's. Right now on Autotrader, there are around 100 used Alltracks listed for around $20k or less. Find a Volkswagen Golf Alltrack for sale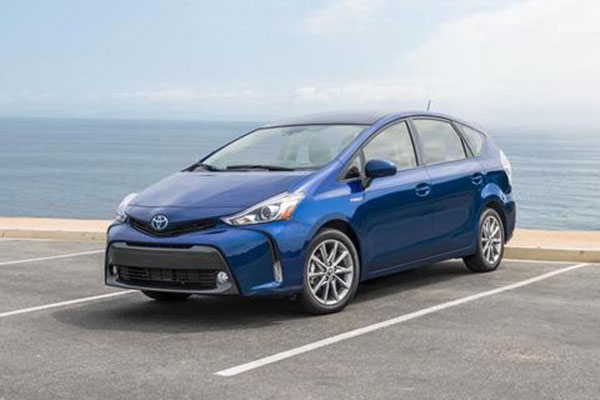 2015 Toyota Prius V
During the 2010s, Toyota experimented with offering different takes on its popular Prius hybrid hatchback, one of which was the Prius V. An embiggened version of the traditional Prius, the Prius V came with a longer roof than the regular Prius, which allowed it to offer 50% more cargo room.
A cross between a hatchback, a wagon, and a compact minivan, the Prius V offered room for five passengers and was rated by the EPA at an impressive 41 miles per gallon in combined city and highway driving. While it's easily the most efficient wagon on our list, the Prius V is also the most affordable, with over 400 examples to choose from on Autotrader for $20,000 or less, more than half of which are actually priced at $14,000 or lower. Find a Toyota Prius V for sale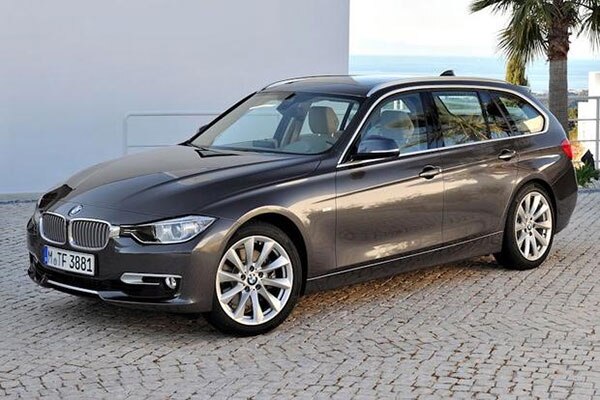 2015 BMW 3-Series Wagon
Long a niche offering here in the US, the BMW 3-Series wagon is a common sight throughout Europe, where wagons don't carry the stigma that's often attached to them here in the States. Regardless, the 3-Series wagon offers all the benefits of the 3-Series: great handling characteristics, a refined cabin, iconic design and the cache that comes with owning a BMW.
While not nearly as common, the 3-Series wagon is a great alternative to the compact X3 SUV, as both vehicles offer similar interior volume and available AWD, but the 3-Series Wagon is sold in far lower figures than the X3, which makes it unique. When we filter to include examples from as far back as the 2008 model year, there are still only around 75 3-Series wagons listed for $20,000 or less on Autotrader — an indication of how well this unique body style holds its value. Find a BMW 3 Series for sale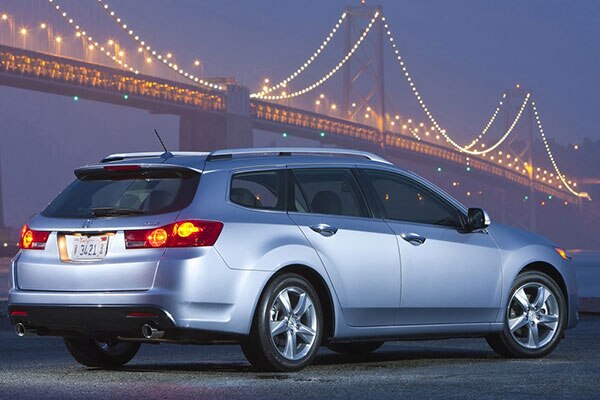 2014 Acura TSX Sport Wagon
The Acura TSX, offered over two generations here in the US from the mid 2000s through the mid 2010s, was based on the European-market Honda Accord. Given the popularity of wagons in Europe, Honda had developed a wagon version of the Euro Accord, dubbed the Accord Touring, and opted to sell it here in the States from 2011 through 2014 as the TSX Sport Wagon.
Mechanically, the TSX Sport Wagon is identical to the TSX sedan, and it makes use of the same 201-horsepower 2.4-liter 4-cylinder engine and 5-speed automatic transmission. With that said, while the TSX sedan was available with a 6-speed manual and an optional V6 engine, the Sport Wagon came exclusively with the 4-cylinder and automatic. It's one of the rarest wagons out there — there are just seven Acura TSX Sport Wagons listed for sale on Autotrader, all of which are listed for well under $20k. Find an Acura TSX for sale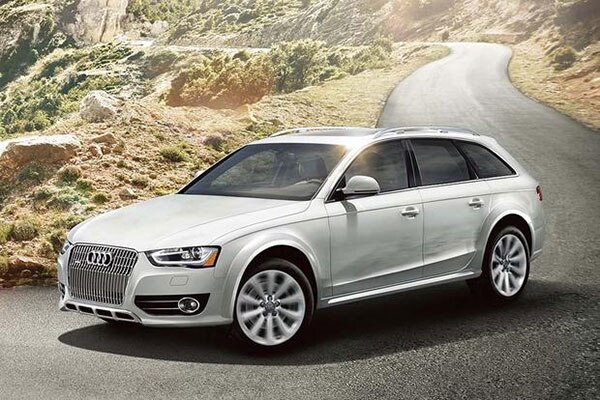 2015 Audi A4 allroad
The A4 Allroad follows a formula similar to that of the Subaru Outback: Take a popular sedan — in this case the compact Audi A4 — turn it into a wagon (the A4 Avant is a popular vehicle in Europe, but it isn't even offered in the US), give it a raised suspension, body cladding and roof rails, and sell it to Americans as an SUV alternative. Wagons generally don't sell well here in the US, but for whatever reason, a little body cladding changes the story.
Regardless of how you label it — SUV, wagon or something in between — the A4 Allroad is a compelling offering, as it mixes attributes of a sport sedan, a luxury car and an SUV into one efficient package. The A4 Allroad made its debut here in the US for 2013 and was sold in the same body style through 2016. Buyers currently have around 120 2013-2016 A4 Allroads to choose from on Autotrader. Find an Audi A4 allroad for sale