The Toyota 4Runner has tremendous staying power. Toyota first introduced the nameplate in the mid-1980s as a slightly more civilized version of its pickup that included a mostly weathertight passenger compartment and two rows of seats. The second generation that bowed a few years later was more solidly mainstream, but it wasn't until the third-generation 4Runner in 1996 that Toyota created an instant classic that can still be enjoyed comfortably today.
The third-generation 4Runner strikes a perfect balance for many occasional off-roaders due to its nimble dimensions, comfortable interior, refined and highly durable V6 powertrain and muscular good looks. The 4Runner that followed in 2003 grew substantially, setting the groundwork for today's impressive but massive fifth-generation model. Our Doug DeMuro briefly summarized — and ranked, because that's what he does — all five 4Runner generations. For now, let's focus on the popular third gen, a truck that hit rock bottom a while ago and has begun to appreciate.
What Body Styles, Trim Levels and Powertrains Were Available on the Third-Generation Toyota 4Runner?
The third-generation 4Runner arrived for the 1996 model year as a 5-door SUV and was produced through 2002 with only two noteworthy updates. The 1999 model gained a new front bumper and some interior tweaks, while a 2001 refresh included big revisions to its traction systems. Profile-wise, all seven model years share the same two-box proportions. Base, SR5 and Limited trim levels stuck around every year, with a hood-scooped option package for the SR5 — first called Highlander, then later called Sport Edition — arriving in 1999.
Initially, the 4Runner offered either a 150-horsepower 2.7-liter inline-4 or a 3.4-liter V-6 rated at a healthier 183 hp. A 5-speed manual gearbox was standard until 2001, at which time the previously optional 4-speed automatic became mandatory. Rear-wheel drive was standard and will be far more common in Sunbelt states, while 4-wheel drive was optional.
The base 4-cylinder is a durable engine with a low-maintenance timing chain, but it was tasked with moving the better part of 4,000 pounds worth of SUV around. Stick with the V6, unless you're really patient. Base trucks used the 4-cylinder engine through the year 2000, while more common SR5s and Limiteds only came with a V6. Anti-lock brakes were optional on 4-cylinder models and standard otherwise.
A locking rear differential was optional between 1996 and 2000 and is considered a desirable feature for off-roaders because it allows each rear wheel to gain traction independently. The feature was available on any trim level and with either engine, but only with 4WD. The locking differential was anecdotally more common on the 4Runner limited, in part because it cost around $325 when new.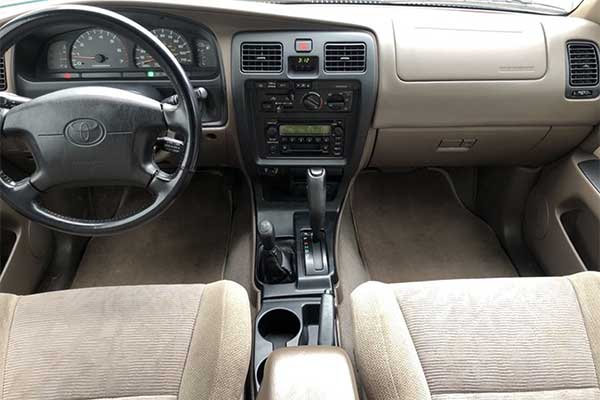 What Changes Were Made to the Toyota 4Runner Over the Years?
The 1996-1998 4Runners were largely unchanged, aside from the addition of a 4-spoke steering wheel and dial-type climate controls in 1998.
For 1999, Toyota revised the 4Runner's front bumper cover to accommodate a beefier design underneath. The truck's interior gained better cup holders, and the popular Highlander package became available in green or black. The Highlander package included unpainted fender flares and a stylish but non-functional hood scoop, and they built on the well-equipped SR5 trim level. Additionally, the 4Runner Limited gained an automatic mode for its 4WD system.
The following year, the Highlander name was dropped in favor of Sport as Toyota geared up for a new crossover called the Highlander. The trim package's fender flares were enlarged and painted the body color, and the package could now be had in silver.
The biggest change came with the 2001 model, when Toyota shelved the base inline-4 and made the V6 automatic standard across the lineup. The rear differential lock was discontinued, and all 4Runners instead began to include a sophisticated traction and stability control system that could be partially defeated at the tap of a button. In addition, 4WD 4Runners now all included the automatic mode. New grille and taillight designs were also added, and Toyota revised the truck's upholstery.
For its final year, Toyota added a new Chrome Package that included brightwork on the mirror caps.
Notably, Toyota uses independent distributors in some markets in the south central and southeast to sell its cars. Those distributors added numerous accessories at the port of entry, including tape stripes, automatic-dimming rearview mirrors, special wheels, leather trim and more. These features were generally expensive when new but make little difference on a used truck.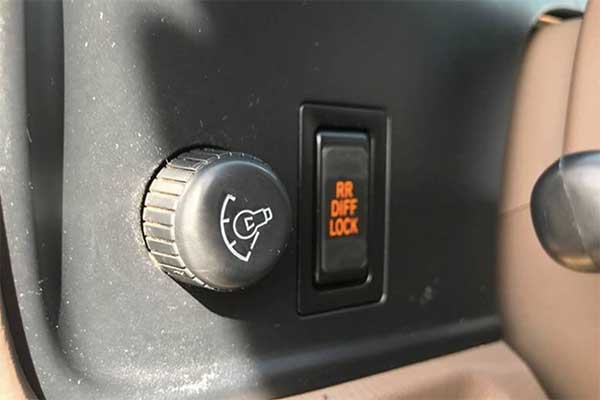 What Toyota 4Runner Options, Features or Combinations Should I Get?
Power windows and locks were optional, though they were fitted to nearly every 4Runner built. SR5s typically came upholstered in cloth, and two different front-seat designs were offered. The base seat had limited bolstering and adjustment, while the optional sport seat typically paired with a leather-wrapped steering wheel was more common. The 4Runner Limited included leather trim that tends to crack and split over time. Heated front seats became available on the Limited in 2001.
Instead of focusing on equipment, you'll probably want to decide how you'll use your 4Runner. If you plan to go off-road regularly, look for a 1996-2000 truck with the available locking rear differential. A button to the left of the steering wheel marked "RR DIFF LOCK" indicates if the truck is so-equipped.
For daily drivers or those interested in using a 4Runner as a winter-weather driver, a later 2001 or 2002 model with the standard traction and stability control systems makes an excellent choice. The traction control allows less driver control in serious off-road maneuvers, but it does a great job of reacting quickly to changing conditions on dirt roads or in wet conditions. An automatic 4WD mode was fitted to all 1999-2000 4Runner Limiteds, as well as every version of the 2001 and 2002 truck. A button on the side of the transfer case lever selects the mode, which can be used in any condition. Confusingly, earlier 4Runner Limiteds had a 4WD button on the transfer case lever, but the system is intended only for slippery terrain.
Notably, enthusiasts have found that the 1999 4Runner sits slightly higher than other years, though inevitable spring sagging over the last two decades means that off-roading advantage many be slim now.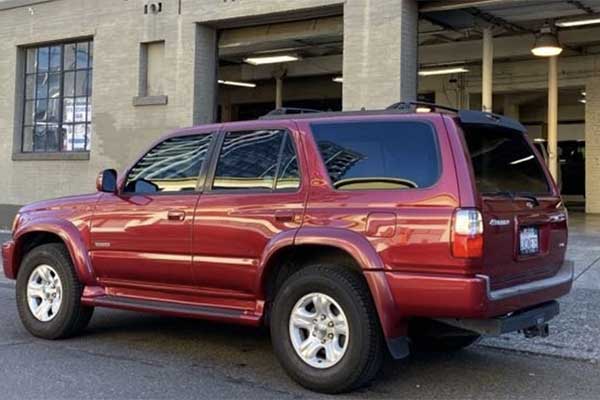 What Are Some of the Toyota 4Runner's Common Problems?
When it comes to the optional V6, watch closely for a recent timing belt and water pump change. Toyota recommends the service be performed every 90,000 miles. Most shops will place a sticker somewhere underhood indicating when the belt was changed. If you don't see the sticker, plan on doing the belt — and the water pump, which is a good precautionary measure — on your way home.
The transmissions and the transfer case are robust, well-built units. Which setup to choose comes down to personal preference, though a debilitating mixing of automatic transmission fluid and coolant can occur due to corrosion inside the radiator. If this happens and isn't caught almost immediately, it will ruin the automatic transmission. Look for a history of regular coolant and transmission fluid flushes, as well as a radiator replaced within the last decade. If the radiator shows no signs of having been replaced, place your order for a new one.
Though the 4Runner has a strong reputation for its durability, the automaker's rust-prevention measures were unimpressive on the 4Runner's frame. Trucks driven often in snowy climates where road salt is common can develop debilitating corrosion. Look carefully underneath as many of the weld seams where corrosion starts are hard to spot. A reconditioned frame can be sourced, but at considerable expense. 4Runners have steel bumpers that tend to rust from the inside out, though these can be replaced with used parts, and rust on tailgates is also common. Find a Toyota 4Runner for sale
MORE FROM OVERSTEER
Video | The Third Row in the Lexus RX 350 L Is Impossibly Small
5 Mercedes-Benz Wagons For Any Budget
Autotrader Find: 1981 Dodge Ramcharger With 8,088 Miles