Car News
Chrysler Reveals SRT Lineup for 2012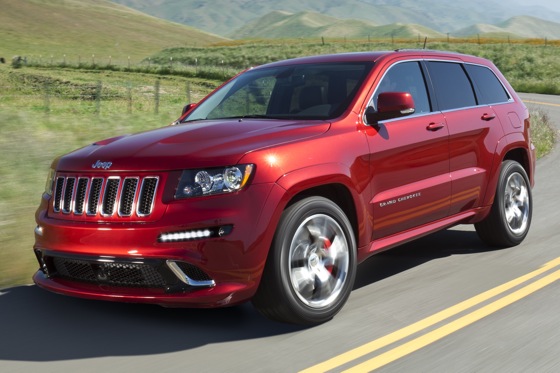 Chrysler has officially revealed pricing and other details for its 2012 SRT lineup. An acronym for "Street and Racing Technology," the SRT badge is worn by Chrysler's highest-performing cars - a lineup featuring the Dodge Charger SRT8, Chrysler 300 SRT8, Jeep Grand Cherokee SRT8 and Dodge Challenger SRT8 392 for 2012.
Priced from $47,485 including destination, the Dodge Charger SRT8 returns for 2012 after sitting out the 2011 model year. Featuring Chrysler's new 470-horsepower 6.4-liter Hemi V8, the revised Charger SRT8 launches from 0 to 60 miles per hour in under 5 seconds on its way to a top speed of 175 mph. In addition to a new engine, Chrysler says the 2012 Charger SRT8 features a series of upgrades over its 2010 predecessor including steering wheel-mounted paddle shifters and a new adaptive suspension system meant to enhance cornering.
Chrysler's new 300 SRT8 will be priced from $48,820 including destination when it goes on sale later this year. Like the Charger, the 300 SRT8 - formerly known as the 300C SRT8 - wasn't offered in 2011, but comes roaring back for 2012 with the automaker's new adaptive suspension system and Hemi V8.
Also returning for 2012 is Jeep's high-performance SUV, the Grand Cherokee SRT8. With base prices starting around $56,000 including destination, the Grand Cherokee SRT8 will likely be the most expensive SRT model until the lightning-quick Dodge Viper makes its eventual comeback. But to enthusiasts, the Hemi-powered SUV will be worth every penny, with 4.8-second zero-to-60mph times and sports car-like handling thanks to SRT's track-oriented adaptive suspension system.
Starting at $44,077 before a $1,500 gas-guzzler tax on automatic models and a $1,000 tax for manuals, the 2012 Dodge Challenger SRT8 392 is carried over mostly unchanged from last year. Updates for 2012 include the same paddle shifters and adaptive suspension system found in other SRT models.
Set to go on sale later this year, each of Chrysler's SRT models also comes with one day of professional driving instruction from the Richard Petty Driving Experience. Intended to maximize SRT owners' driving skills, the sessions are offered throughout the year at selected racetracks nationwide.