After looking at other marques like Saab, Isuzu, Scion, Plymouth, Eagle, and Saturn, today we'll be shining a light on Suzuki's stint as a US automotive brand. Suzuki began selling cars here in the US under its own nameplate for the 1986 model year and left our market during the 2013 model year, though they still sell motorcycles here in the States. Throughout its US tenure, the company held an agreement with General Motors that resulted in some Suzuki products being re-badged and sold under GM's Chevrolet and Geo brands. Here we'll take a look at some past Suzuki models from throughout the company's US run.
Suzuki Samurai – 1986-1995
The first Suzuki sold in the US under the Suzuki nameplate was the Samurai, which was sold here from 1986 through 1995. A mini off-roader, the Samurai used a tough body-on-frame suspension with solid axles front and rear and a traditional low-range transfer case. Both convertible and hardtop versions were sold. Initial sales of the Samurai were strong, and the vehicle was at one point the best-selling convertible in America. The hardtop was discontinued after the 1989 model year. The Samurai's reputation was tarnished when Consumer Reports noted its high propensity to roll over in testing the magazine conducted in 1988. Find a Suzuki Samurai for sale
Suzuki Sidekick – 1989-1998
The Sidekick was a small four-wheel drive SUV in a similar vein to the Samurai. That said, the Sidekick was more modern, less rough, and more road-oriented. The Sidekick was also sold under the Chevrolet and Geo brands as the Tracker. The Sidekick and Tracker were offered as a two door with either a fixed roof or a soft top, or as a four-door with a fixed roof. These days, it's a fun 1990s throwback SUV, and it's possible to pick up a well-used example for just a couple thousand dollars.
The Sidekick spawned a more stylish, lifestyle-oriented variant in the quirky two-door convertible X-90, which was sold from just 1996 through 1998. Find a Suzuki Sidekick for sale
Suzuki Vitara – 1999-2013
The Vitara replaced the Sidekick and was sold in the US for 14 model years, making it the brand's longest-running nameplate. Though two-door versions were sold overseas, the Vitara was offered strictly as a four-door in the US market. A three-row model dubbed the 'XL-7' was available as well, and for a few years was actually quite competitive. Find a Suzuki Vitara for sale
Suzuki Verona – 2004-2006
In the early 2000s, GM acquired bankrupt automaker Daewoo. The company then plucked a few desirable vehicle platforms from Daewoo, updated them slightly, and sold them as Suzuki products. One of them was the Verona, a midsize sedan offered from 2004 through 2006. The Verona was a version of the Daewoo Magnus, but was updated with new sheetmetal and a new engine for sales as a Suzuki. Regardless of its name or the badge on its hood, the vehicle didn't make much of an impact. Find a Suzuki Verona for sale
Suzuki Aerio – 2002-2007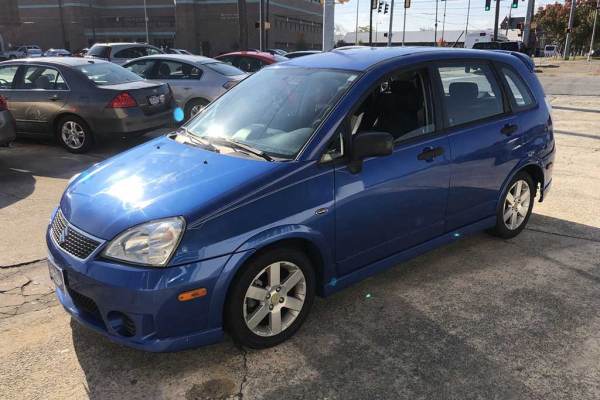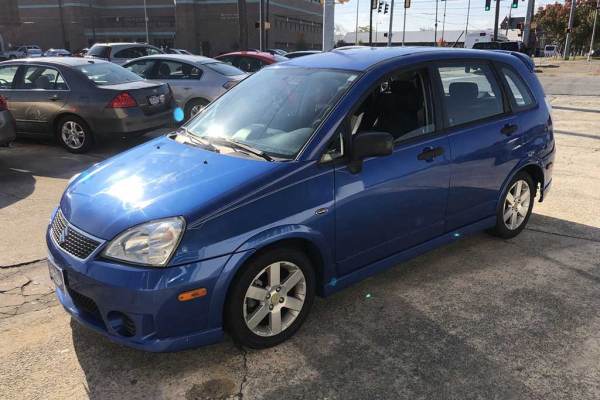 The compact Aerio was offered in both sedan and hatchback bodystyles. Under the hood was a basic 2.0-liter four-cylinder engine making 145 horsepower. A 5-speed manual transmission was standard, while a four-speed automatic was optional. The Aerio stood out from the crowd by offering optional all-wheel drive, though it was only available with the automatic transmission. The Aerio was succeeded in the US by the SX4. Find a Suzuki Aerio for sale
Suzuki Kizashi – 2010-2013
The Kizashi was the last new vehicle Suzuki would produce for sale in the US, and by most accounts, it was pretty good. A midsize sedan, the Kizashi was noted for offering good handling and ride quality, a spacious back seat, and available all-wheel drive. Unfortunately, the Kizashi was short-lived, as it met its demise along with the rest of the Suzuki brand here in the US toward the end of 2012, though plenty of 2013 models were sold prior to the brand's departure from our market. Find a Suzuki Kizashi for sale